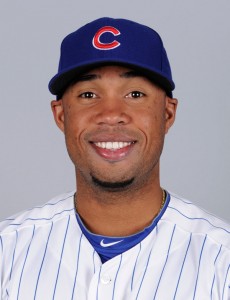 Our next installment in a spring-long first-person account of the Cubs season by the greatest Cub of them all, Luis Valbuena. Â How long into the season this goes…well, only God, Emilio Bonifacio and Rick(y) Renteria know for sure.
The worst part of spring training is actually two things. Â First, it's the stuff we do from about the third day we're in camp until the spring games start. Â It's just boring. Â You're basically doing the same stuff. Â For me, it's some batting practice and then bunt coverage. Â A lot of bunt coverage. Â It's not as bad as when Matt Garza was here, though. Â Because you had to chase the ball into the outfield every time he threw it.
One of the things the Cubs are clearly interested in is finding versatile players. Â I play second, short and third, and I'm sure I could play outfield if they needed me to. Â Pretty challenging: stand in the grass and chase really high pop ups all day. Â Repeat. Â Every day.
But now we also have Emilio Bonifacio and he plays second, short and third and the outfield. Â And we have Ryan Roberts and plays second and third, and can play short in a pinch. Â Two of us will make the team, and since one of us has a guaranteed contract, and another one of us looks like he might not just make the team, but steal second base away from Darwin Barney…well, Des Moines needs tattoos, too, Ryan.
It looks like I'm going to split time at third this year with Donnie Murphy. Â Donnie's a good guy, and I appreciate that he spends every moment between pitches looking for rocks in the dirt in front of third to clear away. Â But I really think I should play every day at third. Â Hitting lefties isn't really that hard, it's just that I never get a chance to do it anymore. Â I played in 108 games last year but only got 31 at bats against lefties. Â Yes, I struck out in ten of those at bats, but I DIDN'T strike out in 21 of them. Â Stop hating.
I keep hearing rumors that the Cubs want Mike Olt to win the third base job.  You'd think if they wanted him to do that, they'd actually play him at third in the spring once or twice.  I feel bad for the kid because last year he got a concussion playing winter ball in the Dominican, and he went blind.  Then when he started to go unblind he couldn't cry and that screwed him up at the plate because apparently crying is a big part of the way he hits.  Then he got allergies, and it screwed up his whole year.
Anyway, I'm not worried that Mike's going to steal my job. Â If anything he'll take Donnie's. Â Donnie must think that, too. Â Yesterday he was dusting everything in Olt's locker with pollen.
I'm sure fans wonder just what an average day in the life of a Major League Baseball player in Spring Training is. Â Even if you don't wonder, I'm going to tell you. Â Here's an average game day for me down here in Mesa.
7:30 am – Alarm goes off. Â I get up and make sure Alberto Cabrera is up, and if not, I throw a bucket of water on him. Â This takes more effort than you'd think. We don't even live together.
8:00 am -Â Arrive at Cubs Park. Â Our new facility is a lot nicer than the old one was. Â I heard Oakland is going to move into Hohokam next year after it's been "renovated." Â I hope they brought a HazMat team to clean up the toilet stall that our pitching coach Chris Bosio liked to call his "office." Â Flies used to die as they flew over that stall.
8:15 am -Â Hit the weight room. Â I'm not a huge guy, but I try to lift every day. Â Monday-Wednesday-Friday I do shoulders and arms, Tuesday-Thursday-Saturday I do legs and back. Â Sunday I do brunch. Â Put enough sausage links on the plate, and you'll feel it in your biceps and triceps. Â My lift buddy used to be Cody Ransom, but he's in Japan now. Â So I've been working out with Jeudy Valdez. Â Jeudy claims all you need to get a good workout is a jump rope and two fifty pound dumbbells. Â I think Jeudy's been taking live BP without a helmet too long.
9:15 am -Â I like to get in some cardio. Â When Ryan Dempster was here he used to try to get us to go up to Camelback and go run with him. Â Nobody ever wanted to go with him, but a couple years ago a bunch of us came up with a plan. Â We went with, and started running. Â We knew he'd want to show off and run ahead of us, so when he got a ways out in front, we all doubled back and stole his SUV. Â We weren't sure where to take it, so we just hit "HOME" on the GPS. Â When we pulled into his driveway, Jake Peavy was crawling out of a window on the side of the house. Â I'm still not sure what that was all about. Â Anyway, Dempster had to take a bus back to the stadium. Â Some Cubs fans had seen him walking back from Camelback, but he was so sweaty they wouldn't let him in their car. Â I guess that's why people say the Cardinals have the best fans in baseball. Â They would have picked one of their pitchers up, no matter how sweaty the guy was. Â Well, unless he was black, or Dominican, or Venezuelan.
10:30 am -Â After my cardio I take a quick shower and then get dressed for early work. Â There's a lot of stretching. Â Nobody stretches like baseball players. Â We somehow turn ten minutes of getting your muscles loosened up into 40 minutes of laying in the grass and counting out loud. Â Even though we're in the desert, the grass on the fields is really nice. Â It's so plush. Â Guys fall asleep out there all the time. Â Especially Starlin. Â The best is when he wakes up and yells, "She said she was 18!"
Camp with Rick Renteria is a lot different that it was with Dale Sveum. Â Rick speaks fluent English and Spanish, I'm not sure Dale even speaks fluent English. Â It seems like a little thing, having your boss speak to you in your own language. Â I get it, we all work in America we should speak English like 67 percent of the permanent citizens do. Â But it does help to hear what is being said in your native language. Â You can really get the nuance of what the guy is trying to say to you. Â For example.
When you hear "Stop swinging at that shit–or do you want to go back to Iowa?" in Spanish you know what it means. Â But when you try to translate it from English to Spanish in your head it ends up: "That shit you are swinging at is why Iowa is a nice place for you." Â Hearing "Iowa" in a sentence here is always bad, though. Â You never want to hear Iowa. Â Even if somebody told me, "You are never going back to Iowa, don't worry about it. Â In fact we dropped a nuclear bomb on Des Moines just to make sure nobody would ever have to go back there," I would hear "Blah, blah, blah Iowa, blah, blah, have to go back there." Â And then I'd pass out.
After we stretch we take live infield and outfield. Â You never do this during the season, which doesn't make any sense. Â I hear Tampa Bay takes live infield and outfield a couple of times a week. Â It kind of makes sense that you'd practice the thing that makes up half the game. Â But we do it all the time in the spring, then the season starts and we don't do it again. Â The reason is always the same. Â They don't want to "wear us out" for the long season. Â Because playing baseball is so exhausting.
By 12:30 pm we've run out of scenarios to practice.  Judging on last year, the scenario should always be, "We just traded our best starting pitchers and now Chris Rusin is our only healthy starter and he left the game in the fourth and now our Rule V draftee is in the game and he's thrown 11 balls in a row with nobody out."  I will admit I lose focus during those drills.  I just always throw to first.  Can't go wrong there.
About that time we start taking batting practice for the Cactus League game. Â By then I know if I'm in the lineup and where. Â I've played in just about every game and with Starlin out with his hamstring injury I've even gotten some time at my original position, shortstop. Â Rick is slowly letting us go longer in games. The first week you usually play three innings and get an at bat or two. Â Weeks two and three you work up to five innings and you get two or three at bats. Â By the time we're heading to Vegas (April 15-16) we're pushing seven innings. Â The last week you'll maybe go all nine a day or two. Â Gotta pace yourself. Â If we trained for marathons the same way it would take us 11 years to get to 26 miles.
When you come out of the game, you take part in the time honored tradition of running in the outfield. Â At our new spring training facility there are three fields, an indoor running track and an outdoor running track, and we're still jogging through the outfield while the game is going on. Â I'm surprised we don't have the postgame spread set up out there, too. Â It wouldn't be any more in the way of the players than we are.
Once you've done your running you can leave. Â Most guys do. Â They go golfing or home or to a titty bar. Â I usually stay and watch some video, and hang out. Â Because you don't want to hit first shift at a titty bar.
Trust me.