With a 3-4 night in Pissburgh yesterday, our boy Luis Valbuena pushed his season slash line to .288/.394/.456/.850 and his OPS plus to 132. Â He splits his time between second and third base, and oh, by the way, he's currently the most productive player at either position in the National League. Â No big deal.
So today, as though this just happened last night, Cubs fans are finally waking up to the idea that Luis is more than just a solid defender who walks some and likes to flip his bat.
The self-proclaimed arbiter of all that is important to Cubs fans even stooped to say this today:
"I've been tough on Luis Valbuena here in the past, but I'm going to praise him now."
You know what, Al? Â Fuck you. Â It's too late. Â You don't get to praise Luis. Â Ever. Â Crawl back under your bridge and wait for the goats to cross. Â You don't get any say in this. Â You don't get to be a complete ignoramus day in and day out and then when the evidence is too obvious for even you to ignore, jump on the bandwagon. Â I mean, you do get to do that, every day at your little website, but not here, and not today.
But it's not just for Al. Â This is for all of you who ever doubted Luis. Â You know who you are. Â The ones who were so enthralled with Mike Olt's Rob Deer impersonation. Â The ones who wondered last year if Junior Lake could move back to the infield at Luis' expense. Â Or the ones who two years ago thought Ian Stewart could use one more chance, or that Joe Mather could figure it out at third. Â You don't get to enjoy this. Â You shouldn't be allowed outside.
That's right, you can all just eat a great big bag of shit.
Luis had a good start last year, too (nothing like this, though) and then went in the tank hitting .190 in June and July, mostly because he had screwed up his shoulder. Â Your shoulder would be sore too if you had to carry Cody Ransom and Donnie Murphy all season, too.
He's 28, and this is only his fourth full season in the big leagues, so it's not like he's too old to be around when the Cubs are good again (he'll be in his early 40s).
So what have I been reading other than noted nitwits finally copping to the idea that Luis' a pretty good player? Â I'm reading some of you asshats wondering what the Cubs could get for Luis in a trade.
This is why we can't have nice things.
Luis is the kind of player the Cubs are going to need when/if Javy Baez and Kris Bryant break in. Â Somebody who can actually get on base. Â Somebody who can actually field a batted ball.
Somebody who knows when to batflip.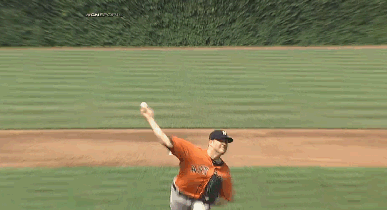 So congratulations to those of you who just figured out what the rest of us have known for years. Â I'm glad you caught up.
Finally.