With the Joe Maddon to the Cubs announcement due any time now, there is still some (not a lot, granted) hand-wringing about what this move says about the Cubs management.  Sure, they are spending big to hire the best manager they can get, but in the process they are kicking out their current manager after one not-terrible (but hardly inspiring) season.
Truth is, they're doing Rick(y) Renteria a big assed favor.
It was hard to get a handle on just how good a manager Renteria is based on a season that saw another Cubs in-season fire sale.  The talent still wasn't there, and then got worse.  What was encouraging was that the Cubs played pretty from about mid-June on, save for a tailspin that happened right after the Jeff Samardzija trade.
Rick(y)'s job appeared to be to get Starlin Castro and Anthony Rizzo back on track (both did) and to start working in young players like Arismendy Alcantara and Jorge Soler.  That's great.  It's also half the job.
Strategically, Renteria was all over the place.  The Cubs bunted…a lot, and normally way too early in games.  His bullpen usage was strange.
He frustrated the media by never saying…anything, really.  Though that's a skill I kind of admire.  And it is a skill.  You can't be a dummy and talk and talk and not give the media anything good.  You can be a dummy and mumble a lot and hope they never understand you, but eventually you'll say something batshit crazy like maybe you should send Starlin and Rizzo to the minors.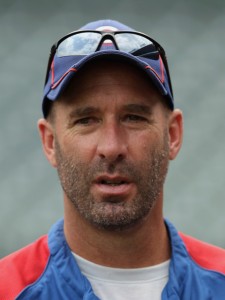 The Cubs are going places.  The young talent is arriving and they're ready to spend money to bring in some established veterans (especially pitching) and you only had to look at the World Series matchup to see that it doesn't really matter how you make the playoffs, just get in, and see what happens.
The Cubs move to whack Renteria and hire Maddon doesn't make them disloyal.  It makes them pragmatists.  They are hiring the best man for the job.  Wittenmyer did the advanced math today and realized that Maddon will be the Cubs third manager in four years under Theo Epstein and Jed Hoyer.
You can make a solid case that they have yet to hire the wrong guy.
At the start of the rebuild they wanted a guy who could handle a clubhouse and a team that was going to be hemorrhaging established players.  They didn't want a bunch of clubhouse angst and malcontents, and Dale Sveum managed to keep the embarrassing incidents (which had become a common occurrence for the Cubs) to a minimum.  When the worst thing that happens is you get to yell at Kevin Gregg, it's really not a big deal.
When it was time to start integrating more and more young players they ditched Dale with a year on his contract (and he ended up the hitting coach on a World Series team) for the yappy little hamster.
Renteria was perfect, temperament wise for the roster the Cubs ended up with last year.
Nobody really thought that when it was time for the Cubs to put on their big boy pants and start winning that Renteria was going to be the guy.  The thought was always, "I wonder who the real manager will be."
Suddenly, Joe Maddon was available and there was no more wondering.
So what if Joe hadn't come available?  What if the Cubs went into next season with all their young players ready to roll and added a guy like Jon Lester or James Shields and maybe an outfielder like Denard Span, and suddenly they were contenders in 2015?
I think Rick(y)'s tenure would have ended after next season, and I have a hunch he'd be remembered in Chicago like this guy is remembered in Boston: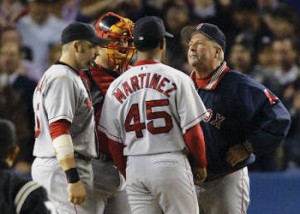 Theo just saved Rick(y) from his Grady Little moment.  I'm not sure what form it would have taken.  It may have happened in the wild card game, or a late season game in St. Louis.  But it was going to happen.
So instead of ripping the Cubs for bailing on Renteria after one year, consider that they might just be doing him a big favor.
He leaves a sympathetic figure, still positioned to manage for someone in the big leagues, rather than as a proven idiot in need of a new village.
Hell, I think Rick(y)'s getting off easy.