The Cubs are off to a flying start this offseason, they have already shuffled their coaching staff, then dumped manager Rick(y) Renteria in favor of Joe Maddon, and why yesterday they traded Arodys Vizcaino back to the Barves from which he came, to bring in lefty hitting second baseman Tommy La Stella.
This morning when we woke up the media said the Cubs were the front runners to sign catcher Russell Martin, and the big Jon Lester visit is on tap for this week.  We've got the world by the tail, gang!
Then, the Blue Jays decided they HAD to have the Canadian-born Martin and offered him an absurd five-year, $82 million contract.  For HIM?  The guy with the career OPS plus of 103?  The guy who has posted OPS pluses of 100 (league average) or worse five times in the last six years?  I know he's got all these great "leadership" qualities, and he can frame pitch like nobody's business, but come on.  He's going to be 32 on opening day.  This whole thing feels like the Blue Jays saved the Cubs from themselves.
Clearly, the Cubs feel they need to upgrade from Welington Castillo, who, while only 27, regressed at the plate, and by most metrics behind it as well.  But hey, at least there's John Baker and his OPS plus of 42 last season (which was nearly double what he posted in 2013…no, really).  And, Martin is only money (and a second round draft pick).  Plus had the Cubs signed him, they might well have been able to deal Castillo as part of a package for something else they need.  So while I'm relieved they're not paying Martin $16 million per for five years, it just means other assets will have to be parted with if they're going to upgrade catcher.  Maybe they'll trade for Arizona catcher Miguel Montero.  Montero was very productive from 2009-2012, but not so much the last two seasons.  Although he was an All-Star last year, mostly because somebody had to be, or the ball would just roll to the backstop.  I'm sure Tony LaRussa will be perfectly reasonable to deal with.
Tony: "Hey, you know who we want?  Yadi Molina!"
Theo: "He's not on our team, Tony, he's in St. Louis."
Tony: "Well, that's who I want.  Make it happen.  I gotta go, it's wine o'clock.  See what I did there?  Like it was a time, but it's time for wine, is what I'm saying."
Theo: "Good one, Tony."
Tony: "Maybe it's wine thirty?  That's pretty good, too.  I'm not sure which one is funnier.  What do you think, Theo?"
Theo: "I've got to go.  I think my office is on fire."
Tony: "Wine forty-five!  I think that's the keeper.  I'm going to write this down.  Do you have a pen?"
Theo: "Me?  Tony, we're on the phone."
Tony: "Oh, Theo.  Look at this.  My notepad has a kitty on it, and he's dangling out of a tree and he's hanging on by his claws.  It says 'Hang in there.'  Isn't this cute?"
Theo: "Again, Tony, we're on the phone, I can't see you, or hand you things.  How about I trade you a box of those kitty notepads for Miguel Montero?"
Tony: "Theo, have you been spayed or neutered?"
Theo: "I've really got to go."
So while Cubs fans were dealing with their disappointment of losing the catcher they never had, word came out of a trade between the detestable St. Louis Cardinals and the Atlanta Barves.
The Barves are sending rightfielder Jason Heyward and pitcher Jordan Walden to the Cardinals for starting pitcher Shelby Miller and minor league pitcher Tyrell Jenkins.  Heyward will play rightfield for the Cardinals who lost prized prospect Oscar Tavares in a deadly drunken Camaro accident in the DR last month.
Heyward has been a nice player for the Barves, though not as productive offensively as expected.  After a breakthrough 2012 season when he hit 27 homers, Heyward has only combined to hit 25 combined over the last two seasons.  That includes an injury shortened 2013 season when he broke his face.  Defensively, Heyward is outstanding, though given the pudding headed ways of Cardinals manager Mike Matheny, Heyward will probably sit on the bench and watch Randal Grichuk get key at bats during the season.
Miller just turned 24 and projects as a second or third starter.  He's made 62 starts the last two seasons with an ERA of 3.33 and has allowed only 321 hits in 370 big league innings.  The key to the trade is that Heyward is a free agent after next season and was unlikely to be resigned by the Barves.  Getting a high quality starter for him was a nice move by Atlanta.
But…if Heyward, now free from the idiocy that is Greg Walker: hitting coach, taps back into the raw power he possesses, he could blossom into an impact offensive player.  The Cardinals would, in that instance, be happy to pay to keep him long-term.
It'll be interesting to see the reaction of Cardinals fans to this trade.  They freaked out in July when the team traded vastly inferior pitcher Joe Kelly to Boston.  Chances are they won't give a shit that Miller's gone.  For whatever reason they hate Miller and Lance Lynn and love Kelly.  Must be the meth.
So, bad news simultaneously for the Cubs.  They lose the catcher they had targeted, and the Cardinals take a chance on a high upside guy like Heyward.
Then, a couple of hours later, the Cardinals announce they're adding last year's Cubs hitting coach, Bill Mueller, as an assistant hitting coach.  Miller had quit his Cubs job his boyfriend Mike Brumley was being reassigned, Mueller felt the travel was too much and he wanted to go closer to home (St. Louis) to spend more time at home.  His wife can't travel with him because she can't convince her boss to give her time off from her day shifts at the strip club, where she performs under the stage (pole?) name, Caesarian Scar Chantal.
But hey, the Cubs have Tommy La Stella!
Nobody's sure where La Stella fits in the infield.  He's a second baseman by trade, and in fact, hasn't played any other position professionally.  He bats lefty, and in the minors did a great job getting on base (minor league career OBP – .407), but not a lot of pop (minor league career SLG – .474).
Is he insurance in case Javy Baez craps the bed?  Or if Baez or Starlin Castro is traded?
What about Luis Valbuena?  Does La Stella give the Cubs the option of trading Luis, who will start the season at third, but a few weeks in, will no doubt yield his spot for Captain Dreamboat: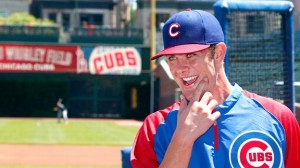 Instead of having Valbuena around to back up second and third, is that where La Stella is going to go?  I don't want to think about it, it makes my stomach turn.  Just like the time I ate that hot dog at Kaufman Stadium.
So the weeks isn't off to an awesome start.  But Lester will be in town soon, and he's the real top target anyway.
Until he uses the Cubs as leverage and re-signs with Boston, and then we all go on suicide watch.
Ugh.