A couple of days ago I broke down the Bovada over/unders for the American League. Â If White Sox fans could read, I'm sure they'd be extra angry with me. Â Today, lets check out them out for the National League, and, I'll throw in extra prop bet for you for each team.
Arizona D'bags 71.5
It wasn't all that long ago that the D'bags were in the playoffs, taking the Brewers to the limit in the NLDS. Â Then, they decided they wanted gritty players instead of good ones, and they swiftly dismantled the team, then they brought in baseball neanderthals Tony LaRussa and Dave Stewart to run things. Â They deserve what they're getting.
Under.
Bonus over/under – 3 – over – Number of D'backs prospects who will die from scorpion bites in that godless, hellscape, catbox of a state they play in.
Atlanta Barves 73.5
I like John Hart a lot, and long-term he's doing the right thing by stripping this down and starting over. Â But they're going to be a rough watch this season. Â Sure, they still have Freddie Freeman and Craig Kimbrel (for now), but there will also be times when the only things in their outfield are Melvin (don't call me BJ anymore) Upton1, Eric Young Jr. and Jonny Gomes. Â Oof. Â If their fans ever went to games, they'd be pissed by what's going on.
Under.
Bonus over/under – 1,000 – over – Times nasal-talking nitwit Bob Nightengale will refer to Chris Johnson as Kelly, just like he did during the winter meetings when he insisted the Barves were trying to make any trade for Justin Upton include "Kelly" Johnson. Â The only problem, of course, was that Kelly isn't now, and wasn't then, a Barve.
Chicago Cubs 82.5
We've discussed this before, but Vegas is setting Cubs numbers (the World Series odds have somehow dropped to 5:1) where Cubs fans will bet on them, not where common sense would put them. Â If you're Vegas and you can lower odds to limit your exposure and still have people throw money at them, why wouldn't you?
This over/under of 82.5 seems imminently reasonable, and reachable. Â Sure, the Cubs would have to win 10 more games than last year to go over, and sure, that's a lot, but it doesn't seem out of line.
So why am I advising you go under?
Just like with the White Sox, the Cubs filled a lot of holes in the offseason, but they had a shitload of holes to fill. Â The Cubs are relying on rookie starters in right field, second base and third base, and they hope those same three guys make up the bulk of the middle of their order. Â Young players, even the best ones, will have times when they look great and times when they look terrible. Â It's hard to rely on that much young talent (not to mention wherever Arismendy Alcantara ends up, and how many starts Kyle Hendricks gets.) Â I like this team, a lot, and I love the direction this franchise is heading, but 79-80 wins and some really fun stretches of the season seem more realistic than 83+ wins.
This season promises to be last one for (hopefully) a while when playoff contention isn't the minimum expectation.
Bonus over/under – 745,000 – over – times fans exasperatedly shout what a farce it is that Edwin Jackson is on the roster
Second bonus over/under – none – under – The amount of shit Theo gives about what you think about his roster.
Cincinnati Reds 77.5
The Reds are an awful franchise, and would be, even if the only repugnant thing about them was that they employ not just one, but two, Brennamans2.  But there's also the whole coddling of Brandon Phillips while he says vile things, and the fact that they never could beat the Cardinals when it meant anything, but now we have the whole Joey Votto thing.
You and I both know that Joey Votto is a great player. Â He won the MVP in 2010, he led the National League in on base percentage for four straight years and even last year, when he was injured his on base was still .390. Â He is an extra base hit machine with a career OPS of .950 and a career OPS+ of 154.
And many Reds fans, mostly those who believe the nonsense that Franchester Brennaman says, think Joey's not productive because he will take a walk with runners on base instead of "driving guys in." Â There are so many things wrong with that luddite way of thinking, but we don't even have to go there.
Check out this easy to understand statline. Â For his career with runners on base, Votto is hitting .354/.477/.578/1.055.
Reds beat writer John Fay compared Votto's career numbers with runners on to those of beloved Reds Hall of Famer Tony Perez3 and Reds fans went nuts, saying that Votto's are only higher because he has half the career at bats that Perez did, and that they were terrible last year (when he played only 62 injury-plagued games).
They do not deserve him.
Under.
Bonus over/under – 190 – over – Times Jay Bruce will strike out if he plays 160 or more games (which he won't because he's fat and gets hurt a lot). Â Baseball writers have been telling us forever how great Bruce is, but come on, he's a low on base average, all or nothing hitter, who benefits from playing in a bandbox. Â His road OPS for his career is a pedestrian .740.
Colorado Rockies 71.5
Quick, other than perennial DL-all-stars Carlos Gonzalez and Troy Tulowitzki, who is on this team?4
For 22 years, they've been basically a novelty.5 Â If they went away, would anybody notice?
Under.
Bonus over/under – Two – Push – Number of times Tulowitzki is finally traded only to have the receiving team fail his physical and send him back.
Los Angeles Dodgers of Los Angeles 92.5
The Dodgers have lost in the playoffs to the Cardinals the last two years. Â What a bunch of assholes.
They have a $265 million payroll and can't figure out how to build a bullpen. Â This year, they decided they'd rather have Jimmy Rollins than Hanley Ramirez and decided they have no further need for Matt Kemp. Â They still have a lot of talent, and regular season wins won't be a problem. Â Even with this high number, they'll probably sail past it.
Over.
With Clayton Kershaw, Zack Grienke and Hyun-jin Ryu they should be perfectly set up for the playoffs. Â You would think they could find a real third baseman some day, though.
Bonus over/under – One billion – over – Times Don Mattingly makes an in-game move and Dodgers fans bitch that they didn't dump him for Joe Maddon when they had the chance.
Miami Marlins 81.5
It pains me that this team is this good. Â Their owner is an awful, awful person, their fanbase is non-existent, they play in a museum of modern art that is always empty. Â But if Jose Fernandez wasn't going to miss most of the season with his Tommy John Disease treatments, they'd be even that much better. Â If Giancarlo Stanton isn't affected at the plate from being hit in the face by Mike Fiers last season, they'll have a terrific young outfield. Â Their only real hole looks like first base, where their top two options are Mike Morse and our favorite fart-lighting former Cubs utility player Jeff Baker.
Oh, to have such problems.
Over.
Bonus over/under – 100 – over – Number of games into the season before Jeffrey Loria demands they trade Stanton for three cheap prospects and a Matisse.
Milwaukee Brewers 78.5
I think Vegas has nailed this. Â The Brewers won only 82 games last year even with their great start. Â You figure everyone's favorite Herpes Simplex advocate Ryan Braun will be better than he was last year (but never as good as he was when his unrefrigerated pee could light up the scoreboard), but there is a lot of mediocrity on this team.
Over.
But barely over. Â Like 79 wins, barely over.
Bonus over/under – Six – over – Number of times Matt Garza launches a throw to first into the right field corner on a bunt attempt.  I honestly don't know why teams don't just bunt at him every at bat.
New York Mets 81.5
The New York media is making a huge deal out of the fact that their GM, Sandy Alderson, predicted they'll win "89 or 90" games. Â They think it's preposterous. Â I didn't agree until I read that they are considering leading off Curtis Granderson. Â Good God, is Corey Patterson not available?
The Mets have a strange offense. Â Getting Michael Cuddyer is a huge upgrade for them. Â Think about that. Â A sea-level Michael Cuddyer is a "huge" upgrade. Â They do have the makings of a very good rotation. Â But otherwise there are lots of holes. Â Like shortstop. Â They don't have one.
Despite their deficiencies, I like their number.
Over.
Just not 89 or 90. Â More like 82 or 83.
Bonus over/under – One – over – Number of heads that will literally explode thanks to the media's incessant need to start a Starlin Castro to the Mets for some member of that starting rotation. Â It's not happening guys, knock it off.
Philadelphia Phillies 68.5
Part of me feels bad for Ryne Sandberg. Â He finally got his long-awaited chance to manage, and it was with a franchise he has actual ties to6 and it's doomed to failure.
This is a terrible team. Â GM Ruben Amaro watched them get old and bad and didn't have the balls to trade any of the veterans who could still play, when they could still play. Â Handing out terrible contracts didn't help, either. Â Now the best he can hope for is two actually good prospects for Cole Hamels and a warm body for Jonathan Papelbon. Â Why he's not trying to trade Chase Utley is a mystery, but he won't have to worry too long, Chase will hurt himself this spring and be literally untradeable.
Vegas put a low number on this team.
But I think even that is too high.
Under.
They only won 73 games last year, and they got best-case scenario years out of Utley (155 games) and Howard (153), plus they had Jimmy Rollins play 138 games.
Bonus over/under – 13 – under – That's how many starts they got out of Cliff Lee last year. Â They hope to trade him for something, but 36 year olds with a bad elbow don't get better, they get worse. Â They'll get fewer than 13 starts out of him this year.
Pissburgh Pirates 83.5
If the Cubs are going to sneak into the playoffs a year ahead of schedule, these next teams figure to be in their way. Â Pissburgh has made the playoffs two years in a row, but have some big question marks. Â Russell Martin wasn't that great for them last year, but they didn't really seem to replace him with anybody. Â I mean, they'll have a catcher. Â If you don't the umpire gets tired of getting hit with every pitch that doesn't get hit. Â They brought AJ Burnett back, but he was bad in Philly last year. Â Like really bad. Â Their bullpen thinned out when Jason Grilli went into the shitter and Mark Melancon had to go from set-up to closer. Â They haven't really addressed that.
They did some stuff, though. Â They're going to try Pedro Alvarez exclusively at first, hoping limiting his throwing will help him relax and improve his offense. Â They'll play Josh Harrison every day at third and hope he can duplicate his great second half. Â They signed KANG! out of South Korea to split time with Jordy Mercer at short. Â They'll have a full season of Gregory Polanco in right and hope that his game smooths out over a full season (he was awesome when he first came up and then went into the dumper.)
This is a pretty good team. Â 84 or more wins doesn't seem like a reach.
Over.
Bonus over/under – One – under – Years before manager Clint Hurdle7 turns completely orange.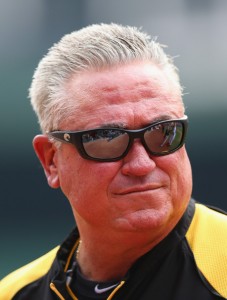 San Diego Padres 84.5
Few teams have had this drastic a makeover in one offseason. Â They have a whole new outfield, a new third baseman and catcher, and added a key starting pitcher. Â They are still in the running for Cole Hamels and are considered one of the three most likely destinations for Cuban hotshot middle infielder Yoan Moncada.
So how can you not go over? Â It'd be tough not to, but few teams change over this much of their roster and get it all worked out in one season. Â Plus, a lot of their pitching hopes (especially if they don't get Hamels) relies on Andrew Cashner being healthy (never a safe bet). Â Their outfield defense could be horrendous, if they really have to have Wil Myers in center. Â Outfield defense doesn't seem like that big of a deal, but it can make a big difference when your park is as absurdly spacious as Petco is.
Still, you have to like Justin Upton and Matt Kemp in the same lineup, and even if Cashner just makes 25 or so starts they'll be pretty tough.
Under.
I think barely. Â I just can't bank on them winning 85 games.
Bonus over/under – Two weeks – Under – How long it would take people clamoring for them to go back to their old brown and yellow uniforms before they got sick of it.
San Francisco Giants 84.5
On paper, the Padres look like a team more talented than their number and the Giants look like a team less talented than that same 84.5 number. Â But I have more confidence in the Giants. Â They have the best manager in the game, they should have a healthy Matt Cain this year, replacing Pablo Sandoval's regular season production is a lot easier than replacing his postseason production, and incredibly, Angel Pagan's presence in the lineup makes a big difference for them. Â I don't see them defending their title, but I do think they'll win more than 85 games.
Over.
Bonus over/under – 26 – over – Number of starts Tim Lincecum makes. Â He made 26 last year, and I think he'll top that, even as fans scream for him to move to the bullpen. Â He was effective in the pen in the 2011 playoffs, but in long stretches, not in the way he'd be used in a more traditional reliever role. Â Even with his struggles the past three years, he still gives you valuable innings, even if he never gets back to his dominant former level.
St. Louis Cardinals 88.5
Ugh.
Over.
Bonus over/under – Ugh- Who cares?
Washington Nationals 92.5
On paper8 this is the best team in the league, and their rotation is scary good with Max Scherzer joining Stephen Strasburg, Jordan Zimmermann, Gio Gonzalez and Do(u)g Fister. Â Hell, they "have" to move Tanner Roark to the bullpen, when just about every other team in either league would want him starting for them. Â Their manager is still a weirdo, even if he got a contract extension, and that's problematic. Â So is 'solving' their second base situation by trading Tyler Clippard for Yunel Escobar. Â But they have Bryce Harper, and in the playoffs, Bryce reminded the dopes who incredibly think he's underachieved to this point9 that he's awesome.
Over.
Bonus over/under – 120% – Over – The chance that if they leave Drew Storen as their closer that he'll fuck up his third straight postseason. Â That guy is the worst.
---
Here are those annoying footnotes.