It's that time of year again, time when baseball teams show you what "free" crap you'll get when you attend various games. Â Nothing will top the Cubs giving out a bobblehead of a legend of another team like they did last year when they honored one of the most ignominious moments of their franchise history and "celebrated" the Babe Ruth called shot with a bobble last season.
Here are the highlights of the Cubs 2015 promotion schedule.
April
The Cubs and their legacy pizza partner Giordano's are giving away the traditional magnet schedules, not only for opening night, April 5, but also the next home game April 7. Â The best part of this magnet is that it actually tastes like Giordano's leftovers if you leave them in your car by accident for three days like my wife has done, more than once.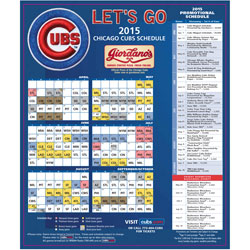 On the 17th, they're giving away something called a Winter Aviator hat. Â Sounds dumb, and there's no picture. Â So who cares?
May
May 1 is not just for the Russians driving tanks in parades anymore, now it's also your chance to get a Wintrust Cubs marquee football. Â Sound like the dumbest thing ever? Â It's pretty close.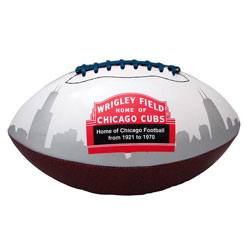 What is this celebrating? Â That Wrigley used to have football and it's the 45th anniversary of the Bears not playing there? Â To pay homage to the Illinois-Northwestern game Wrigley hosted a few years ago, this ball can only be thrown or kicked in one direction.
On May 16, you can get your MLB Network/Cubs reusable grocery bag. Â These are always great. Â You can do some guilt free grocery shopping with this, knowing that you are not harming the environment with wasteful plastic bags. Â Pack this full of three dollar wine, Twinkies, and some Fudge Stripe cookies and save the impact of your reckless decisions on your health, not on our planet.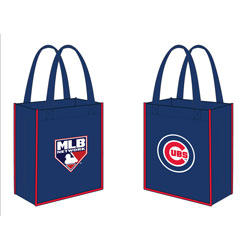 On May 29 there's something called the Budweiser Bleacher Beach Bash. Â If it involves a shirtless Al Yellon I'm calling the health inspector.
Celebrate the majesty of the short-lived Chicago Whales, the team that preceded the Cubs at Wrigley, with a replica jersey.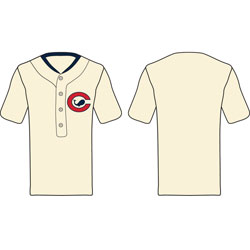 This actually seems like a cool giveaway. Â I would guess the team will be wearing Whales jerseys, too, and it will probably be unseasonably warm on May 30 and they'll all suffer heat stroke from the wool.
May ends on the 31st with your favorite pantsless child predator, Clark immortalized on a pantless bobblehead holding up a Wallethub flag. Â Strange synergy there, considering that the bobblehead is sponsored by Jewel-Osco.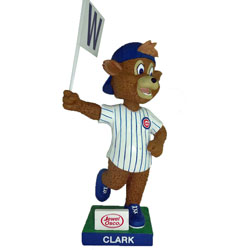 June 
Another Budweiser Bleachers event is being held on the 12th, it's "Country Day." Â No announcement which country is being honored, but my sources tell me it's probably Albania.
The next day, June 13, the Cubs are giving out a Joe Maddon "debut" bobblehead.  Supposedly it's commemorating his introductory press conference.  The bobble is of Joe standing at a podium.  Check it out: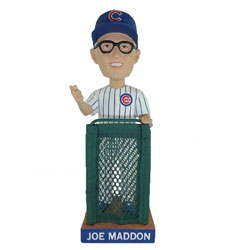 Is that what he looked like at the press conference?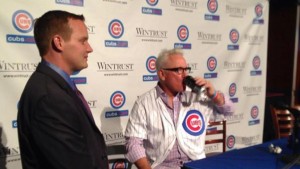 Yeah. Â Thanks Cubs, this bobblehead is soooooo much better. Â How much would a bobblehead of a disheveled Joe with his jersey hanging over a half buttoned pink dress shirt drinking a beer go for? Â No, your idea is a lot better. Â Thanks.
The very next day, June 14, the Cubs are giving away something called a Joe Maddon OYO(R) Dugout Set, sponsored by Gonnella Baking to the first 5,000 kids at the park.  I have no idea what it is, but I assume it's this: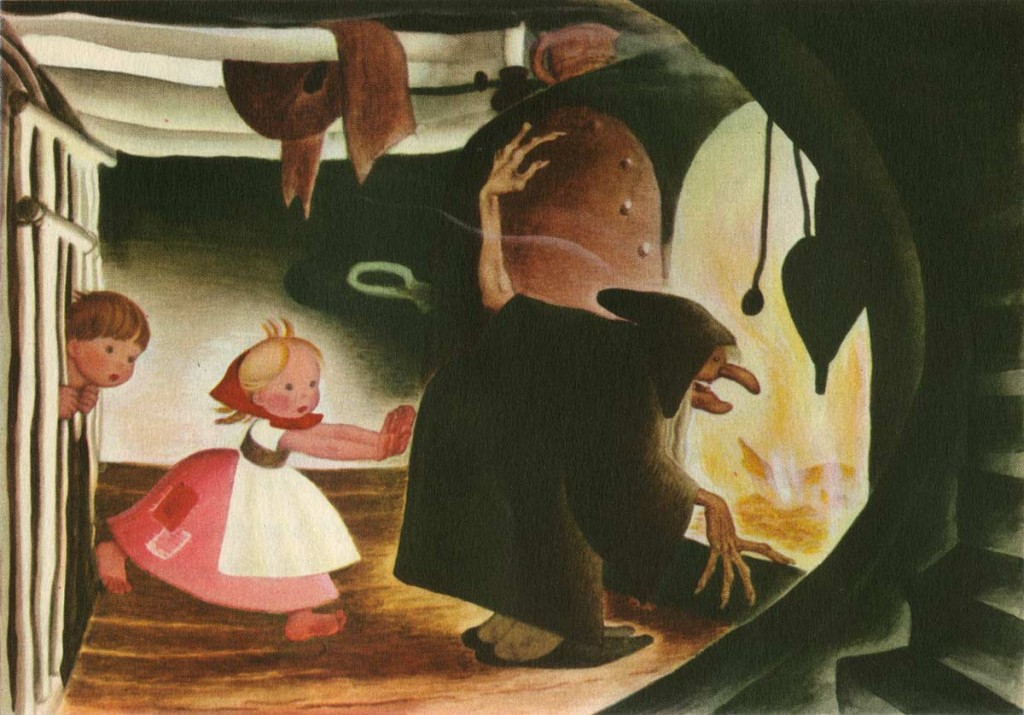 It's a kit the kids can use to push their grandmother into an oven, then leave clues for the police that make it seem like the house was made out of candy and grandma was going to eat them.
I'm probably right.
July
Wow, July is chock-full-o-giveaways. Â Which makes sense, the Cubs usually have a hard time selling tickets the one month in Chicago when the weather is nice.
July 3 is another one of those Budweiser Bleacher events, this one is called "Red, White and Brew" and they didn't give specifics, but I can only assume that Kid Rock will be on hand to give hepatitis to the first 500 fans in the bleachers.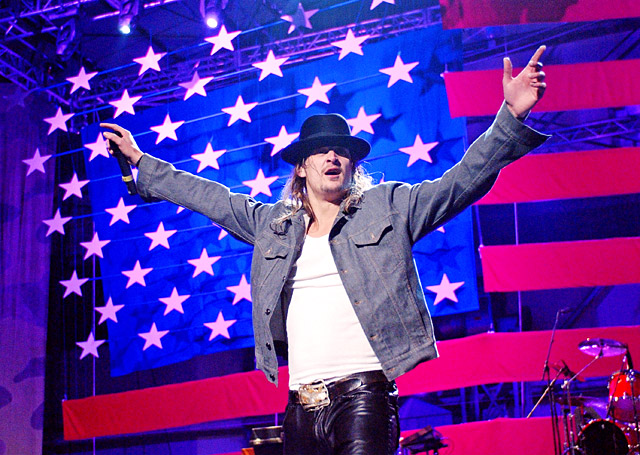 Celebrate the fourth of July with this Cubs camo hat!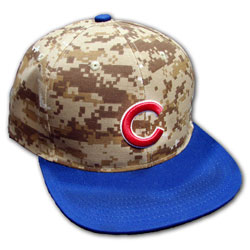 Before you lament how dumb this hat is1, remember that Jon Lester was wooed by the Cubs with a similarly stupid camo Cubs hat. Â 'Merica!
On July 5 the first 5,000 kids 13 and under will get an Anthony Rizzo growth chart poster. Â The poster is taller than the 6'4 Rizzo, so if you have a 6'8 13 year old in your life, he or she is going to love this.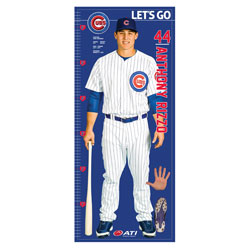 July 10 is yet another Budweiser Bleacher event, this one is called the "Extra Innings Show" and I can only assume that Cubs TV broadcasters Len Kasper and Jim Deshaies will do the postgame show from the bleachers while drunken fans do that uncomfortable thing where they stand behind them in sight of the TV cameras looking off to the side at a monitor.  Now that is 30 minutes of great entertainment.
July 11 the giveaway to the first 10,000 fans is a Starwood Preferred Guest Mobile Power Bank. Â You know these things, they're the chargeable power packs that you carry around in your bag so that if your cell phone battery starts to die you can plug it in, and when you do, you'll realize it's been weeks since you recharged the pack and it doesn't work. Â Great.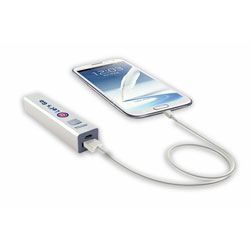 July 12 the first 5,000 kids will get a  color-your-own Clark the Cubs lunch bag.  Basically, this is a way for the Cubs to only pay for two color printing on the bag and use your kids as the labor to finish the job.
Hey, at least your kids can draw clothes over Clark's genitals.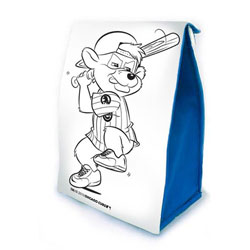 OK, this is cool. Â On July 24 the Cubs will give a replica of the Billy Williams statue to the first 10,000 fans. Â The Phillies are in town and Theo will try to trade one of them to Ruben Amaro for Cole Hamels.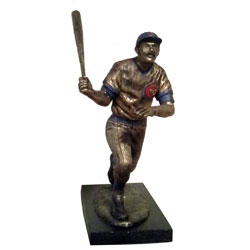 The Cubs do a lot wrong, but other than the creepy Harry Caray statue, the other ones, Billy's included, have been great.
The next day is Jorge Soler "debut" bobblehead day. Â The Cubs don't have a picture of the bobblehead because they are the worst.
But it should be of him flipping off the Brennamans at home plate in Cincinnati after his first homer.
July 26 is replica batting helmet day, because nothing is better on a hot July day than a thin plastic hat for the kids.
August
August 7 is everybody's all-time favorite, the floppy hat, sponsored by RumChata, for the fist 10,000 fans in attendance. Â Those always seem like a good idea, but unless you are a professional fisherman or Yosh Kawano, who wears these?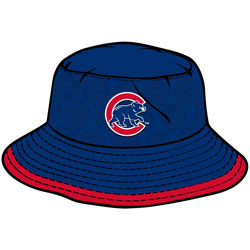 On August 8, StubHub is sponsoring replica Ron Santo retired number flags. Â These are cool. Â And, I'm sure they're worth even more on the secondary market.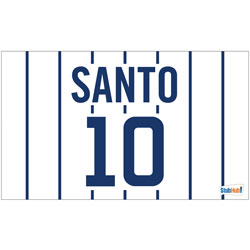 The Cubs don't have pictures yet of the rest of these items, so let's just plow through them.
Aug 9Â – "Construction Clark" Plush Bear for the first 5,000 fans 13 or under. Â As if Clark isn't creepy enough, now they're going to dress him up like the Village People construction worker.
Aug 19 – Cubs wine tumbler to the first 10,000 fans 21 or older. Â The game is against the Tigers, wouldn't it have been more fitting to do this against Tony LaRussa's Diamondbacks?
Aug 21 – Yet another Budweiser Bleachers event, this one is '90s Day. Â Oh, screw that.
Aug 22 – Jon Lester "Debut" bobblehead. Â I'm sure the bobblehead will give up six earned runs to the Cardinals, too.
Aug 23 – They're calling this a Cubs Die Cast Toy. Â So Ernie still won't be buried in August?
Sept 5 – How about a nice fleece blanket presented by…get this… Reynolds Wrap. Â Nothing says fleece, warmth or comfort quite like clear cling wrap. Â Nice job, Cubs.
Sept 18 – The final Budweiser Bleachers event is still TBD. Â Or maybe, that's the actual theme. Â Tuberculosis, Botulism and Dysentery? Â Nothing beats fun at the old ballpark.
And the final giveaway, the coup de grace, the one you've all been waiting for is…
Sept Sep 26 and all they'll say is that it's a Cubs Debut Bobblehead: TBD. Â Gee, who do you think it's going to be?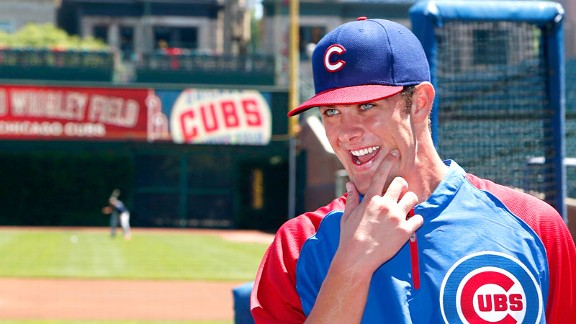 But with our luck, it's probably: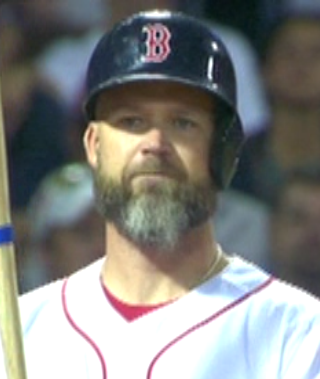 Here are those annoying footnotes.