Major League Baseball saw fit to pair the Cubs and Cardinals up seven times in the first six weeks of the season, including a rare four-game set at Bus(c)h Stadium this week.  Much angst has been had about how the Cubs struggles to hold a lead in the first three games in St. Louis reflects on whether or not the Cubs match up with the Cardinals.
I'm here to tell you this.  It doesn't matter, right now.  The Cardinals don't matter, right now.
St. Louis is off to their best start since Nathan Bedford Forrest was playing for the team.  The Cubs win last night snapped an eight-game winning streak for the Cardinals and they are 20-7, and already 5.5 games clear of the Cubs.  This would all be meaningful, if we thought it really mattered.
The Cubs team that's on the field right now is not the team that will be hopefully swinging elbows with the big boys late in September and (dare we dream) October.  The names might largely be the same, but Jorge Soler, Kris Bryant and Addison Russell will all be older and wiser and much more comfortable with about 100 more big leagues games under their belts.  They haven't even combined for 100 big league games yet.  You would certainly expect that Theo and Jed will have addressed that shitstorm of a middle relief corps, and hopefully by then the starters are consistently going deeper into games, taking some of the load off of those overmatched guys in the first place.
Sure, every game matters.  A win in April or May is just as important as one later in the season, so by definition, these games do matter.  But they don't carry any other significance.  There are no lasting statements being made.  The Cardinals are a good team on a hot streak.  The Cubs are a good team still trying to figure stuff out.  It's May.
St. Louis is not a great team.  They're still pretty damned good, but this is no juggernaut.  That said, they are clearly the best team in the NL Central and chances are they're going to cruise to a division championship.
The teams the Cubs will be battling it out for a playoff spot are most likely the Mets (the Nats seem to be getting their shit together now), Pissburgh, Giants, Padres and maybe the Marlins.  The Cubs have to finish ahead of four of them.
I'm like everybody else, I get more aggravated during games at Bus(c)h Stadium than anywhere else the Cubs play.  I hate that place, I hate that team and I hate those fans.  If the Cubs win today behind Jake Arrieta they'll be 3-3 against the Cardinals so far this season.  But at this point 3-3 or 2-4 doesn't really matter.
That's not to say that we haven't seem some things that in the long run, and in the big picture, do matter.
It's been impressive to see the Cubs batter Cardinals starting pitching.  Nobody has done much damage to them so far this year, but the Cubs have scored 19 runs so far in the series.
Joe Maddon's sixth inning ejection matters.  DJ "Sam" Reyburn's strike zone was an amoeba last night, but especially when Soler, Bryant and Russell were up.  Joe sent a message.  These three know the strike zone better than most veterans do. So when they spit on a pitch, don't just assume they gave up on it.  They know it's a ball.  It's a ball.  Yadi Molina can set up three feet outside the not budge an inch when the ball hits his glove, but that doesn't make it a strike.
This stupid shit from Starlin last night: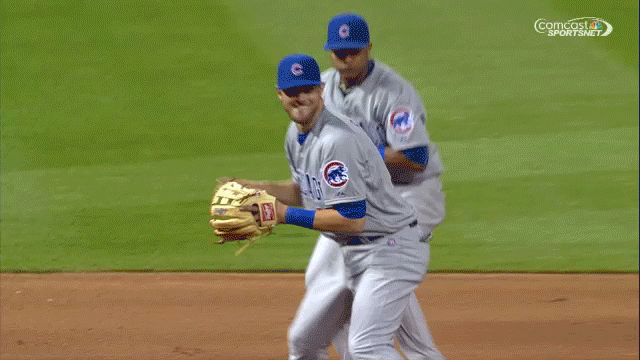 Was great.  Not only was it a perfect impression of Bryant's pat the glove throwing style, but damnit, isn't this shit supposed to be fun?  That it happened in the joyless buzzkill of Bus(c)h Stadium made it that much better.  You could hear the old while people "tsk tsk-ing" Starlin from the stands.  "Our boys, I say, I say, our boys, wouldn't stoop to such foolhardyness!  There is no place for those shenanigans on the Baseball Club of Saint Louis, no sir."  Well, good.  Because guess what?  We're going to enjoy this our own way.  We're not going to golf clap a sac bunt in the third inning and act like it proves we are "true fans of the game."
I'm trying to convince Kris Bryant that when (if) he finally starts hitting home runs, that instead of a Luis Valbuena-esque bat flip, that he stand at home plate, watch the ball land in the stands, rip his jersey off, buttons and all, drape it over his bat, set it on fire and round the bases with it over his head like it's a torch.
And anyway, maybe synchronized fielding is a new undervalued thing to exploit?
So, the point to this long, rambling missive is this.  These are just four games in a random week in May.  The Cubs are figuring this stuff out on the fly.  They don't need the approval of the Cardinals that they're doing things the right way.  It's going to be an uphill battle all season to take a team this young and get to the playoffs.
But if they do it, and if that run ends up with a series that starts at Bus(c)h Stadium, well, THEN it will matter.  And if that happens, chances are the Cardinals aren't going to like what they see.
It's coming.  It's not a matter of if, but when.  Maybe this year, maybe not.  But right now, it's just another game off the schedule and another page off the calendar.  The Cubs have bigger things to concern themselves with than the Cardinals.