There are signs, there are omens, and then…there are things that can only be explained as truly miraculous.
The 20,000 or so people who actually stayed through the end of the second game of yesterday's Cubs-Reds doubleheader at Great American Ballpark witnessed an unbelievable sight. Â Biblical scholars are hard at work trying to figure out what it means. Â We, simple humans, may never have the capacity to truly understand.
In the ninth inning of that second game, with the score tied at five, the Cubs were rallying against the most dominant closer in the game. Â Aroldis Chapman, a 6'4 Cuban lefthander who has thrown more pitches of 100 miles per hour or faster than every other pitcher in baseball combined this year (he did the same thing last year) was in to try to keep the game tied at five. Â The Cubs had already scratched out a pair of hits off of him, but Dexter Fowler was thrown out at home plate. Â With two outs, all the Reds had to do was intentionally walk Jorge Soler and pitch to this guy: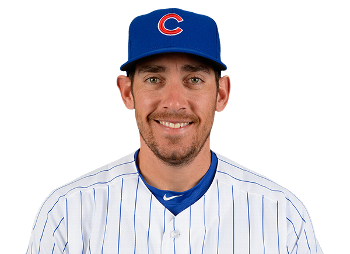 Taylor Teagarden, the Cubs third string catcher (fourth, really, considering that Miguel Montero is on the DL). Â Teagarden had already pinch hit twice in the series, and struck out twice, haplessly, on six pitches—total.
You talk about mismatches, this wasn't David v. Goliath, it was David v. Goliath if instead of a slingshot, David had a Nerf bow and arrow (and nobody knows how to actually work one of those fucking things.)
Aroldis nearly gave up the lead while trying to walk Soler, and it turns out that the intentional walk to Jorge was the first, and only one, Aroldis has ever issued in his life.
Did it rattle him?
Well, maybe. Â Because this happened:Â http://m.mlb.com/video/v283196583/chccin-teagarden-puts-cubs-in-front-with-hit-in-9th
On the first pitch, a 101 MPH fastball no less, Teagarden, who had swung what looked like a boat oar in his previous two pinch hit at bats, hit a solid single to center to give the Cubs the lead.
The fact he was even still on the team was also a miracle. Â After the 13 inning game the night before and with a doubleheader coming up that day, the Cubs needed to add a reliever and most people thought Teagarden would get sent back to Iowa, instead, the Cubs designated the much more useful Clayton Richard for assignment. Â Teagarden stayed, and was the last man on the bench in the ninth when he vaulted himself into Cubs immortality, like Dave Owen driving in the winning run in the 1984 Sandberg Game.
This is the same game that was only still tied in the ninth because Hector Rondon deflected a ball with his ass to Anthony Rizzo for a huge out with the bases loaded.
This team, man. Â This team.
Crazy shit happens to them, and because they are either too tough, or too stupid,1 to ever quit, most of the crazy shit goes in their favor.
As we head to the end of July and first the non-waiver trade deadline, and then the waiver trade deadline at the end of August, the Cubs will be looking to find help for this roster. Â But do they even need to bother? Â Even Taylor Teagarden and his -6 OPS plus going into the game, finds a way to work out.
Whatever. Â All I know is that it's a lot of fun.
Here are those annoying footnotes.