Yesterday, Jed Hoyer, the tiny little guy who Theo Epstein allows to pretend he's the general manager, said that the Cubs are about to have some "fun" roster problems. Â Jed's idea of fun needs some work.
What he was referring to is the imminent return of catcher Miguel Montero and infielder Tommy La Stella and the spectre of the re-arrival of Javy Baez.
The season-long tradition of having an unwieldy roster will continue with the Cubs carrying three catchers…again1, and with Kyle Schwarber one of the few Cubs who is actually hitting, it means they have to find him a spot.
With Starlin Castro literally performing as the worst everyday player in baseball, the Cubs are looking to cut back on his playing time.
So who is the key to all of these roster and lineup machinations?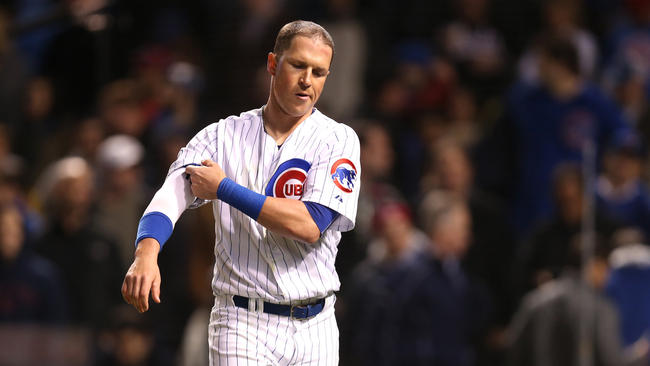 Oh boy.
To hear the Cubs (and president of the Chris Coghlan Fan Club Jesse Rogers) tell it, Coghlan can play anywhere! Â He's the lefty side of a platoon in left field with Chris Denorfia, he could split time with Jorge Soler in right to get Schwarber in the lineup that way. Â He can play second base so they can move Addison Russell to short. Â He can play third to give Kris Bryant a day off. Â He can play first if they ever thought Anthony Rizzo needed a day off.
Is this the same Chris Coghlan who's been playing with them since season, or is there a better player with the same name who they just traded for?
OK. Â It's true that coming up through the Marlins system, Coghlan played mostly second base. Â In fact 246 of his 431 minor league games were at second. Â He also played the outfield and a few games at third and just a handful of games at first. Â So I get it, he's "done" this. Â But he was a below average second baseman in the minors and a trainwreck at third. Â When he came up in 2009 he was the Marlins leftfielder, and it made sense because they had a still competent Dan Uggla at second.
Coghlan's played 541 games of defense in the big leagues and he's played outfield in all of them. Â Yes, he's made five cameos at second, ten at third and two at first (both of those this year). Â But for some reason the Cubs now think he's some sort of half-assed Ben Zobrist?
Just plug the plucky little guy into any spot? Â It's a testament to how bad the Cubs offense is that they can't live without his .755 OPS. Â But honestly…they can't.
I see the strategy behind deploying him this way. Â But how can it possibly work? Â He's a barely competent outfielder, and he had to work like hell the last 10 months to get to that, how is he going to actually turn a double play at second?
And when you play him at second to get Schwarber in left, you have a catcher in left and an outfielder at second. Â The Cubs don't play good defense at their real positions, now they're going to suddenly be average at different spots?
A college coach was asked to describe Schwarber's occasional left field play at Indiana, he said, "Like when Todd Hundley tried it." Â Great?
Why not just do the little league thing where everybody rotates one spot to their right after ever batter? Â That would be fun, too.
Maybe this will work out and we'll look back on the time that Chris Coghlan became the Cubs Swiss-Army Knife Secret Weapon. Â Or maybe we'll look back and remember the time he made errors at five different positions in the same game.
Either way, it won't be boring.
But this is a helluva way to win a pennant.
Here are those annoying footnotes.