Tuesday is September 1 which means that summer came and went before we knew what happened. Â It also means Major League Baseball teams are allowed to inflate their active roster to an absurd 40 players. Â The reasoning is simple. Â Minor league seasons wind down around September 1 and if you need a player after that date where are you supposed to call one up from? Â Most teams add two or three guys, typically, but sometimes, teams add a shitload. Â And this year's Cubs appear to have the scoop shovel out.
It seemed pretty straight forward a couple of days ago. Â The Cubs would call up a few extra arms for the bullpen and for the bench, including the return of the Javier Baez Experience. Â But then, they started tinkering with the roster and now, all sorts of crap could happen.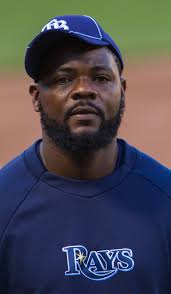 Yesterday they traded some cash and maybe a player to be named later to Seattke for Fernando Rodney. Â Rodney used to be good, and used to be good for Joe Maddon, but he's been bad this year, even though he still throws hard and still has one of the best changeups in the game. Â Maybe he'll put it together for 20-25 innings in September. Â The Cubs have the 7th-8th and 9th pretty well locked down right now from Justin Grimm to Pedro Strop to Hector Rondon, but on days when one or more of them are unavailable, it gets scary. Â If nothing else, Rodney's hat placement will piss off Bob Costas.
The Cubs have also picked up world-class pinch runner Quintin Berry, and signed old friend Emilio Bonifacio to minor league contracts. Â Hard to believe they got both of them this week to NOT put them on the 40 man roster on September 1.
To create room for Rodney, the Cubs dumped former Foghat drummer Brian Schlitter, but how they wedge Berry and Bonifacio onto the roster is anybody's guess.
Maybe Neil Ramirez's season really is done (it sure seems like it) so they can transfer him to the 60-day DL, but they're going to have to DFA somebody else to open the other spot.
The other guys on the DL don't seem like guys they are ready to punt for the rest of the season. Â Even if we'd all like to give Jason Motte a swift kick. Â Jorge Soler should be back before the end of September, and Rafael Soriano is already making rehab appearances. Â Oh, great. Â Can't wait to get that guy back in the bullpen.
Presumably, the Cubs could DFA Dallas Beeler or Eric Jokisch or trade one of them for a player who wouldn't need a 40 man spot. Â I can't imagine either is of much interest to anybody, though. Â One guy who might interest another team in using a 40 man spot for is third baseman Christian Villanueva. Â But my guess is they DFA Beeler.
OK, so if the 40 man has Bonifacio and Berry on it, who they call up?
Pitchers
Tsuyoshi Wada — Given the outright terribleness of Dan Haren so far, Wada or Clayton Richard might end up with his rotation spot. Â If not, at least he's another lefty for the bullpen.
Zac Rosscup — He was sent down to make room for Rodney, but he'll be back.
Carl Edwards Jr. — Son of NASCAR star Carl Edwards…no, wait, this is CJ Edwards. Â He's likely to get a call up due to his conversion to the bullpen and 37 strikeouts in 29 innings. Â Did I mention his 24 walks?
Yoervis Medina — The only way they might not call Yoervis up is if they decide at 250 pounds he takes up too much room in the bullpen.
Rafael Soriano — He's coming back. Â Ugh.
Postion Players
Javy Baez — He's played second, short and third at Iowa and on his own he's been taking balls in the outfield, and Joe Maddon has said he's coming up. Â The Cubs trotted out a lineup with Kris Bryant in right field yesterday and it probably won't be the last time they do that.
Matt Szczur — I know, he's already up, but chances are David Ross will be before Monday and procedurally they'll have to "call" Szczur up for an eighth time this year to get him back on the roster.
Mike Olt — He'll give them a real option if they need to (god forbid) go a day without Anthony Rizzo at first. Â He's a good defensive third baseman and one thing I do expect to see is a trend of mass substitutions late in games since so many of the Cubs starting line up is either shaky on defense or playing out of position or both.
Quintin Berry — His career numbers in the big leagues aren't awful, but he's only had 11 plate appearances in the bigs in the last two seasons. Â What he does is steal bases. Â In 117 big league games he's stolen 25 and never been caught. Â The Cubs fancy him as their Jarrod Dyson. Â Let somebody else get on and have Quintin do the running. Â He'll be a more than competent defensive sub late in games, too.
Emilio Bonifacio — Last year's Mr. April, Emilio can play second, third and the outfield (and even short in an extreme emergency). Â He did little for the Barves last year after he and James Russell were traded there last year and he did even less for the White Sox this year. Â He'll be up for defense and speed.
Arismendy Alcantara? — He played the first 11 game for the Cubs (remember that?) and was a AAA All-Star this year (tallest midget) but he had a bad year in Iowa .232/.284/.409 and really hasn't earned a promotion.  But he, like Bonifacio can play second, third and the outfield and he can legitimately fill in at short (not that the Cubs don't have lots of other options).
If the Cubs call all of these guys up, that makes 11 more guys. Â Where the hell are the Cubs supposed to put 36 guys in the smallest clubhouse in baseball and in one of the smallest dugouts in the league? Â Plus, Motte and Soler will probably be back, too. Â Good lord, the whole 40 man roster might be up.
Hey, that's their problem. Â This team likes each other, they won't mind sitting on each other's laps.
One this is for sure. Â If you thought the games took a long time the first five months, just wait until Joe can change pitchers nine times in a game and sub out every single player on defense.
And they'd have called Taylor Teagarden up, too, but he's not on the 40 man anymore.
Oh, and if you're wondering how many of these guys are eligible for the postseason roster, the rules changed last year. Â Anybody on the 40 man by September 1 can be put on your postseason roster. Â No more having to DL somebody to open a spot for somebody who wasn't on the 25 at 11:59 pm on August 31. Â If Berry and Emilio are on the 40 man by Tuesday they can be on the postseason roster. Â If not, they can't. Â And there's no longer any way to put somebody who wasn't on the 40 man at the deadline on the roster anymore, either.
Got it?
If nothing else, the big lineup video board in right field is going to prove its value down the stretch.