Since the Cubs and I are regular pals now, they sent me a postseason satisfaction survey. Â I know, most of you probably got it, too. Â But in case you didn't, I'd like for you to help me fill this bad boy out. Â So let's have at it.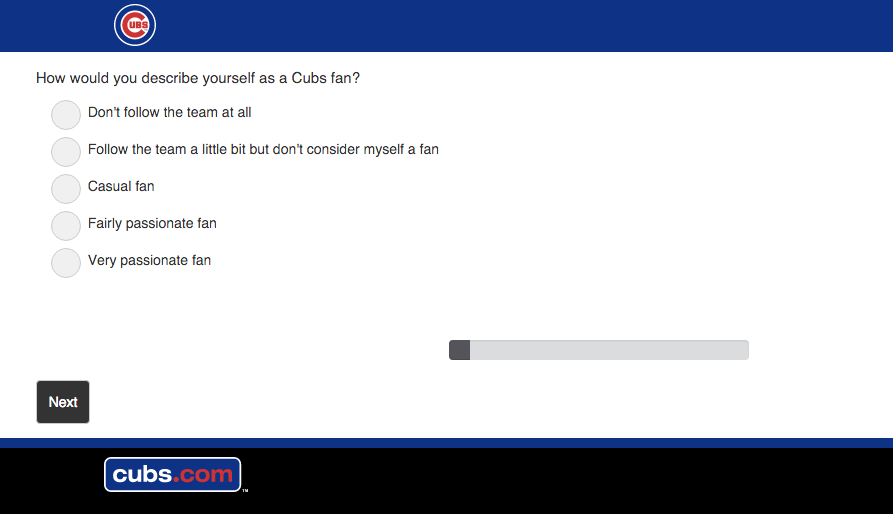 Well, I'm about 6'2, I have blue eyes, I rarely wear underwear, but when I do it's usually something exotic.
Oh, that's not what you mean. Â Well, I've been wasting way too much time and energy on this team since about 1979, so I guess in a word I'd say I'm "psychotic."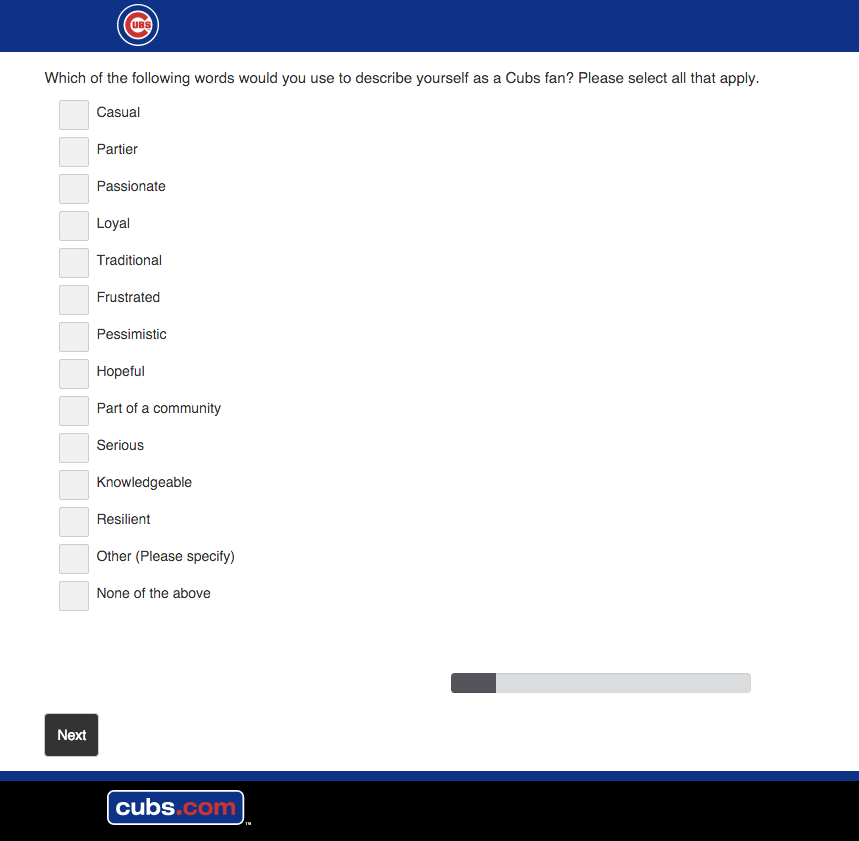 I like that "partier" is on there. Â I guess "clueless Chad or Trixie" didn't fit. Â What do you think Al put for this? Â I don't see bitter, old or troll-like on there.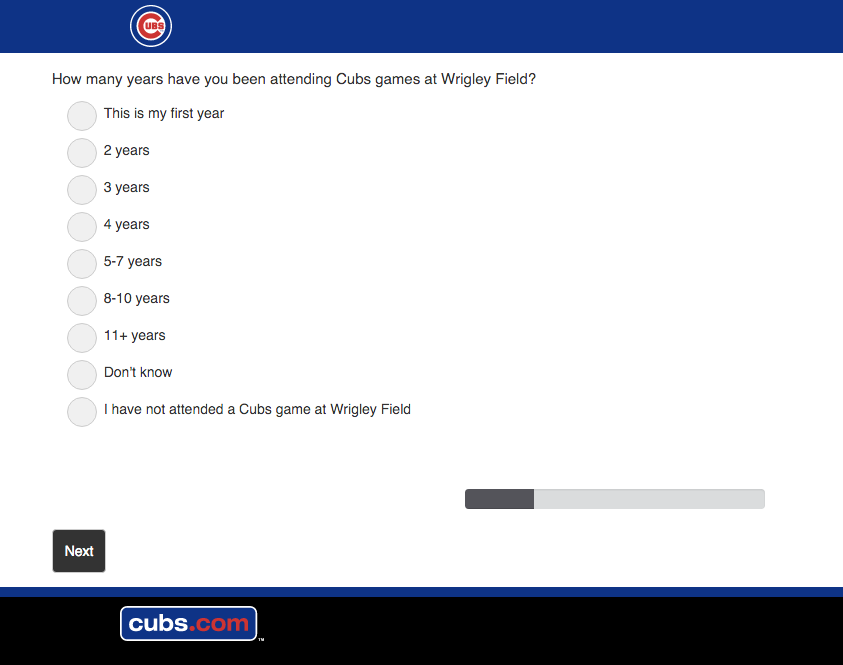 They really missed the boat on this. Â Why is it just 11+? Â God knows, Cubs fans love to tell you how long they've been going to games for. Â Other choices should include:
Since Harry S. dropped the big one on the Japs
From the moment I saw Bobby Murcer in those tight pants
Since the '80s, but I still drink to forget the Chip Caray years
I was born in Rich Bordi's mustache
Since my son and I were banned from Sox Park for beating up a first base coach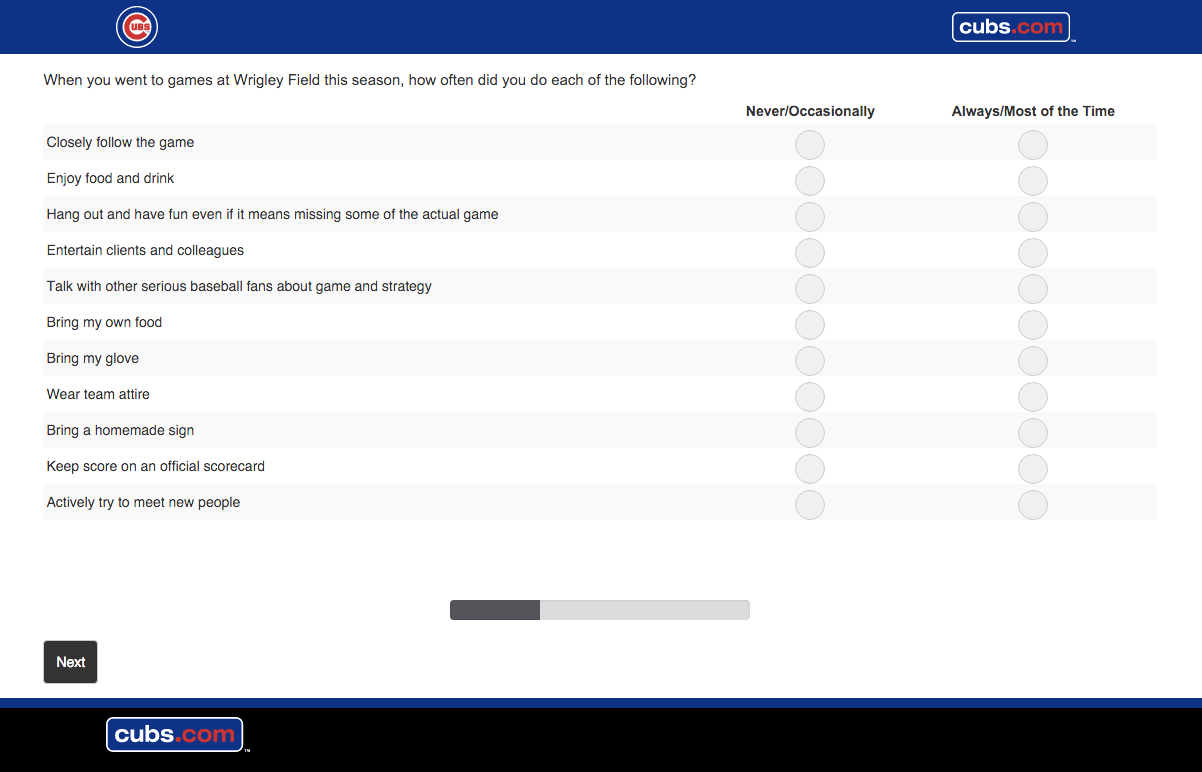 I really hope that they use this survey to ban anyone who answers affirmatively to "hang out and have fun even if means missing some of the actual 1game," or "actively try to meet new people." Â That last one sounds so desperate.
"Hi! Â Do you like the Cubs? Â I sure like them. Â Can I stand here and watch the game with you?"
"Hey, buddy, we're at the trough. Â Knock it off."
Also, if you answer "bring my glove" and you are older than 12, Jon Lester gets to punch you in the neck.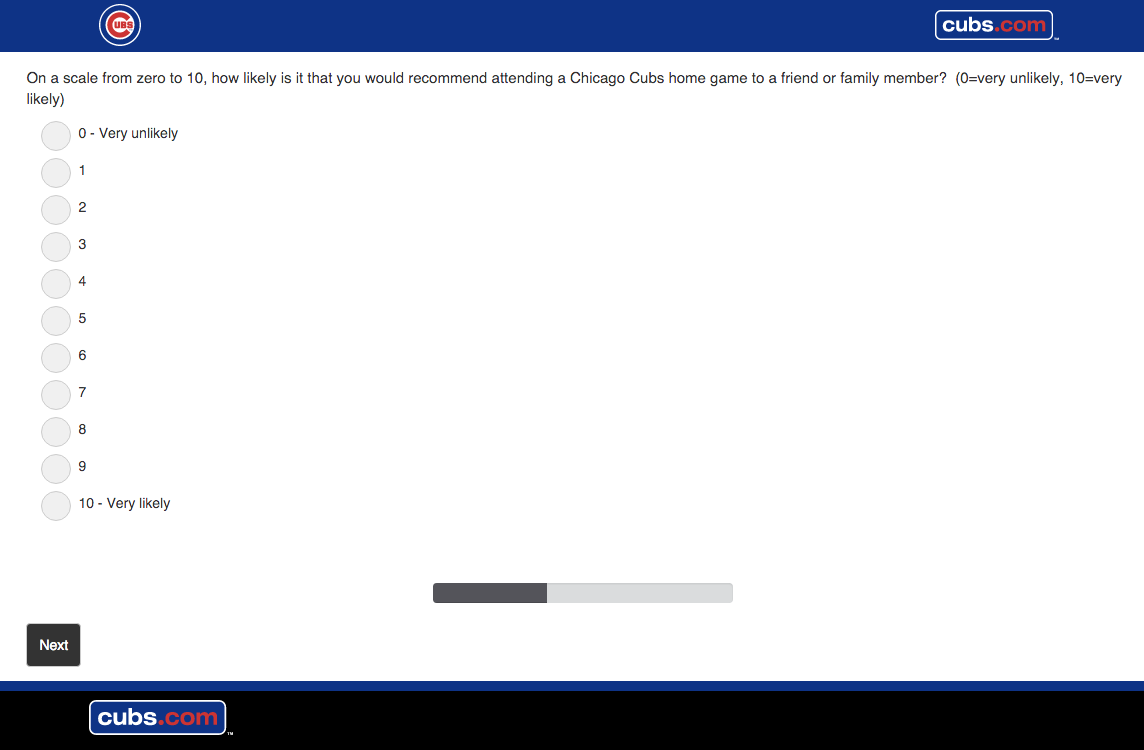 Depends on if I like the family member or not. Â If I like them, then probably three, if they're my cousin Joey it's a ten.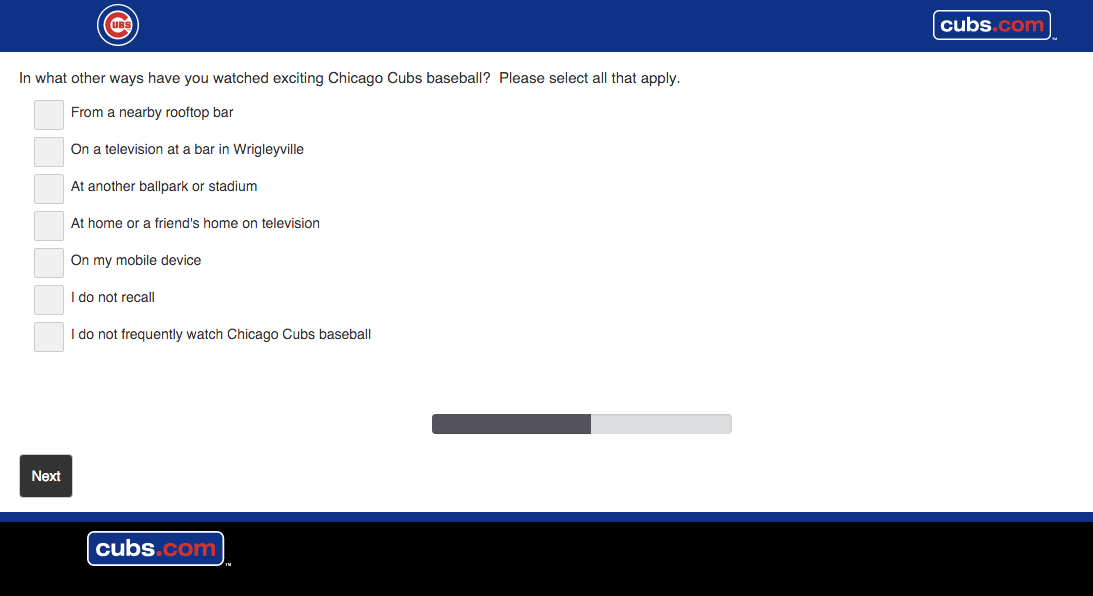 How drunk do you have to be to answer "I do not recall?"
Actually, I guess since it's "ways have you watched exciting Chicago Cubs baseball" I suppose your answer could be, "I do not recall exciting Chicago Cubs baseball."
The one they forgot to put on there is, "From a holding cell after I got arrested for rushing the mound at Randy Myers and nearly being killed."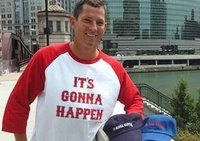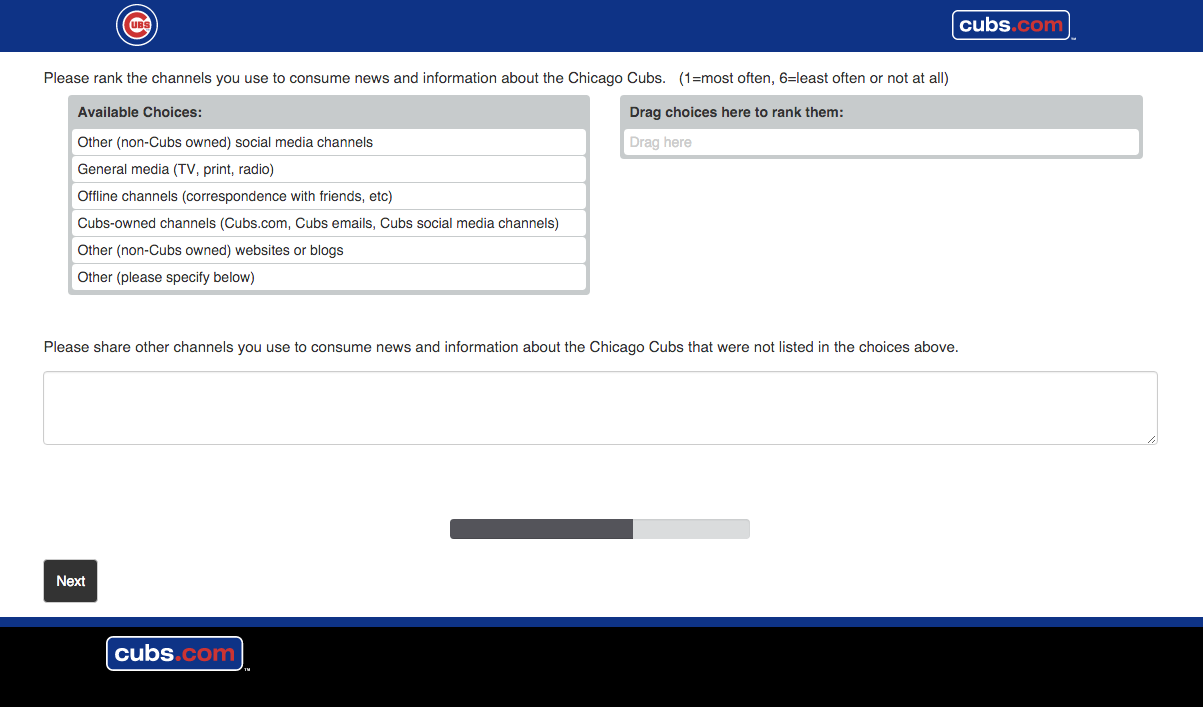 I would assume you all will answer Desipio.com and leave the rest blank.
This isn't a terrible question, but love the phrasing of number three. Â "Offline channels (correspondence with friends, etc.)" Â Correspondence is such a dated term. Â It sounds like people are writing letters to each other in longhand.
"Dearest Edward,
Have you perchance had the opportunity to peruse the results of the recent rounders contests featuring the baby bears of Chicago? Â I believe they defeated the scarlet aviary of Saint Louis by two points the other night which provided the necessary margin for them to advance to the championship of the National League. Â These are heady times for our local nine. Â Huzzah!
The next time you arrive in Chicago by way of the iron horse, please send me a teley. Â I would love to split a ginger beer with you, and discuss potential changes to the sodomy laws.
Most sincerely,
Elijah"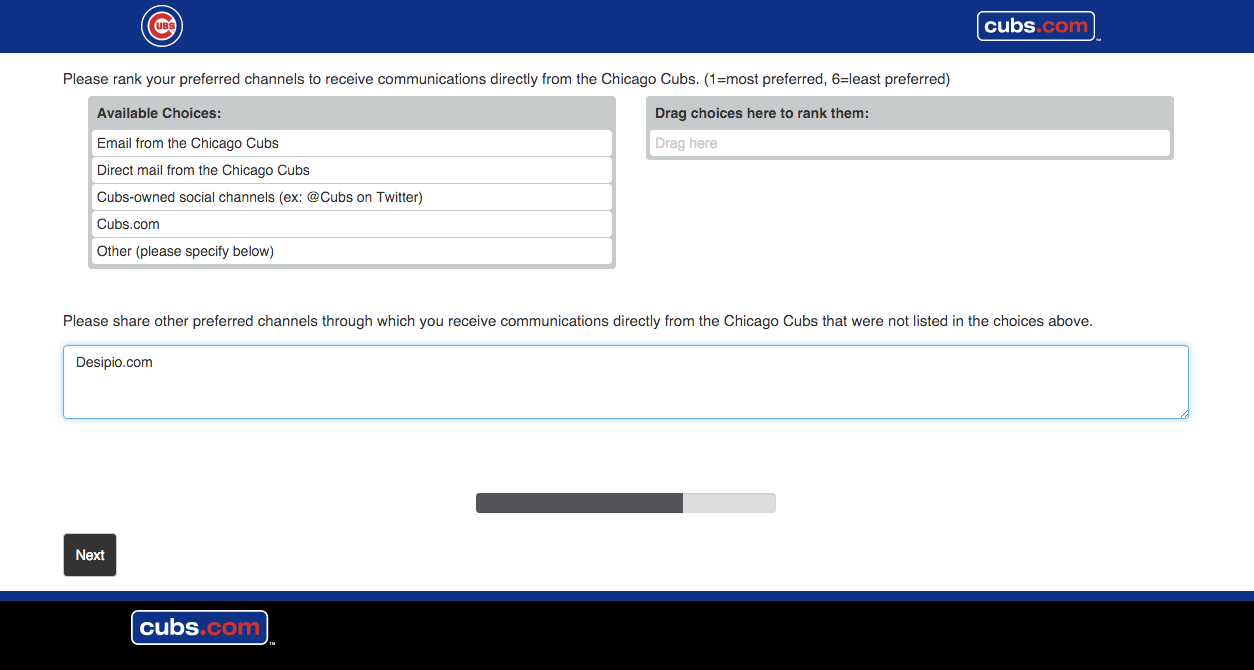 Funny thing is, I didn't type that into the text box, it just came that way. Â Honest.
I refused to answer this question because my preferred method, "via one of the carrier pigeons that lives in Carrie Muskat's bun" was not a choice.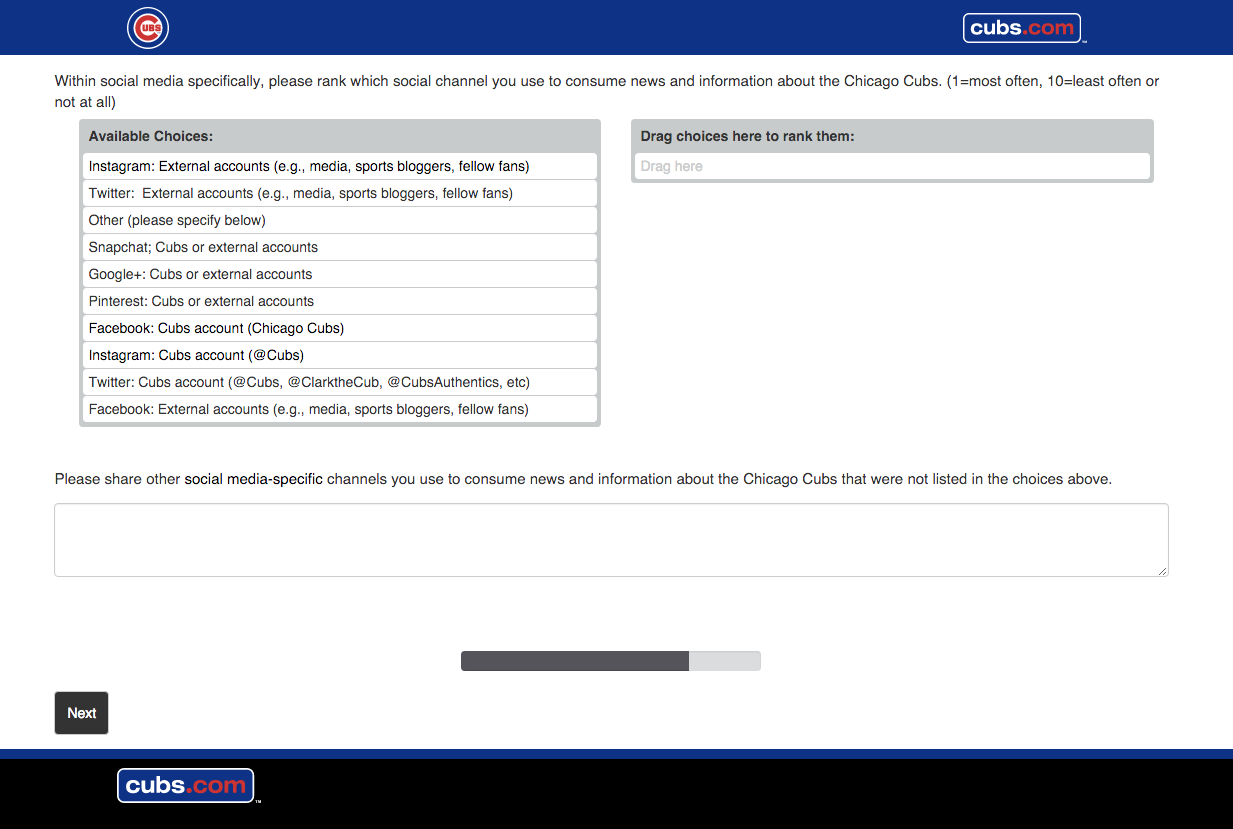 I don't even want to know what's on the Cubs Pinterest page. Â I can imagine somethings that must not be on there:
How to craft a successful run with a runner at third and less than two outs using only an orange peel, a swatch of denim and seven pounds of dried flowers.
Bake the perfect dumpster cake in only four hours.
Pin Jason Hammel to the back of a Greyhound bus headed for Des Moines and other points west.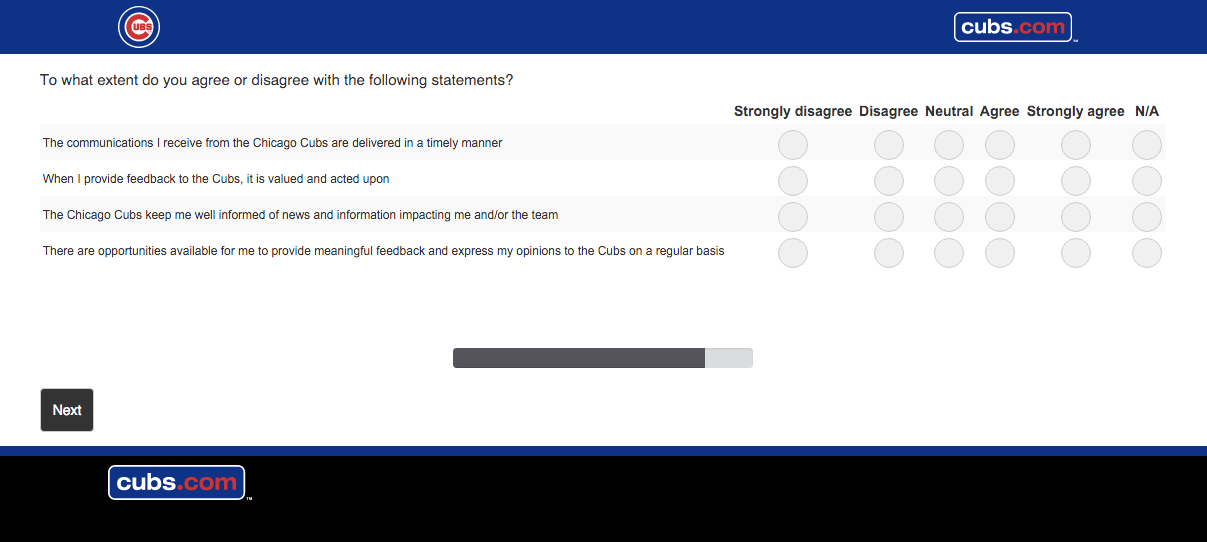 If the Cubs really are concerned about getting feedback from their fans, they need to knock if off. Â Most of us are fucking idiots.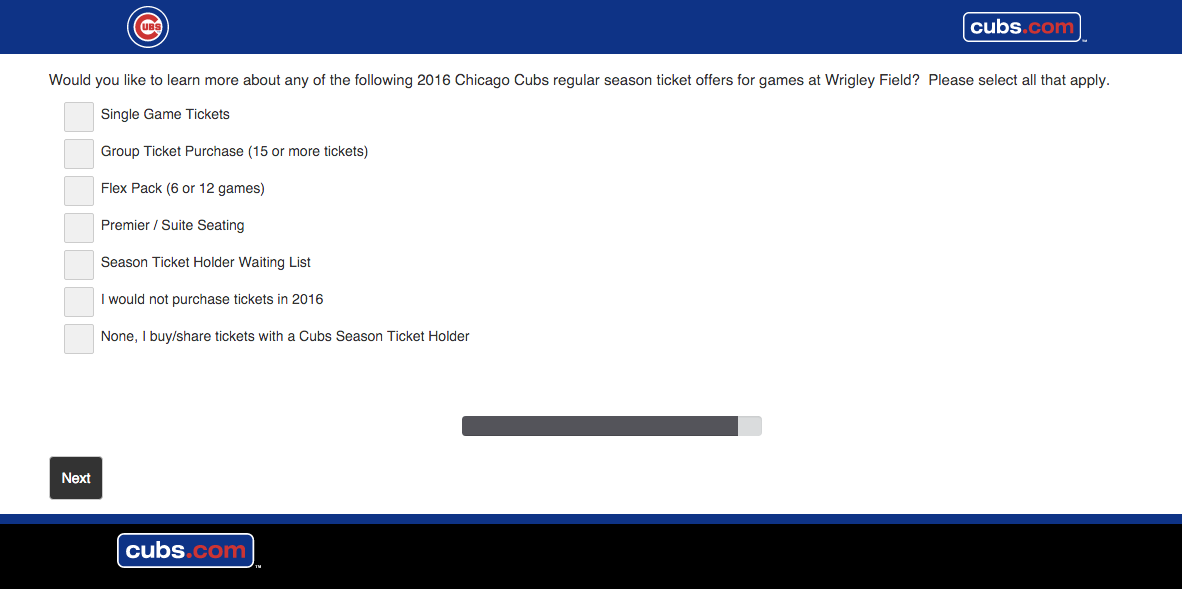 I WOULD NOT PURCHASE TICKETS IN 2016 BECAUSE I'VE BEEN A CUBS FAN SINCE ANDY PAFKO AND THE TRIBUNE COMPANY IS TOO CHEAP TO PUT A WINNER ON THE FIELD AND THEY NEVER SHOULD HAVE TRADED RICK MONDAY!
Basically this was a 12 question survey so they could figure out which ticket packages to e-mail us information on, even though they're going to send us e-mails on every ticket package anyway.

I suspect every Cub fan will answer this the same way.

Oh no. Thank you for humoring us and mining us for data.
Now, if you'll indulge me, I have 27,000 words on why you will either sign David Price or you don't want to win and you're just stealing our money.
Here are those annoying footnotes.