It's funny how having a good team to root for gets you extra fired up for opening day. Â It's not like opening day of the baseball season isn't always exciting, but when your team isn't trotting out Joe Mather, Brian LaHair, Blake Lalli and Tony Campana, it's a little easier to feel justified in that excitement.
So let's bring back an old Desipio tradition. Â Picks that are sure to go horribly, horribly wrong.
National League
Central
Chicago Cubs (98-64) – After 97 wins last season after basically giving the rest of the league a two month head start, I was tempted to pick the Cubs to win 110 this year. Â But I'll dial expectations back a little bit. Â After all, they did get swept in the NLCS last year due mostly to the powerful effects of Matt Harvey's urine hoarding and the deal with the Devil made by pretend born-again Christian Daniel Murphy. Â This year, the Cubs will lay waste to the NL from day one. Â America just better get used to it.
Pissburgh Pirates (94-68) – Funny how the Cardinals are so upset at getting asked questions about the Cubs emergence when in reality it's the Pirates who stand as the only real threat to it. Â The Pirates are apparently serious about playing John Jaso at first base all year, and they traded Neil Walker to clear a full-time spot for super-sub Josh Harrison. Â Their real strength is in the motivational talents of The Great Pumpkin, their bright orange manager, Clin Turtle. Â But that dude just looks like a stroke waiting to happen. Â Pray to Billy Squier or whoever, Pissburgh, it won't save you.
St. Louis Cardinals (83-79) – They've had a long and nauseating run atop the division and that shit is over. Â It's done. Â Yadi Molina's Winstrol shipments have stopped, Matt Holiday is just 270 pounds of mediocrity now, Adam Wainwright's perfecting how to shred a new ligament every year. Â Sure, they have Randal Grichuk and the lunatic hoard seems to think he's greatest thing since…Willie McGee. Â But they can try to convince themselves he's better than Kris Bryant all they want–it will never be so. Â And they can pretend they won't miss Jason Heyward and that he's overrated and not a true Cardinal and a trader all that other crap, but the truth is that they see the colossus that's just getting started in Chicago and it scares the living shit out of them. Â Hey, try not to start another race riot over it.
Cincinnati Reds (71-91) – They've decided to rebuild and they're hilariously bad at it. Â They got nothing of real value for Aroldis Chapman after the Dodgers backed out of a trade thanks to news that Roldy1 beat up his girlfriend and shot up his garage. Â They traded Todd Frazier because the White Sox wanted to upgrade at scrappy, overrated white guy, and they tried to trade loudmouth Brandon Phillips out of town but he killed not, one, but two trades because he demanded a contract extension both times and he sucks now. Â Nobody wants Jay Bruce and they don't have the balls to trade Joey Votto. Â So enjoy being terrible, for a long time. Â We know what that looks like. Â We're Cubs fans.
Milwaukee Brewers (60-102) – I honestly don't know how they're going to win 60 games, but they have to, right? Â The big news in Milwaukee is that you can now buy ice in the parking lot so you can tailgate and never actually have to go into the game. Â I'm sure Ryan Braun will be hiding tainted urine in one of those ice chests, so some lucky fan could get a really rancid souvenir
East
Washington Nationals (93-79)Â (93-69)- They brought Dusty out of mothballs and I think it'll work just fine in the regular season. Â Sure, he'll shred the arms of guys like Lucas Giolito, Max Scherzer and Stephen Strasburg, but that won't really catch up to them until the playoffs when they'll flame out in spectacular and unpredictable fashion. Â It takes a year for Dusty's incessant Hank Aaron stories and Miles Davis lectures start to grate on the entire team. Â The guys I pity are talented young players Michael Taylor and Trea Turner who are going to be stuck on the bench because this is "the earn it business" and Dusty will be playing some old, untalented farts instead of them.
New York Mets (91-71) – Sure they have a great pitching staff, but Harvey's always got something wrong with him and Noah Syndergaard and Jacob deGrom got pushed past reasonable limits last season. Â Their offense sucks, and adding mediocrities like Asdrubal Cabrera and Neil Walker, and trying to catch lightning in a bottle with a full season of Yoenis Cespedes isn't going to work. Â They'll be good because they'll pitch well most nights, but there's still an overall talent deficit between them and the other elite NL teams.
Florida Marlins (80-82) – Giancarlo Stanton will break something (records, outfield walls, hamate bones, cheek bones, something) and a full season of Jose Fernandez is pretty exciting, but they have a lot of holes on the roster and no real motivation to actually fix them. Â The Barry Bonds sideshow is all well and good, but without better players for him to work with, that's all it is.
Philadelphia Phillies (71-91) – Maikel Franco is pretty damned good, and at some point they'll call up JP Crawford, but there's a lot of bad on this roster. Â What saves them is that the Barves have stripped it down even more so they won't finish last. Â Although, when you're rebuilding, you should actually want to finish last.
Atlanta Barves (64-98) – They traded everybody except Freddie Freeman and Nick Markakis and some young pitchers, but it looks like they're getting talent back. Â John Hart knows his shit, and so he's doing this right, and he knows they're going to be terrible. Â Hey, at least Chip Caray gets to try to fake excitement over this crap every day. Â He deserves it.
West
San Francisco Giants (91-71) – This is a talented team, but their pitching staff is chock-full-o fake tough guys, and I just find that annoying. Â  It starts with 2014 World Series hero Madison Bumgarner who was talking shit to the Cubs in spring training. Â Whatever. Â Then there's tubby inconsistency Johnny Cueto. Â Then of course you get the pride of northwestern Indiana Jeff Samardzija who has still never won ten games in a big league season and still doesn't understand the very basic rebuild the Cubs underwent. Â And last of all, and most annoyingly, there's Jake Peavy who threw a tantrum on the mound last year because Kyle Schwarber took too long to walk from the dugout to the batter's box for Jake's taste. Â That guy should worry less about that, and his horrendous guitar playing and singing and more about how washed up his career is.
Los Angeles Dodgers (89-73) They let Zack Grienke go and tried to replace him with like five guys (the old Larry Himes method of replacing Greg Maddux) and now most of those guys are hurt. Â They still have Clayton Kershaw, and they've got Corey Seager, so they'll win plenty of regular season games, but this postseason will probably start without them. Â Given their previous performances, nobody will miss them.
Arizona Diamondbacks (85-77) Grienke's a great pitcher and that was a nice addition, but they overpaid for Shelby Miller and AJ Pollock is already hurt and they're turing left field over to Yasmany Thomas to any ball hit that way is a triple. Â They're a team that made a big splash and improved, so people are gushing over them, but didn't improve enough to really matter.
Colorado Rockies (79-83) For some reason they still refuse to trade Carlos Gonzalez during the rare moments when he's healthy, so they're not rebuilding, but they're also not really building. Â Thankfully they have superstar second baseman DJ LaMahieu who can hit lots of singles at Coors and nothing else anywhere else.
San Diego Padres (68-94) Remember for a month last year when everybody thought they were going to be good? Â Yeah, well then the games started. Â They haven't built a team for their ballpark for years and it shows. Â But hey, at least their training staff will learn all sorts of cool ways to tape up injuries with Matt Kemp around.
American League
Central
Kansas City Royals (96-66) Good grief, Ned Yost of all people managed a team to a World Series championship. Â Take twenty minutes and discuss among your friends if he's the worst manager to ever win one, or if it's still Bob Brenly. Â Go ahead. Â I'll wait.The Royals do more than just get by with an offense that strings lots of hits together and a nails bullpen. Â You and I could start for them and win 10 games. Â Well, maybe I could. Â You, probably not so much. Â Keeping Alex Gordon was a key and unexpected move and the continued growth of Lorenzo Cain means they'll be around for a few more years.
Detroit Tigers (90-72) The window is closing fast, but I think they have one more run in them. Â Miggy Cabrera can still rake, even has his refusal to get in shape means he gets hurt more and more. Â If they can squeeze one more good year out of Victor Martinez and get some adequate back end of the bullpen work (for once) they'll contend. Â Especially since this division is very overrated outside of the Royals.
Cleveland Indians (84-78) They have lights out starting pitching and if you stare at their roster long enough you'll convince yourself that without Michael Brantley they don't have an actual outfield. Â What the hell is wrong with them? Â Either spend some money and balance out your offense or trade one of the stud pitchers to do it. Â Do something.
Chicago White Sox (81-81) I hate to break it to them–actually I love breaking it to them–but last year's approach of getting some decent players and adding them to a bad team won't work just because you tried it again. Â Todd Frazier was a creation of Great American Ballpark and even there he was terrible in the last two second halves. Â Sure, Brett Lawrie is scrappy, but he can't hit, he's a much better third baseman than second baseman and adding him accomplished nothing other than to get Hawk all wet under his doubleknits. Â Jimmy Rollins? Â In 2016? Â Besides, even if they had added better players than these guys, how can this team function without their pre-pubescent locker room buddy Drake LaRoche? Â Check him out in the picture. Â That looks an awful lot like a hostage crisis or a Ted Cruz ad.
Minnesota Twins (72-90) Miguel Sano can hit bombs, but he's going to be brutal in the outfield. Â It'd be nice if Byron Buxton actually hits this year. Â Jose Berrios could be very good. Â But they're still going to suck.
East
Toronto Blue Jays (94-68) They have a world-class offense, even though I'm sure Troy Tulowitzki's back is going to explode playing every home game on turf, and a healthy Marcus Stroman and Aaron Sanchez added to what they have in the rotation should be pretty good. Â Besides, the rest of the East is pretty overrated, so they should be able to take advantage of that.
Boston Red Sox (88-74) Getting David Price and Craig Kimbrel is going to help, but trying to figure out what to do with a decaying Dustin Pedroia, the last year of David Ortiz, and whatever they're going get out of Hanley Ramirez and Pablo Sandoval is a lot of question marks. Â They've been a weird franchise going worst to first and back to worst again. Â I don't think they added enough to climb all the way back up.
Tampa Bay Rays (83-79) They have a lot of good, young pitching, and they should trade some of that to the Cubs for Jason Hammel and Logan Watkins. Â But they're not insane so they won't do that. Â Their offense is a big question, especially now that Evan Longoria can't hit anymore. Â But they have enough talent to hang around. But probably not much more than just hang around.
New York Yankees (81-81) The pitching is a mess with questions about Masahiro Tanaka and CC Sabathia and a suspension of Roldy2, and an injury to Andrew Miller. Â Plus, their offense is pretty old. Â They need good years out of Carlos Beltran and Mark Teixiera and Alex Rodriguez. Â It'll be interesting to see how Starlin plays there. Â He should like it, but the first time he forgets how many outs there are, they'll be throwing batteries at him.
Baltimore Orioles (78-84) I could be way off on this, but I don't think I am. Â Dexter Fowler was right to run away screaming from this dumpster fire. Â Their best pitcher is probably Ubaldo Jimenez. They're going to try to find ways to play Mark Trumbo, Chris Davis and Pedro Alvarez at the same time, and they were shocked and disappointed when Matt Wieters accepted the qualifying offer. Â But hey, they do have Manny Machado and Adam Jones.
West
Texas Rangers (92-70) A full season of Cole Hamels, plus the return of Yu Darvish, plus maybe healthy seasons from Prince Fielder and Adrian Beltre, and the fact that Josh Hamilton will find a way to spend 140 games on the DL should all be good things for the Rangers.  They should have been in the ALCS last year instead of the Jays, but for a disastrous inning where everybody made like nine errors and then Jose Bautista hit a 900 foot home run.  Maybe they should try to avoid doing that again this year?
Houston Astros (89-73) This is a very good young team, and probably headed to the playoffs again. Â Like the Rangers, they melted down last year in a huge spot when they should have eliminated the Royals. Â But they didn't. Â And then in game five only our boy Luis Valbuena actually showed up. Â Carlos Correa is really good, but we know who leads the way in Houston.
Seattke Mariners (81-81) Wow, third place! Â Don't get too excited the AL West is a two-team race. Â But Seattke did a lot to patch together a better roster than last year. Â They still have Felix Hernandez and Robinson Cano and Nelson Cruz and they've surrounded them with better players. Â But not that much better.
Anaheim Angels (79-83) It's too early to legitimately worry if they're going to "waste Mike Trout's career" especially since they had the AL's best record two years ago, but they're not going to be much of a threat this season, and they have a lot of pitching issues to resolve, and those are never fun, or easy.
Oakland A's (66-96) It's not a matter of if, but when do they tilt one of the pennant races by trading Sonny Gray. Â It'd be nice if they'd send him to the north side of Chicago. Â He'd fit right in. Â Otherwise, there's not a lot of drama on their side of the bay this season. Â In a very balanced American League they're one of the few teams (and to some, the only team) without much of a chance to make the playoffs.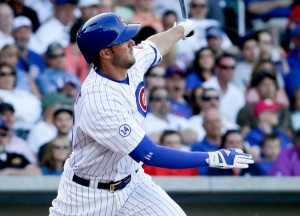 Kris Bryant, Cubs – The sophomore slump is a real thing, but KB is not likely to fall victim to that. Â To do what he did last year after a cup of coffee in the minors was impressive. Â He's surrounded by impact talent and he's already the anchor in what should be the NL's best lineup. Â You have to pitch to him. Â And that's never something very fun to do.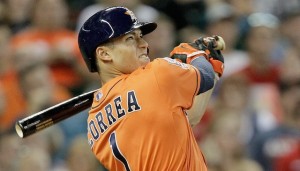 Carlos Correa, Astros — Just like Bryant, he's a second year stud. Â The worst thing that happened to the American League last year was that he made that crucial error in game four against the Royals. Â As if he needed a mission. Â He is super talented, and plays in a perfect park for his power-speed combo.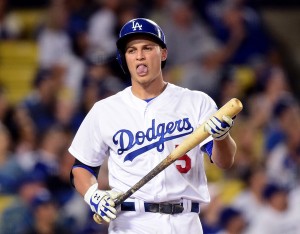 Corey Seager, Dodgers — This little bastard is good. Â But he's just lucky that the Cubs called up Addison Russell last year and didn't wait for this year. Â For the next decade the debate will rage about which of them is the best shortstop in the National League. Â It's going to be a pretty great argument.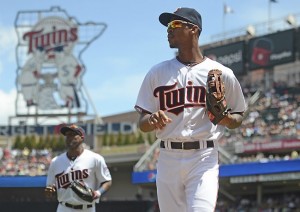 Byron Buxton, Twins — He has every tool you could imagine (well, maybe not Jason Heyward's immortal sixth tool) and he should get lots of run in center for the Twins this year. Â He came up too early last year when they had a need, and he struggled. Â But ask Anthony Rizzo and Mike Trout about struggling one year and then raking forever. Â I assure you this pick isn't just because I've been carrying him as a keeper on my fantasy team for three years.
Actually, that's exactly what this is about.
NL Playoffs
Wild Card Game -Â Pissburgh over New York Mets
NLDS -Â Cubs over Pissburgh in four
Giants over Nationals in five (Let's start to imagine the indignity that Dusty's team suffers. Â I'm guessing that a seagull knocks a game winning Bryce Harper homer in game four into Hunter Pence's glove, and the Giants win game five 20-1.)
NLCS -Â Cubs over Giants in six
The Cubs celebrate a pennant at Wrigley. Â Giddy up.
AL Playoffs
Wild Card Game -Â Houston over Detroit
ALDS -Â Houston over Kansas City in five (revenge!)
Texas over Toronto in four (revenge!)
ALCS -Â Texas over Houston in six
If Darvish is close to healthy, the Rangers pitching will be too much for the 'Stros.
Here are those annoying footnotes.