So I opened the old Desipio Mailbag again after a long respite and you guys filled it with some pretty interesting questions.  Here are your answers.
The mailbag will remain open, so anytime you think of something, send it over.
Mike: How likely is it that I will be cursing Rich Hill's name every 5 days this fall?
The Cubs are almost certainly going to add a starting pitcher before the trade deadline, and guys who would have prime targets have either gotten hurt (Tyson Ross) or have been bad (Andrew Cashner) or hurt and bad (Sonny Gray).  In fact, Cashner, like always, has already been on the DL.  He somehow hurt both hamstrings running the bases in a game in early May.  That's a Matt Harvey level commitment to not being in shape.
Certainly there will be other potential trade targets than former Cub Rich Hill, but there's a lot to worry about here.  First, he's been very good, which makes him attractive to a contender, second, Theo Epstein tried like hell to get him last year, and third, we all have memory of him standing on the mound in game three of the 2007 NLCS at Wrigley looking like he wanted to have someone dig a hole that he could hide in.
On a lot of levels there are a lot of worse guys the Cubs could get.  But on one very big level, there's nobody worse that they could pick up than Rich Fucking Hill.
Evan: Going to game today. How should I react if (when) I encounter a BFIB shitbag?
I'm old.  I've been a Cubs fan for like 30 years, and I've been to a game in old Bus(c)h Stadium, but never to a Cubs-Cardinals road game, and never to any game in the new park.  I just don't know how people do it.  I loathe those fans so much, that I'm positive I'd get into a fistfight with somebody in jorts a tanktop and a Cardinals cowboy hat, and I'm sure she'd be bigger than me.
So God bless you Cubs fans who can stomach such a journey.  I think right now there are three pretty good comebacks to any BFIB shitbaggery.  You could break them out in this order:
1. I can barely hear you from all the way back there in third place.
2. Yeah, yeah, we all remember how your team scored four runs off of Jake Arrieta in the playoffs.  If that was such a big deal, how come he won that game?
3. Next time you buy a burner phone call me and tell me about all of the times the Cardinals have beaten the Cubs in the playoffs.
Matt S: Please confirm or repute this incomplete ranking of swing aesthetics of the Cubs' hitters
1 Jorge Soler
2 Kyle Schwarber
3 Kris Bryant
4 Addison Russell
5 Javier Baez
6 Jason Heyward
7 Jon Lester
8 Ben Zobrist
9 Anthony Rizzo
Wow, there's a lot to unpack here.  Aesthetics is such a broad word.  So do I rank them by the "beauty" of their swing?  By the pure entertainment of watching them flail at a baseball?  Or, by the effectiveness of the swing?
I think we're going with number two.  So of these nine guys, what's the ranking for pure fun in watching them try to hit a baseball:
1. Schwarber – We miss the big lug for a lot of reasons, including his adorable lumbering, and his "awe shucks" reactions to everything, but mostly because of the way he can somehow stay back until the last possible split second on a pitch then unleash Hell.  I can't wait until we get to see that again.  You know, next season (*cough* this August *cough*.)
2. KB – The coolest thing about watching him hit is how simple he makes it all look.  He's spread out, slightly knock kneed and it never looks like he swings hard.  But when he connects with one just out in front of home plate it just goes, and goes, and goes, and it might hit an enormous TV or a kayaker or somebody in an adjacent county.
3. Javy – He's toned it down, but his swing is still pure fury.  His numbers aren't great, but that's largely a product of inconsistent playing time, because his at bats are much more under control than they used to be.  The best thing is when he's sure he's getting a fastball and he cranks it up.  One of these days he'll miss so completely that he'll literally spiral himself waist deep in the batter's box and they'll need an enormous corkscrew to get him out.
4. Zobrist – It's not the weird hand bounce that he does when he's waiting for his pitch, it's the process of how he keeps his hands back, on everything.  He's rarely fooled.  He hardly ever swings and misses, and he doesn't make much weak contact.  In short, he's the kind of hitter that Cubs fans thought was only a myth.  We'd hear that other teams had them, but we'd never seen one on our team.  (Well, Mark Grace and Bill Buckner…but Zobrist does it from both sides of the plate.)
5. Rizzo – I have him lower than some because he makes me nervous.  He's just hanging over the plate and I think that every pitch is going to hit him (a lot actually do).  But when he gets something low and drops to a knee to hammer it, man, that's the stuff.  And the fact that he chokes up with two outs to make better contact and can still jack one, makes it even better.
6. Jorge – When he is consistently making contact (like he's been doing better the last couple of weeks) he's something.  But his ranking is tempered by the long stretches when he's not.  But the fact that a dude that big, can swing that quick is impressive.  And when he gets his arms extended…at some point he's going to put one into orbit.
7. Addison – There's nothing special about his swing.  What's fun about it is watching him get better on what seems like a weekly basis.  Last year they threw him into the deep end of the pool before he was ready to swim and he did better than just about any other 21 year old could have been expected to.  This year he hit into tough luck early, but it's leveling out now.  He takes pitches, he knows how to turn on inside pitches and best of all, in big spots when the Cubs have absolutely, positively needed him to hit the ball to a particular part of the field he's done it, some for hits, some for outs that led to runs.  He's 22.  Just think how good he's going to be if he's already this good.
8. Heyward – His swing is weird.  He looks like he's too far back and too far up in the box at the same time, somehow.  He's way too good to struggle much longer, and his natural opposite field swing should play very well to the leftfield power alley at Wrigley.  But right now, he's a rough watch.
9. Lester – Half the time it looks like he's holding the bat upside down.  He's much better than he was, but then again, he was the worst ever, so there was nowhere else to go but up.  He rarely makes contact still, but now when he does it he hits the ball hard.  He was the first Cub this season to record a hit with an exit velocity of more than 100 miles an hour.  But it's unicorn-like contact.  It's very rare, if it even really exists at all.
Michael: This article about the Cubs (http://bleacherreport.com/articles/2640789-dream-team-a-week-with-cubs-modern-family-reveals-unmatched-off-field-bond) contains this nugget:
Arrieta fired his second no-hitter in his past 11 regular-season starts.
So Fowler and Ross invited everyone to their pizza party, and 22 of the 25 Cubs showed up happy and hungry to Fowler's suite.
Question: Which three Cubs no-showed to Arrieta's no-hitter postgame pizza party?
This is great.  And it deserves to be broken down scientifically.  So let's go through all 25 guys who were on the active roster that night and figure out which three had "better things to do" than to drink beer, eat pizza, bask in the glow of a no-hitter and watch an NBA Playoff Game in a swanky playoff suite.
First, the guys we know were there –
David Ross (1) – It was his room, and his idea.  Plus, he just caught his first no-hitter, there was no way he wasn't going to find lots of guys to talk about that with for hours
Dexter Fowler (2) – This was his co-idea, no way he wasn't there.
Jake Arrieta (3) – He turned a David Ross pizza party into a no-hitter pizza party, of course he was there.
Kris Bryant (4) and Anthony Rizzo (5) – They are mandatory attendees at any team function.
Jason Heyward (6) – He paid for the suite, I'm sure he was there to see it in use.
Jason Hammel (7), Jon Lester (8), John Lackey (9) and Kyle Hendricks (10) – I could make a case for Lackey missing it.  I'm sure he could have been at a hospital berating the cancer patients, but I think all of the other starters had to go.  One of the other starters just threw a no-hitter, no way you aren't obligated to help him celebrate.
Miguel Montero (11) – The other catcher has to go, and Miggy caught Jake's first no-hitter, plus we know it's where he fessed up to Jake that he spent the first eight innings watching in the clubhouse, then broke protocol by changing his spot for the ninth because he wanted to be in the dugout.
Now, the guys who almost certainly were there –
Addison Russell (12) – Just about one calendar year in the big leagues and he'd already played in two Arrieta no-hitters.  He might skip the next party because it'll be old hat, but not this one.
Matt Szczur (13) – He's on a minimum contract, he probably was filling his pockets with pizza.
Travis Wood (14) – He used to play for the Reds, and I'm sure he's got friends in town who wanted to take him out for beer and that awful "chili" they have, so Travis could use this as an excuse to ditch them.
Trevor Cahill (15) – Free pizza?  Big Trev is there.
Clayton Richard (16) – You think he had anywhere else to be?
Neil Ramirez (17) – See: Clayton Richard
OK, so who was probably there?
Ben Zobrist (18) – There's a chance he had a prayer meeting to go to, but he still would have had time to get back before it was over.
Jorge Soler (19), Pedro Strop (20) and Hector Rondon (21) – Three things.  The article makes a point of how even though Jorge doesn't speak English very well yet that he hangs out with the guys all the time anyway.  Pedro will never miss a party.  Hector used to pitch in Cleveland, he knows there's nothing fun to do in Ohio, so he might as well stay in and eat free pizza.
Tommy LaStella (22) – He missed over 100 games last year and half the team forgot he was even on it. No way he doesn't show up extra early to everything to make sure they remember he's still here.
So now we KNOW who the three who missed were.  And I know the reasons for all three.
1. Javier Baez – If there's a Sunglass Hut in Cincinnati, Javy's spending the first night of every trip there checking to see if they have different sunglasses than the Sunglass Hut in every other city.  I'll bet he got lost and didn't make it back until after the party.
2. Adam Warren – I think they forgot to tell him.
3. Justin Grimm – Remember that with two outs in the ninth in Jake's no-hitter against the Dodgers, that Grimm didn't know he was throwing one?  Hell, this game was 16-0.  There is no way that Grimm paid enough attention.  He probably thought everybody jumped on Jake after the final out because there's no dance party room at Great American Ballpark, then he went over the border to Kentucky for the night to troll for "cute" mountain girls.
DJ B.: Would you make out with Kyle Schwarber if it meant he'd heal faster?
I'd make out with Ryan Braun and Carlos Martinez if it would make Kyle heal faster.
BC: If the Yankees are still hovering around .500 at the deadline, the Cubs should be first in line for Chapman, right? Other than not being able to retire the immortal Taylor Teagarden, Chapman would solidify the only real weakness (And it frankly isn't all that much of a weakness) the Cubs have.
I'm not sure the Yankees will ever sell.  If they did, of course you'd take Aroldis because he's awesome, and because like you said Taylor Teagarden is suspended and can't come back to haunt you by lighting Aroldis up.  The guy I'd like the Cubs to get from the Yankees is Andrew Miller.  He's comfortable pitching in any inning, he can more than one inning and he's almost as hard to hit, even if he doesn't make the pinball lights go off in the stadium with his fastball.
My money is on Aroldis being traded to the Cardinals.  Driving too fast and adding his number to the Bus(c)h Stadium home bullpen wall.
Scott: What kind of douchebag spells his name "Thom?"
The kind of name someone who grew up as Franchester would foist on his kid.  tHom's an ass, but he comes by it genetically.
Julia: Can CJ Beathard win the Heisman this year?
Is he transferring from Iowa and burning every tape of last year's Rose Bowl?
Jacob H: Who would be your favorite player in the Cubs organization to hang out with on the weekends?
Well, going to Sunglass Hut with Javy would be fun, but I'd hang out with Strop.  Even if only to listen to him laugh like he did in St. Louis when Jorge thought Javy got Chinese food during a rain delay.
Meghan M.: Luis Valbuena: Great baseball player or greatest baseball player?
You could look at his career OPS-plus of 91 and assume he's actually just a little bit below average, but you would be sorely mistaken.  I've had the nerds in the Desipio Labs working on a sequel to our world-famous Hank White Equivalent Batting Average (HWEqBA), which was a more efficient way to measure batting by incorporating things like walks, hit by pitches, balls that went barely foul, balls that were hit really hard but right at people, and swings that looked pretty.  By that measure, for example, Hank, who had a career batting average of .223 actually hit .578 according to HWEqBA.
Now, we have OPS-BFLIP, which is the next generation of OPS.  BFLIP of course stands for basehits, fouls, liners, infield-rollers and awesomeness.
It does more than just measure mere outcomes.  It also measures style.  Hit a playoff series winning homer and flip your bat, that's nice.  Big deal, Jose.  Batflip a third inning single to center in May?  Now THAT's something.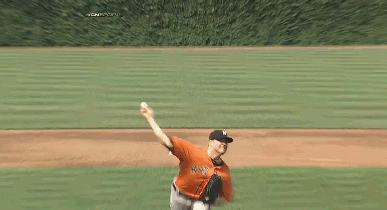 Top a ball just barely so that it almost doesn't roll fast enough for the third baseman to make a play?  Nice.  Hit a liner really hard over the third base dugout that knocks a beer out of somebody's hand?  Yes!  Strike out on a terrible pitch but neatly pile your helmet, batting gloves and arm and ankle protectors on your bat?  Good stuff.  Appeal your own check swing to a base umpire?  Next level.
By this complicated measure, the highest OPS-BFLIP's of all time belong to:
5. David Ortiz – 270
4. Sammy Sosa – 272
3. Barry Bonds – 277
2. Ted Williams – 281
1. Luis Valbuena – 379