Things were going so well, weren't they?  The Cubs were cruising along atop the NL Central.  Pissburgh keeps following every nice winning streak with a losing streak.  The Cardinals are learning the hard way that Yadi's finished, there's a reason they could get Randal Grichuk for the low, low, price of David Freese, and they had to send Kolten Wong back to Memphis just before some awful Hawaiian shirsey night they planned for him.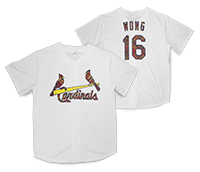 The Cubs had just won two of three in Philly, making them 5-1 on the season against a much better Phillies team than the one they struggled against last year (they went 2-5).
And then, the horrible, awful, terrible, no-good news.
Remember on Tuesday when Tommy LaStella got a hit in the ninth inning and Joe Maddon pinch ran for him?  That seemed curious.  I mean, Tommy's not fast, but he's not so slow you pinch run a pitcher for him, especially when you've already used most of your bench and if you tied or took the lead you were going to have to do some weird defensive shuffling.  But Joe's crazy, so we didn't think much of it.
Turns out, LaStella hurt his hamstring, likely before that at bat.
The Cubs had just lost Jorge Soler earlier that night to a hamstring injury.  In fact, they put him on the DL the next day and added Albert Almora.  So now with LaStella out, who were they going to call up?
Matt Murton?  Jeimer Candelario?  Arismendy Alcantara?
Nope.  Nope.  And no way.
They traded Alcantara to the A's and got back…
Chris Fucking Coghlan.  Oof.  Ugh.  Noooooooooo!
One of the best days in spring training had been when the Cubs unlogjammed 1 their post-Dexter Fowler return outfield by trading Coghlan to Oakland for Aaron Brooks.
It wouldn't have mattered to me if the Aaron Brooks they got back was the Bulls backup guard, or the old Saints quarterback.  The fact that it was a living pitcher was of no consequence.  Coghlan was gone.  Praise Jesus.
But it didn't last.
Hey, when you have a chance to reacquire a guy who is tearing up the AL West to the tune of .146/.215/272/.494, why by god, you do it!  One of the things Coghlan has really improved in his short time with the A's is his ability to strike out.
In 440 at bats with the Cubs last year he struck out 94 times.  But in only 158 at bats with Oakland this year, he's already struck out 47 times.  That is getting it done, CC.  Nice job.
Look, I understand that Coghlan was a productive, and cheap player on the terrible 2014 Cubs and the very good 2015 Cubs.  Granted, having Schwarber replace him in left and Starlin replace him (after just a couple of days) at second helped the Cubs really take off.  But Coghlan did post a 122 OPS plus in '14 and a 114 OPS plus in '15.  That's useful on any team.
But I loathe him all the same.  I hate the circuitous routes he takes on flyballs.  I know the metrics said he improved dramatically in left last year, but after 2014, a rat terrier with a bucket on his head would have been dramatic improvement over Coghlan.
It's the intangible things about Coghlan that I despise.  That weird red, shiny, skin-tight, one sleeve shirt he wears under his Cubs jersey.  Or worse, when he doesn't wear a shirt at all under his jersey.  The spoiled, frat boy, home plate pout he goes into whenever a ball/strike call goes against him.  He's basically Kevin Bacon in Animal House, all the time.  I just hope he gets flattened during a parade riot at some point.
But he's not just here until Tommy comes off the DL.  You know he's here for the duration.  My guess is that Tommy will beat Jorge off the DL, and Albert will go back to Iowa.  Then, at some point, Jorge will be activated and the Cubs will dare to expose Tim Federowicz to waivers.  So we're stuck with Coghlan for the rest of the year.  And he's going to play.  Joe plays everybody.  It's one of the best things about him, and one of the reasons his team's have productive benches.  They get at bats, and few players can be productive at all without at least some regularly scheduled playing time.
On Twitter, @personontheDL asked me what the rest of the team thinks of Coghlan.  I'm 99 percent sure he's well liked.  Hell, these Cubs seem to like everybody.  But they'll be glad to have him back.  So that won't be a problem.  The one sticky thing about getting him back is that Pissburgh will want their pound of flesh for him snapping Jung Ho Kang's leg last September.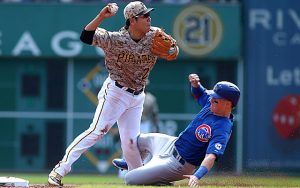 That bunch of redasses is always up for some stupid beanball crap, and my guess is that they'll push it, and take it over the top, and we'll actually get to see this bunch brawl.  Now, I would personally not want to get into a fight with a team that has Jorge Soler, Anthony Rizzo, Pedro Strop or Jason Heyward on it, but nobody ever said the Pirates were smart.  Remember, Anthony once offered to kick the entire Reds' roster's ass, and Jorge tried to go into a Reds' minor league dugout with a bat.  But I'll tell you two guys I would not want to fuck with on the Cubs.  Jon Lester and David Ross.  They're basically swamp people at this point.
---
So while we're kind of on the subject, what's the deal with Tim Federowicz, anyway?  Why is he still on the roster even though he's a career .195 hitter (but he's crushing it at .200 this year!), who proved against the Nats that he literally can't catch anything Jake Arrieta throws?
He's still on the roster because he's out of options–and as Bleacher Nation's Brett Taylor pointed out, he can choose free agency if they put him on waivers to try to get him back to Iowa–and the Cubs don't want to lose him right now.
Why not?
Because there's still something clearly wrong with Miguel Montero's back.  Miggy's not blocking pitches like he usually does, he's throwing terribly, and he's not swinging from his ass on every pitch at the plate (just every other pitch.)  If he has to go back on the DL, the Cubs don't want to go to Willson Contreras yet.  They want a veteran catcher who can frame pitches and execute a game plan.  I think their real fear is if something happened to Ross, because he's the only catcher Lester is comfortable with.  If he had to throw to Montero it wouldn't be ideal for Jonny, but it wouldn't be that big of a deal.  I think if he had to throw to a rookie his head would explode.  Not to mention the extra stress he puts on a catcher because he can't hold runners or throw overhand to first on a bunt.
I do think that every day that passes we get closer to the time when the Cubs will be willing to risk losing T-Fed because they'll be more comfortable with the idea of Willson.  Joe as much as confirmed that at some point after the All-Star break Contreras will be on the roster.
So drink in every T-Fed pinch hitting strikeout appearance, while you can, lest you regret it when he's gone.
Here are those annoying footnotes.