It's been a rough few days for the Cubs, but especially for those of us who really count, the Cubs fans.  You remember us, right?  We're die hard!  We preface every comment about our favorite team by telling you just how long we've been fans.  We've seen some shit, man.  We paid real money to watch Danny Jackson pitch for our team.  We sat in 30 degree weather and watched as a 40 year old Willie Wilson was the second best player on the team.  We lived through 0-14, through "a playground for the cocksuckers," through Jim Frey wearing blue tennis shoes to change pitchers, through Billy Connors eating his way so far out of his jersey that he had to wear a blue windbreaker in August.  We saw ALL of the Jim Riggleman era.  We watched Don Baylor bunt with nobody out in the first inning…a lot.  We've seen Dusty shred the best arm of his generation by making him pitch after Marcus Giles basically separated his shoulder, then finish the job by not trusting the bullpen with a double-digit run lead in an NLCS game.  We are basically 89 percent scar tissue at this point.
108 years, man.
And now, this?
The Cubs haven't won a game since Sunday.   Sunday!  It's Friday.  They got swept by the Cardinals.  At home.  Nobody had let that happen since Don Zimmer.  Last night they lost to the Marlins.  The Marlins!
We all saw this coming.  They played their best baseball in April and May.  How Cub.  Now they have nothing left.  They can't get a big hit if their life depended on it.  The bullpen can't get anybody out.  The manager doesn't care.  They got swept by the Cardinals, did I mention that, and he let the team–nay, he ordered the team to–wear shorts and Don Johnson blazers on the plane to Miami.  Doesn't he realize those mid-June games against the Cardinals ARE SUPER IMPORTANT TO YOU AND ME?
They've lost four in a row.  Half the team is hurt.  They've got rookies all over the field.  And not good rookies like Dwight Smith, Jerome Walton and Steve Wilson.  No, it's guys who can't spell their first name right like Willson Contreras or some all-field, no hit guy like Albert Almora Jr.
We dared to think it was going to be different this year.  Well, we were wrong.
The lead is down to nine games now.  NINE!  They only have three fewer losses than any other team in baseball.  THREE!  Hell, just a few days ago that was 12.5 and six.  It's all slipping away.
And what are Theo Epstein and Jed Hoyer doing about it?
Jack shit.  That's what they're doing about it.  They act like other teams need to agree to trade players to them.  You and I know better.  You just go into SETTINGS > OPTIONS > TRANSACTIONS > FORCE TRADES > ON.  How hard is that?
It has to be because the Rickettses are too damned cheap to do anything about this.  They're too busy trying to turn Wrigleyville into a big beer garden.  We need an owner who cares.  We need Mark Cuban.  He wouldn't stand for this.
The only sign of life we've seen so far is getting a key part of last year's team back.  Theo actually did do a trade, and got Chris Coghlan–who we never should have let go in the first place–back from Oakland.  Now there's a guy with some grit!  He's got veteran savvy.  Look at what he does when a pitcher tries to bust him inside: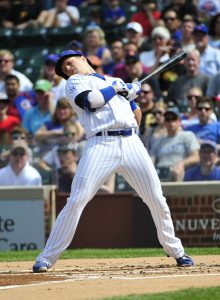 That's a guy that cares about winning!  We need more of that.
But it's probably too late.  The Cubs are only 23 games over .500.  TWENTY-THREE!  Hell, it was 27 just four days ago.
They haven't swept a series since last Sunday.  They couldn't get a big hit if their lives depended on it.
In their last 12 games they are two games UNDER .500.  UNDER!  You can't win a pennant by playing two games under .500 baseball for two weeks in June.
What a miserable bunch of failures they are.  They're too busy sitting around counting each other's All-Star Game votes to concentrate on winning the games that matter.
Screw these guys.
Hey, I wonder if we could get Fernando Rodney back?