I have said, out loud, to no one in particular, that I absolutely want to see the Cubs win a World Series (or two, or seven) but that I'd only really be pissed if I died and never saw these fuckers win a pennant.  And tonight, we all saw that, and it wasn't as good as we thought it'd be…it was better.
From the first day of spring training until now, the Cubs have been the best team in baseball, and tonight, they not only won the National League for the first time since 19451 but they did it by hammering the best pitcher in baseball, and they did it behind a world-class, unforgettable, incredibly clutch pitching performance by Kyle Hendricks.  You need to get 27 outs to win a game in regulation, and not only did the Cubs do that, but they only let the Dodgers bat that many times.  It was pure dominance from the first inning to the last.
In a ballpark full of crazed fans who were equally ready to explode at great moments as they were to implode at adversity, the Cubs took us on a less than three hour pleasure cruise to the pennant.  The angst that can fill Wrigley and drag everyone down with it, never had a chance tonight.  The best team in baseball decided they were done with this shit in the NLCS.  It was time to end it, have a party and move on to the big one, the World Series.
The Cubs are going to the World Series!
We lived to see it.  We ate our vegetables, we rarely drank to excess (wink, wink), and we're going to watch the Cubs play in a World Series.
Hendricks was amazing.  He allowed a hit to the first hitter he faced and the last and nothing in between.  The Cubs jumped on the great Clayton Kershaw in the first and never let up.
Four little wins is all that separate our heroes from the elusive World's Championship.  As recently as Tuesday the bandwagon was hemorrhaging fans, but three wins, by a combined score of 23-6 have a funny way of restocking it.
I made a stealth trip today to my hometown and took one of those stupid Cubs car flags, and a little garden flag pole, and went to my dad's spot in the cemetery.  I'm a lot of things because of him, and one of those things is a Cubs fan.  I took the car flag and jammed the end of it into a crevice in one of my tire rims and popped the end off of it.  I slid the flag off and put it on the little garden pole, and so there, in the middle of a small town cemetery flies a Cubs flag.  Seven hours later, the Cubs were celebrating their pennant on the turf at Wrigley Field.  May that pennant, and that little Cubs flag fly forever.
And now Anthony Rizzo and his Immortals are off to the World Series in Cleveland, and oh, did I mention that this guy is coming with?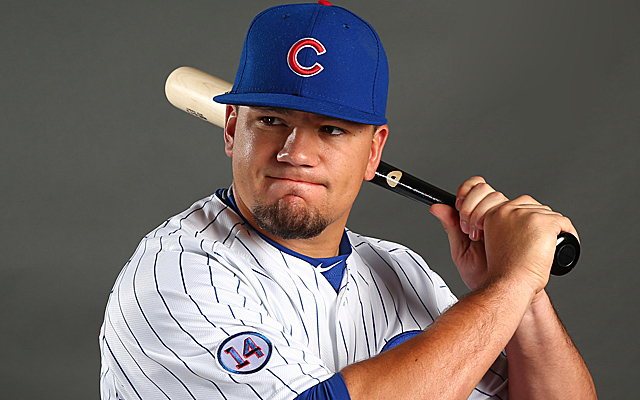 While the Cubs were winning the NLCS at Wrigley, Kyle Schwarber was taking ABs in the Arizona Fall League.  His knee newly blessed by his surgeon, Kyle's trying to force himself onto the World Series roster so he can DH in the games in Cleveland and pinch hit in the ones at Wrigley.
It's all happening!
Tonight was why we watch.  It's why we spend decades rooting for a hapless team.  Because someday, we tell ourselves, someday it will be worth it.
It's worth it.
Holy shit, is it worth it.
I love this team.
Go Cubs.
Here are those annoying footnotes.