The defending world champion Chicago Cubs.  Is that a real thing?  Did I hallucinate all of that stuff in October and November?  Even if I did, don't tell me.  So anyway…
The defending world champion Chicago Cubs mount their first World Series defense in 108 years on Sunday night, down in Dogpatch against the Cardinals.  It's the greatest possible place to start the season, with all those inbred crackers having to sit there and take in the sight of the Cubs playing their first real game since they won it all on November 2, 2016. 
They'll have to watch as a parade of World Series heroes, started by Kyle Schwarber come to bat, and then when their team finally get a chance to come to the plate, the first guy they'll see will get a standing ovation from the Cubs fans in the stands, because Dexter Fowler was a key part of the whole thing that they don't want to admit happened. 
Oh boy is this great.
The Cubs will be home in a little more than a week, wearing jerseys with gold numbers on them, getting their World Series rings and enjoying a succession of standing ovations and incomprehensible screaming. 
At some point, they'll get to work.  The defense won't be easy.  They created a pretty tough act to top.  I mean, they aren't going to win 103 games or take the division by 17 and a half again. 
We'll probably have to settle for 102 and 15.  I'm sure we can get by on that.
Most of the faces are the same, but there are a few differences.  So, for the first time in 2017, it's time for a Cubs Report.
Infield
Kris Bryant, third base — Might as well start with the MVP.  He won the NL Rookie of the Year award in 2015 (thanks mostly to the extra week he spent in Iowa in April getting his defense perfected—I'd imagine), but last year he decided he needed to cut his strikeouts down.  So he did.  This year, he wants to hit more home runs to right-center.  So he will.  He's clearly not perfect, after all, he's still got acne, but he's about the closest damned thing to it you're going to find.  He's a prodigious slugger, hits for a high average, always hustles, runs incredibly well and smart, has made himself a top-notch defensive third baseman and can seamlessly move to any outfield spot, or first base (or even make a cameo at shortstop).  And if he's not nice and humble he's learned how to fake it incredibly well.  I do not know what he does for an encore this year, but I can't wait to find out.
Anthony Rizzo, first base — Every great team has to have somebody who sets the tone.  There can be a lot of leaders, but there has to be one undisputed one.  Somebody  has to be the guy everybody turns to when things go to shit.  A lot was and will continue to be written about Jason Heyward's rain delay speech in game seven, and I won't say that wasn't important.  But when everything went tits up after four games of the World Series, Anthony Rizzo is the one who did something about it.  It may have been unconventional.  It may have been a little weird.  But when the Cubs needed somebody to get naked and run around the clubhouse to the Rocky theme, Anthony was the guy who stepped up.  Does it help that he backs it up by being a great player?  Of course it does.  Some guys lead by example, some guys get on their teammates, and some guys are relentlessly positive.  Somehow, Rizzo is all of it.  In one guy.  The 2016 Cubs will be beloved as long as any of us who suffered through any season before it are still around. But one of them will be beloved just a little bit more than the rest.  That's Rizzo's reward for dragging the Cubs through the abyss when they needed it the most. 
Ben Zobrist, second base/left field — The splashy signing in the offseason before last season was Heyward.  A 26-year old talent doesn't hit the open market very often and the Cubs pounced.  But nearly just as heralded was the signing of a 33-year old super utility player.  Eureka, Illinois' own Ben Zobrist was great early in the season, and great when it counted the most.  He's got the World Series MVP trophy to prove it.  He was in the middle of every series' most key rally, and he was the perfect guy to walk to the plate when the Cubs needed the biggest hit…not to oversell it, but come on…in franchise history.  He hit one ground-ball double all season.  And it just happened to win the World Series.  Talk about saving a bullet for the perfect time.  Zobrist didn't get much of a chance to show off his defensive versatility during the regular season, but in the playoffs he moved to left and mostly stayed there so that Javier Baez could have his coming out party before a world audience.  Ben complained about it just about as much as you'd expect.  Not at all.  Just another guy who "gets it" on a team full of them.
Addison Russell, shortstop — Do we even remember that Russell was so bad in the Giants' series that he got pinch hit for in the series winning rally?  Well, sure we do.  And he started the Dodgers series even worse than that.  But he found his stroke in game four of the NLCS and it never left.  He's the youngest player to hit a grand slam in the World Series since Mickey Mantle, and only the second shortstop to ever hit a postseason grand slam (Brandon Crawford).  He's only going to get better, too.  Oh, and even if he never hits any better than he did last year (he will), he's a great defensive shortstop, and when the middle infield is him and Baez, good luck getting anything past either one of them.
Javier Baez, second base/shortstop/third base — For most Cubs fans, Javy was like that indie band that we all liked before they blew up.  We'd seen the growth from the flailing rookie in 2014 to the late season improvements in 2015.  He had a huge moment in the 2015 postseason with the three run homer off of John Lackey in game four of the NLDS, but the world didn't see "our" Javy until this past year's playoffs.  Javy has turned the tag into an artform.  He's a plus defender at any position you put him at.  He plays the game with superior confidence and a smile on his face.  And, he's so good.  Sure he'll still be maddening.  He'll give up too many at bats by refusing to cut down his swing.  Sometimes he'll botch a play because he tried to make it too flashy.  But that's all part of his charm.  When Javy's "bad" he's still entertaining, but when he's "good?"  Oh when he's good, there's nobody like him.  He is the rarest of things in sports these days.  He's unique.  And we get to watch him every day.  Maybe some day he'll be traded to another team for some pitching, but I don't want to think about it.  He's just too much fun.  And if he's sent away, it's not going to be anytime soon.  He's just too important.
Tommy LaStella, second base (sorta)/third base (not really) — Tommy should focus this year on just being there.  He missed a huge portion of his first season with the Cubs with a torn quad, and last year he disappeared when he turned a routine two week deployment to Des Moines into a New Jersey Walkabout.  He's a defensive liability at second and third, but he can hit, and he can hit off the bench, which is pretty useful.
Outfielders
Kyle Schwarber, left field/catcher — I still can't believe it really happened.  I mean, I wanted it to happen, I thought all along there was a chance, but I still remember staring at the TV in disbelief, through moist eyes, as our boy Kyle dug into the box to bat in the first game of the World Series.  It's not just that the Cubs were there, but there was Schwarber on a surgically repaired knee that had cost him all but two games of the season, and he was in the box in his familiar set-up.  Standing straight up, save for a little bit of a knee bend, his bat held slightly in front of him and straight up, just waiting for the first sign that he should unleash hell on a baseball. We have not seen enough of it in his two partial seasons with the team, and we can't wait to see it on full display all year long.  His body looks like it was built to do nothing but hit baseballs really, really hard.  It's not a bad thing to be built for.
Albert Almora Jr., centerfield — Talk about a tough act to follow.  All Albert has to do is take over centerfield from one of the coolest and most beloved Cubs of the last couple of years.  Fowler's off in St. Louis (for some reason), and Almora is part of a time share with former Cardinals centerfielder Jon Jay.  What we've seen of Albert so far has been almost all good.  The first time he ever touched a baseball in a big league game he immediately threw it home and nailed a Phillie trying to score.  His batting average and his on base average are always going to be pretty similar, but he's also shown a fair amount of pop this spring.  Defensively he'll be a marked improvement over Dexter (who had to play deeper than normal last year to be useful), and baserunning wise…well, he's got a pretty cool tag up he can tell you about.
Jason Heyward, right field — At the time of his signing I decried it as the Cubs making the old Jim Hendry mistake of paying a good player like a great player and hoping he'd become a great player.  But smart guys told me that I was wrong because he was only 26, and had shown real improvement in 2015 and Theo Epstein and Jed Hoyer are smart guys, and… We were both wrong.  They paid a good player like a great player and he was terrible.  The fact that he's a plus defender in right is nothing to sneeze at, but his top notch baserunning doesn't play when he's not on base, and his offense was unbelievably bad.  He was spared a season of booing because the team was so damned good, nobody much cared.  But as the Cubs face trying to figure out how to pay everybody over the next few seasons, the fact that he's making so much money is going to matter, a lot.  If he could hit .250 with doubles power he'd be useful.  But that's no safe bet, and it's hard to imagine he's ever going to be worth what they're paying him.
Jon Jay, centerfield — The Cubs wanted a Fowler-lite type of player at a fraction of the cost and they signed Jay.  Meh.  He's a solid outfielder with very limited range.  Offensively he's a solid average hitter who doesn't walk or hit for power.  If he was right handed, he'd be Matt Szczur.
Matt Szczur, left field, centerfield, right field — His bat and his leggings were playoff heroes last year in the pennant winning series over the Dodgers.  Only he wasn't using the bat and he wasn't wearing the leggings.  That was Rizzo and Russell, respectively.  Szczur's a very useful bench piece, but you wonder how long the Cubs can carry him and LaStella together.  They tried to trade him at the end of spring training but didn't get anything they wanted, so he's still around.  Hopefully if they trade him it's to a team that will actually play him. But if they do, and something happens and they need an outfielder, they could put John Andreoli in his uniform, and you probably wouldn't notice.
Catchers
Willson Contreras — You just know that teams around the league got a look at Contreras at mid-season when the Cubs called him up and rolled their eyes.  "Oh sure, THAT's what they need."  A loaded Cubs team called up a young, athletic, strong armed catcher with an advanced approach at the plate.  Scratch catcher off the list of the things the Cubs need to pay for, for the next seven years.  Willson can be wild at times.  He can be too animated behind the plate and cost his pitcher borderline strike calls.  He loves his arm and will occasionally throw to a base to get a runner and not notice that nobody is covering.  But he appears to be really smart and willing to adjust on the fly.  How else to explain how many crucial postseason innings the Cubs used him behind the plate?  This spring he's looked even more comfortable behind the plate.  It'll be fun to see a whole year of him.
Miguel Montero — The dirty not so little secret about Miggy last year is that he came into camp out of shape and kept getting hurt.  The Cubs were not happy with him, Joe Maddon especially.  They had to keep Tim Federowicz around for an extra three weeks in case fat Miggy completely fell apart physically.  That said, he made his two postseason hits count.  Then, he pissed off the Cubs again by ripping Maddon for not telling him that he wasn't going to play very much in the playoffs.  Did he really need it spelled out for him?  This year, he's in shape, and had a much better spring.  He's owed $14 million, and the Cubs don't really want to pay him to not play.  So far, so good.
Starting Pitchers
Jon Lester – Jon Lester is a fucking man.  He was excellent in the regular season with 19 wins and just good start after good start, but when the playoffs came around, he was everything the Cubs ever thought he would be when they signed him.  It culminated in the World Series when he set the tone in game five that the Cubs were not going down without a fight by striking out the side in the top of the first.  It continued when the bullpen door swung open in the fifth inning of game seven and he made his first relief appearance in a decade…on two day's rest…and ate three huge innings.  He doesn't throw to first.  Who gives a shit?  When the Cubs have a big game, any big game, give the ball to Jon.  It's what he lives for.
Jake Arrieta – Jake's only problem in 2016 is that he wasn't Jake from 2015.  No one could have duplicated what Arrieta did in 2015, and apparently that includes Jake.  He struggled so much at midseason that he begged off of pitching in the All-Star Game for fear of getting lit up.  But like Lester, when the playoffs came, Jake was up to the task.  He hit a three run jack off of Madison Bumgarner in the NLDS, he took a no-hitter into the sixth inning of game two of the World Series, he won game six of the World Series and if the Cubs hadn't taken the lead in the top of the tenth in game seven, this Pilates-obsessed badass was going to pitch on ZERO days' rest.  This might well be his last season with the Cubs before he belatedly cashes in on his first big free agent contract.  Make it a good one, Jake.
John Lackey – He's still an ass.
Brett Anderson – He pitched fairly well in the spring, but in the end he won the fourth starter job because the Cubs fear he's too injury prone to handle an unpredictable bullpen load.  Then again, he's not Jason Hammel, so he's got that going for him.
Kyle Hendricks – Kyle led the big leagues in ERA last year.  He had to leave his NLDS start when he got drilled in the arm by a line drive.  That shook him so badly that he outpitched the great Clayton Kershaw in game six of the NLCS and took all of the drama out of (what was to that point) the biggest Cubs game of our lifetimes.  When everything was on the line, this George Michael Bluth lookalike was up to the task.  Then, in game seven of the World Series he took the ball again.  Just like us at home he started swearing when Maddon took him out with two outs in the fifth and a 5-1 lead.  He is by order the fifth starter, but he's nobody's fifth starter.  Because he doesn't throw 97 MPH, people will wait for him to start getting hit.  They're going to wait a long time.
Bullpen
Wade Davis – The best closer, statistically the last three seasons isn't Aroldis Chapman or Craig Kimbrel or Kenley Jansen.  It's Wade Davis.  The Cubs got him for the low, low price of whatever ligaments Jorge Soler has left to pull.  They don't seem likely to bring him back after this season, so come playoff time, Maddon can pitch Davis until his arm falls off.  Hey, it nearly worked with Arolids!
Hector Rondon – It's easy to forget now, but Hector was awesome in the first half last year.  At the break he had 14 saves (hard to pile them up when the Cubs credo was "fuck the closer" as they seemed to pile on extra runs in the eighth inning of every win) and a 1.72 ERA.  He was still dominant in the immediate aftermath of the Chapman trade, with a 1.93 ERA through July.  Then, he started to struggle with a sore shoulder, gave up a few homers, went on the DL and came off just in time to be pretty ineffective in the playoffs.  When healthy, Hector's a dominant reliever.  Judging by his gopher ball intensive short stint with Team Venezuela in the World Baseball Classic, he's probably not healthy yet.
Pedro Strop – It's pretty amazing that the Cubs won the World Series with their two best setup men hurt as the season ended.  Like Hector, Pedro was "healthy" for the playoffs, but not quite right.  The Cubs were confident enough in his recovery to sign him for two more seasons, which is great because Pedro's the coolest.
Mike Montgomery – If life were fair, Montgomery would be in the rotation.  He did a nice job when used there last year, he took on a huge workload in the playoffs and was very good, and I'm not sure if you remember this, but he got the save in the biggest win the history of the franchise.  He'll get starts this year, and if Anderson's arm (or back) falls off, he could get a lot of them.  But when he's not starting, he'll be a huge part of the Cubs bullpen.
Carl Edwards Jr. – He admitted that he was basically shitting his pants on the mound in the tenth inning of game seven.  He didn't show it, as he got two quick outs before a rare walk of Brendan Guyer and then a hit to Rajai Fucking Davis.  Regardless, Carl was dominant last year, albeit with a carefully manicured workload.  Because he's so slight, the Cubs are very protective of his electric arm.  But it's worth it.
Justin Grimm – Grimm can be the forgotten man in the bullpen, and with the depth the Cubs have when everybody's healthy, he's probably back to his 2015 role of "sixth inning closer."  But it's cool to have a guy with his arm who can strike his way out of jams in the middle innings.  He's also a little daft, which makes things that much more fun.
Koji Uehara – Such is the state of the Cubs that a guy who could easily still be closing for a contender signs with them to take a lesser role because he knows the team is going to be awesome.  Sure, he's 41, but the splitter still plays and he gets lefties and righties out with equal ease.  If Davis and Hector both struggle the Cubs could use Koji to closer until one or both get back on track.  Hey, they've had worse.
The manager
Joe Maddon – If you're still upset about the way he managed games six and seven of the World Series, I can't help you.  His team overcame a 3-1 series deficit, won three balls-out, all hands on deck games when there was no other choice, and came back from a torturous gut punch in the finale.  They did it because of everything Joe has instilled in them the last two seasons.  He's a motivator, a tactician, an eccentric and the coolest guy in just about any room.  He's also one of only two men in the history of the world to win a World Series as manager of the Cubs.  I refuse to try to make myself mad because he tried to use his best three pitchers to get through the most important game his team has ever played.  No NL team has repeated since the Big Red Machine, and it's hard to navigate a second straight great season.  It's up to Joe to help the Cubs fight the thing Pat Riley calls the "Disease of More."  And then, even if you do that, it's just plain hard to win a World Series.  Think about how great the Cubs were last year and there was a point of real doubt in all three playoff series.  I can't think of anybody else who would be a better choice to lead this bunch back into battle.  Besides, look at how well he pulls this off: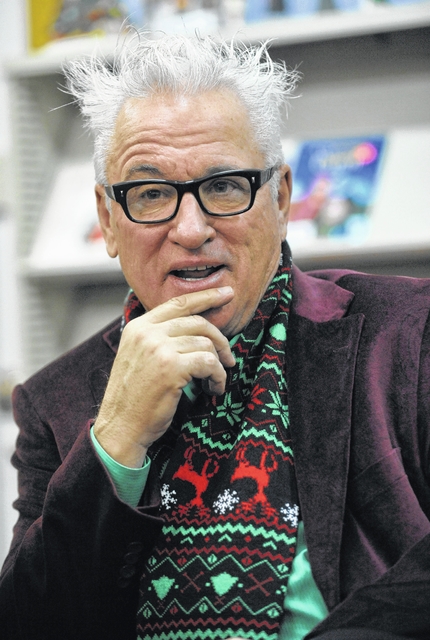 The outlook – The Cubs are Vegas favorites to win it all again.  They are undoubtedly a team built to be good for a long time.  To expect it to happen again this year sees a little greedy.
But we're Cubs fans.  We waited four generations for the one we got last year.  I see no need to wait any amount of time for this one.  To paraphrase Ron White who said, "Once you've seen one woman naked…you want to see all of them naked," once your favorite team wins the World Series…you want to win all the World Series.
It can absolutely happen.  It's gonna be a wild ride.
Those are the best kind.