And they said it wouldn't last.
Actually, nobody said that because nobody knew it was around.  On July 24, 1997 a little website popped up in an obscure corner of a still obscure thing called the Internet.  The site wasn't yet called Desipio, it was still called by its original, and really clever name: Balls!
I couldn't get the URL because somebody already owned it and tried to sell it to me for a sum that was laughable and out of reach for me at the time.  Though to be fair, anything over $40 back then was more than I could probably spell.
I was fresh off writing about the NBA for onhoops.com, and was suffering the sting of taking my writing to an actual paying gig at go2net.com with the original runners of On Hoops, Brock and Chris.  We all had one year deals with go2net, who at the time were gunning at taking down ESPNSportsNet.  Seriously, ESPN called itself that and had a company called Starwave running their site out of Seattle (I still spelled it that way back then, now, of course it's Seattke.)  While we were working for go2net, Paul Allen, a Microsoft billionaire, the current owner of the Portland TrailBlazers and a man who apparently thinks teeth whitening costs a trillion dollars, bought the site.  We were chuffed.  This was going to be great.  And, on the one year anniversary of our hire, he declined to renew anybody's contract.  He hadn't bought us for our writing ability, he bought us for a stock ticker that the business section of go2net had developed.  To be fair, it was a cool ticker.
So, I had no choice but to strike out on my own.  I occasionally wrote for On Hoops again, and they had a new stable of talent which included Kelly Dwyer, so yes, they did just fine without us.
At first Balls! was all over the place.  I wrote movie reviews, I wrote Onion-style teardowns of current news and I wrote about Chicago sports and Notre Dame football, and Illinois basketball.  Balls! needed a name with its own URL and I proved to be way too clever.  I learned that the word desipio was Latin for "making an ass out of oneself" and so I plunked down the $35 it took to buy a URL in those days and it was mine.  Twenty years later it still is.
What a twenty years it's been.  Over time, my writing narrowed mostly to the Cubs (and then so narrow it hardly happened at all), and in those twenty years the Cubs have made the playoffs six times.  They've had two MVPs, they've had three Rookies of the Year, two managers of the year, Kerry Wood struck out 20 Astros, Sammy Sosa hit 60 homers three times (and used to be black), Ronny Cedeno got thrown out going from first to second on a walk, and Ricky Gutierrez went on the DL because he pulled a hamstring running to first, fell down and separated his shoulder.
We celebrated together with GameCasts (basically what we all do on Twitter during games, only you had to come to Desipio to do it) when the Cubs won a playoff series for the first time in 85 years when Wood was a stud in a series against the heavily favored Barves.  We suffered together in game six and game seven against the Marlins.  We loathed the 2004 Cubs together.  The Lou Piniella years were great, but ended in disappointment.  Carlos Zambrano was like our big, crazy, little brother.  Ted Lilly was a serial killer.  We touted the greatest backup catcher in the history of the world with the Hank White Fan Club.  Then some guy named Theo Epstein showed and to our complete disbelief, and neverending enjoyment, the Cubs first beat the Cardinals in a playoff series, then a year later won a pennant and Goddamnit, they won the World Series!
But we've also been around long enough to follow the Bears to a Super Bowl, the Illini to the Final Four, the Bulls to their last two championships (probably ever) and everything in between.
The messageboard is a strange and dangerous place, but lifelong friendships have been formed there and we've all had to admit to wives and girlfriends that we have friends that "we met on the Internet."
We've all been banned by Bleed Cubbie Blue, we suffered a gay porn attack from the four-letter messageboard, and I got a very unfunny article written about me on The Heckler (are there any other kind), because I made fun of Sarah Spain's Chicago Now site.
In 2003, we found the single greatest photo ever, when a Cardinals fan boycotted a Boeing plant while wearing a star spangled bandana over his mullet and spelled the word "morons" wrong.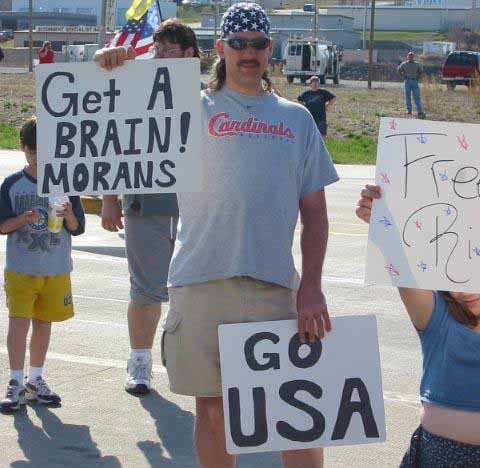 Go USA, indeed!
For a while, others wrote for the site including our own, dear, Brian Crozier.  I was not a good editor, and Kelly Dwyer told me, "everybody thinks you write everything on the site, so you might as well actually write everything on the site."  That BC is still around all these years later is one of the great things about this place.
So how are we going to celebrate 20 years?  Will there be Daily Doses?  Will Karry Ling and Pepe the Yak drop by?  Will we break out a good, old fashioned GameCast for a Cubs game?  Will I dig into the archives and bring back some fun, old stuff, and some just plain embarrassing old stuff?  Will I dig up the infamous "Kap O' Lantern" photo and tell that story?  Will Bad Kermit and I do another podcast?  In all cases, the answer is yes.  Well, I guess I'll have to check with Kermit about the podcast.
We'll start tonight with the column I lived my whole life waiting to write, but before we get to November 2 of last year, I want to take a moment to thank all of you, for all of it.  Many of you are far more than just readers, you are friends, and continue to be.
So, with that in mind, the first entry in our 20 year celebration is a night we'll never forget.
November 5, 2016 – The Immortals (See, it took me three days to even write the damn thing.)
Enjoy. Morans.