Remember in 2007 when Lou Pinella lost his shit and kicked dirt all over a third base umpire?  He got suspended and the Cubs went on their first decent winning streak of the season.
We did a running diary of game two of his suspension on June 4, 2007 against the Brewers in Milwaukee.  And Lou dropped by.  The footnotes are new.
Here it is in all its glory.
Pitching matchup:
Cubs: Jason Marquis 5-2, 2.93 ERA
Brewers: Dave Bush 3-5, 5.64 ERA
Yeah, we're going to do this again. I'm ready to beat this into the ground. But honestly, the only reason we're going to the well this soon is because we're joined today by a guy with nothing better to do. Lou, you want to set the lineups?
Lou: Sure. Why not? I'm on my first beer, so I'm sure I can still read out loud. Let's see what Trammell has cooked up tonight.
Leading off is our $100 million dollar man, Fonzie Soriano. He's a nice kid. He bought me a bass boat on the off-day. Next time we have a day off, I expect him to buy me a lake.
Hitting second is a guy I didn't even know we had on our roster. Felix Pie. Jim Hendry kept talking about how much he liked Pie during spring training. I've seen his belt. I figured he was just hungry. He's a nice kid, this Pie. Much better than Jock.
Derrek Lee is hitting third. He's good. I like this kid.
Aramis is hitting cleanup. I batted him fifth once this week with Cliff Floyd in between him and Derrek and Cliff hurt himself. What a shock that was.
Oh, boy. Trammell's got Jock batting fifth. Did I mention he lost 119 games once? You've got a window to that right here.
Our raccoon looking catcher is hitting sixth. You should see him. His eyes are so black he looks like Marilyn Manson. Yeah, I know who Marilyn Manson is. I'm not that old. Tall guy, hermaphrodite. Right?
Then we've got DeRosa, or as I like to call him, Hendry's Albatross. Nice kid. I just wish he was better, or back in Texas.
Cesar's playing short. He's a nice kid, too. Short, though. If you put a floppy white hat on him, everybody would call him Yosh.
Then Marquis is batting ninth. Nice kid. Good hitter. Doesn't suck as much on the mound as I'd feared.
Love that insight, Lou. Let's do the Brewers lineup next half inning.
Soriano singles on the first pitch, Felix singles on the third. First and second for Lee who strikes out, then E-ramis doubles. Jock hits one off of Dave Bush's leg, and Felix shows off the Cubs baserunning skills by running into an easy out at home.
Lou: Maybe it's contagious. Alan should try the old "bury the turd in the cat box" conversation with the umps that I used on Saturday. I invented that, you know?
Really? I had no idea. That brings up Asshole Catcher 1with two outs and runners at the corners.
Lou: I think Michael's going to break out here. He's due. No matter how dumb you are, you can't be this bad all the time. Right?
Asshole strikes out. The Cubs strand two, score one and of course, get one thrown out on the bases. Cubs fever. Catch it! And die.2
Lou: You want me to do the Brewers lineup? They have Corey Hart leading off. He's six foot six. I just got a good look at him, and the scouting report doesn't say if he's mentally retarded, but the eyes don't lie.
JJ Hardy hits second. He's got a crapload of homers. I'm not saying he's on steroids. Hear that. I'm not saying that.
Ryan Braun is a rookie, batting third. He's a good looking kid. Nice swing. Reminds me of a young Don Money.
Prince Fielder is hitting cleanup. When I was managing in Seattle, we were in Detroit and he was there. Just a kid. I saw him eat the bat boy. Terrifying.
Johnny Estrada's their catcher. He's fat, too.
Geoff Jenkins is in the lineup. He looks like that quarterback. What's his name. Don't tell me. Eric Hipple!3
Billy Hall is in center. He's not having a good year. Probably hit nine homers against us this week.4
Craig Counsell is playing second. Nice kid. Awful batting stance. Looks like he's trying to scratch his ass with a broomstick. Not a good look.
Dave Bush is pitching. Personally, I blame the Iraq thing on him.
Hart flies to Felix. Hardy singles to left. That brings up Braun. Yet another Brewers' first round draft success. Compare that to the Cubs' drafts, Lou.
Lou: Hey, Jim's done a nice job. He told me he drafted a bunch of rookies of the year, like Eric Hinske and Dontrelle Willis. Did I mention I drafted Alex Rodriguez?
I thought you weren't the GM in Seattle?
Lou: Oh, shut up. Just keep typing.
Braun singles to put guys on first and second for player of the month for May, Prince Fielder.
On a 3-2 pitch, Fielder hits a foul ball that Asshole Catcher doesn't chase. Jason Marquis runs about 150 feet but is just a little late. I'm sure that won't cost us.
Lou: Barrett's a winning player. For which team, we're not sure.
Fielder walks to load the bases. The replay shows that Barrett would have had a good shot at catching that foul pop. Maybe his pair of black eyes cost him there. Or maybe he just blows.5
You've got to hand it to him. He sits out a few days and wastes no time reminding us why he needs to leave town.
Slow chopper to short, Cesar makes a nice throw to DeRosa to throw out 300 pound Prince and DeRosa's relay nails 290 pound Estrada.
Lou: Looked like Fielder and Estrada were pulling in third and fourth in the sausage race! Hey, maybe they'll let me run in that tomorrow?
Which sausage would you be?
Lou: Do they have a smokie link?
Uh, no.
DeRosa strikes out to lead off the second. Izturis will ground weakly to second or something and then it'll be Marquis. Have you considered batting Marquis higher than ninth?6
Lou: Not really. I mean, no matter how good a hitter a pitcher is, he's still a pitcher. Maybe on a certain day he'll get lucky and get a couple hits. I'm not Tony LaRussa, I don't need to pretend I'm reinventing the game. I also don't pretend that I'm going to shove kittens into my mouth like a squirrel hiding some nuts.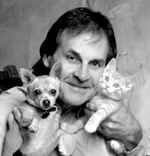 Cesar pops to the catcher. Marquis smokes one to center but Hall catches it. Still 1-0 after one and a half.
Lou, I need you to describe this play. A 1-2 pitch to Jenkins, Barrett does that dumbass thing where he stands up wanting a high pitch. Marquis throws a sinker, Jenkins swings and misses, Barrett misses the pitch, Jenkins runs to first and Barrett hits him in the ass with the throw, Jenkins safe at first.
Lou: I'll be very succinct. Our catcher sucks donkey balls. Can I have another beer?
You really can't make this up. In not even two innings, Barrett has already struck out with two on, tanked a pop-up, crossed up his pitcher, had a passed ball and hit a runner with a throw. What a fucking asshole this guy is.
Lou: They said I'm not supposed to call the dugout during the game. Do you know how to send one of those text things?
Yeah, sure.
Lou: How do you spell Koyie?
Hall flies to right, Jock camps under it and it goes over his head for a double. His relay throw to the infield misses everybody, but Jenkins holds at third.
Lou: Amazing that we lose, huh? Regular fucking Ichiro we got out there in right. What did Bob say about a skidmark in right? Sounds about right. Skidmark, shit stain, whatever.
Second and third, nobody out. Should be two out nobody on. The two biggest holes in the lineup are coming up big so far. The best Brewers players so far have been Jock and Asshole.
Len says that you're up in a box with Randy Bush and Jim Hendry. How can you be here with me?
Lou: I'm going to do that tomorrow. I'm pretty much going to sit there and point at guys and tell Jim how much they suck. It's gonna take me all day to get through Barrett and Jones.
Marquis walks Counsell to load the bases. Things are about to get ugly. Well, uglier.
Tapper to Marquis, who gets Jenkins at home, and Barrett does the unlikely and does not throw the ball into right field to double up the fleet footed pitcher. 1-2-3 double play. Hart's up with runners at second and third.
Lou: What's that thing about a blind squirrel and a nut? Nice job.
E-ramis robs Hart of two RBI with a diving grab and strong throw to get Marquis out of a mess not of his own making. After two it's Cubs 1, Brewers 0 and unofficially Marquis has thrown how may pitches, Lou?
Lou: One million six.
Soriano singles to lead off the third. Felix grounds to second, Alfonso was running so he advances to second.
Lee grounds to short, and Soriano takes off for third after Hardy commits to Prince. Because fat Prince is a hack at first, Soriano makes it easily. Much like Frank Thomas in his prime, you should run on Prince at all costs. Runner at third, two out.
E-ramis pops to first. Still 1-0.
With two outs in the third, Prince homers to left, then, Lou, you want to describe this?
Lou: Well, the fat catcher pops up right over the mound, Jason calls for the pop-up then lets it drop. Barrett catches the ball off the bounce and falls down. That's what we like to call old school Cubs' baseball. You know…shit.
Bob says that the play is a product of poor communication. Nothing says communication like a sock in the face, though, right? Jenkins grounds to second, so the pop-up ends up being nothing more than a shining example of Cubs' ineptitude. So we've got that going for us, which is nice.
Jock looks like he homers to left to get the lead back, but Jenkins robs him at the wall. So both the Cubs and Brewers made highlight quality plays in the third. Of course, the Cubs' was more of a blooper highlight quality.
Do you know the Aflac trivia question answer, Lou? It's about who Ned Yost is honoring with the number 3.
Lou: Thomas Jefferson? George Jefferson! Wait, don't tell me. Daryle Lamonica! No, don't say it, uh, Wendell Kim! A-Rod!
You really should just stop now, champ.
Counsell hits a double play grounder to third. E-ramis throws to DeRosa who drops it. Everybody's safe. Just more really good baseball, right Lou. Lou. Lou?
Lou: You are going to need more beer. Wait, do you have any of that glue you use on model cars? You've got have something.
Bush bunts, and Marquis slips and starts to fall down, but like all NL pitchers, Bush doesn't run hard and Marquis has time to throw him out. The inning should be over, but now it's second and third one out. Here's Hart.
Lou: I like Heart. They're from Portland, I think. The fat one can really sing.
Hart grounds to the hole, Izturis makes a nice play, but his throw to first is late. 2-1 Brewers, runners at second and third.
Lou: Serenity now! Serenity now!
You've been around baseball a long time, Lou. You were an original Seattle Pilot for goshsakes, have you ever seen anything like this team?
Lou: Really, it's like shooting a corpse in the head. It's bad, but it's so bad it can never get worse.
Comcast just showed a guy with a really long beard. Len drops a Knocked Up reference. Excellent movie. Saw it on Saturday.7
Lou: You know, I've got some time on my hands. Maybe I'll check that out. I hear there's a really hot doctor in it. Is it Jill Eikenberry?
Jill Eikenberry? From St. Elsewhere? Holy shit, when was the last time you saw a movie?
Lou: Not that long ago. I saw King Kong.
Well, that was almost two years ago. How'd you like it?
Lou: It was all right. Jeff Bridges was pretty good.
Wow.
Marquis strikes out Hardy and minimizes the damage. Still 2-1 Milwaukee.
Dave Bush makes a nice play on a roller from Marquis.   He throws into the runner, but Prince got it and got his arm out of the way.   Bob says first base isn't where you put fat old guys anymore.   Apparently, it's where you put fat young guys.
Soriano singles, he's 3-3, and Felix is up with two out.
Felix fouls one off of…uh, Lou where did that hit Estrada?
Lou: Right in the baby maker.   Hello!   Maybe Johnny can sing the anthem tomorrow?
Felix grounds to short.   Still 2-1.
With two outs in the fifth, Marquis bounces one Carlos Marmol-style and it hits Geoff Jenkins in the Achilles.   Hey Lou, give us some Nelson Muntz.
Lou: Ah-hah!
Speaking of Marmol, he's throwing up in the bullpen.
Lou: Maybe he ate too many brats?
Comcast just had a shot of Jenkins with his helmet off.   His bald spot is nearly the same shape and size as his enormous goatee.   Maybe he's growing a face toupee?   Bill Hall flies to Jock and the inning is over.
Lou, what are you eating?
Lou: Nothing.   I'm not eating anything.
Let me see.   Let me see!   Oh, for chrissakes, is that the last piece of cheesecake?
Lou: Your wife said I could have it.   She's a nice lady.   Very…uh…exotic.
She's not here tonight, she's at a play.   Did the dog give you permission to eat the last piece of cheesecake?
Lou: That's the dog?   Oh, thank god.    
Lee flies out to start the sixth and E-ramis follows with a pop-up to short.   The Cubs' offense has shifted back into neutral.   Here's Jock who almost homered to left.   What are the odds he'll just try to pull everything here and strike out?
Lou: Pretty good.   He's not the brightest bulb in the box.
He grounds to first.   Same difference.   Well, that was quick.   Three up, three down.
Well, Lou, how are you enjoying watching the game on TV?
Lou: It's not bad.   But the beer and cheesecake mix is tough.   Didn't the Germans invent both?   I'm not sure what's worse, my stomach after that, or watching Marquis walk Counsell to lead off this inning.   Marmol's still up in the bullpen?   Is he warming up or throwing a simulated game.   Have I mentioned that Alan Trammell lost 119 games one year?   
Bush bunts, Lee eschews a close play at second for an easy out at first.   Corey Hart's up.   What's your favorite Heart song, Lou?
Lou: The one about the fish!8
Barracuda?
Len says that though Jason is struggling, that sometimes struggling through a lot of innings is an accomplishment.
Lou: Eating a mirror is an accomplishment.   But eventually you're still just shitting glass.
Hart singles and Counsell stops at third, so runners at the corners with one out.   Should Alan take Jason out?
Lou: If I texted you "GOYAATHODA" what would that mean to you?
"Get off your ass and take him out dumbass?"
Trammel goes to the mound to bring in Marmol.   Hey, Lou, you're getting pretty good at that.
Lou: LOL!
Marmol has pitched 7 and 2/3 innings of scoreless ball so far.   Pretty good, eh, Lou?9 
Lou: He's a nice kid.   Good arm.   Good stuff.   Huge ears.   The first time I saw him, I stuck some co/ax in his nose and tried to get HD on my office television.
It's 1-2 to Hardy, Asshole goes to the mound to talk to Carlos.   What's he saying?
Lou: I have no idea.   Something brilliant like, "Go get 'em!"   He's basically just an overgrown junior high cheerleader.
Hart flies to shallow left, the Cubs do the sensible thing and let Soriano take it coming towards the infield instead of Cesar going away from it.   Nobody tags.
Hart steals second, Asshole thinks about throwing it into center, but contains himself and doesn't throw it anywhere.
Marmol strikes out Ryan Braun.   Are we ready for a world in which Carlos Marmol is the best Cubs' reliever?
Lou: I'm ready for any world that Will Ohman isn't our best reliever.   
Go through our bullpen and try to pinpoint what's wrong with some of the guys.
Lou: Eyre needs to lose like 80 pounds.   I saw him with his shirt off…I think the last movie I saw was Free Willy.   Bob Howry's fastball isn't moving.   It's straight and practically has "hit me" written on it.   Will Ohman still thinks that home plate is 45 feet away.   You want me to go on?
Nah, that's enough.
Asshole Catcher works the count and gets a hard earned walk.   He then (seriously) steals second and because the pitch nearly beans DeRosa, Estrada has no play.   DeRosa singles softly to left and we have first and third and nobody out and Izturis is up.   Why is he hitting?   Why not Cornelius or even Theriot?
Lou: Because Cesar's going to single to tie the game and send DeRosa to third.
You cheated.   That happened before you said that.
Lou: Shhhhh!   Now Cliff's going to hit for Marmol.   Who will get the next six outs to carry us to the ninth?   Now that's the real question.
Dave Bush's day is done.   So are his baked beans.   I have no idea…
Lefty Brian Shouse is in to pitch.   Cliff is hitting for Marmol.   Do you like Cliff's chances here?
Lou: I like them about as much as the odds of Jon Benet Ramsey's dad dating Natalie Holloway's mom.
Are you reading the Drudge Report?
Lou: Hey, there's some good stuff here.   They've got Paris' new mug shot!
Cliff singles, DeRosa scores, Cesar to second.   3-2 Cubs.   This Alan Trammell's not bad, is he Lou?
Lou: He's not bad.   For a guy who lost 119 games one year.   Did I ever tell you about the time we won 116 in Seattle?
Soriano hits one deep to left…Lou, you want the honors?
Lou: He hit the shit out of that one!   Six to two Cubs!   Three homers in three days, seven hits since we recalled his buddy Felix!   Let's give him a raise!
Felix grounds to Prince.   Prince thought it was foul.   So did Felix.   Felix didn't run and after standing there for a moment, Prince finally went to the bag.   Bad play by Felix.   It took him a game and a half to lose his hustle.   He's a quick learner for a Cub.
Lou: I'll have a little chat with Felix.   It'll end with him cleaning the crapper in my office there at Miller Park.   Speaking of beans, what did you do with those?
Lee strikes out on a bad pitch and the Cubs appear to have packed in the offense for the night.
Lou: Never gets old, does it?
Does it bother you that Tank Johnson got arrested for having a cache of guns, ammo and drugs, his best friend died in a shootout in a night club the day they got out of holding and he spent a couple months in prison and he got suspended for eight games , while you got four games for kicking dirt on an umpire?
Lou: What bothers me is that Tank got to eat hundreds of those spiced beef link things in jail, you know, Slim Jims?   You didn't even offer me one.
You've had a six pack of Newcastle, half a bag of those squeaky cheese curds, two brats, the last piece of cheesecake and now you're eating baked beans from the can.   You're not exactly starving.10
Lou: Who's pitching for us now?   Ohman?   Where's your bottle opener?
Yeah, it's Will.   How are you getting back to Milwaukee after the game?   It's an hour drive.
Lou: We don't play until seven tomorrow.   I thought I'd stay here.   Your couch looks comfortable.
I guess that's OK.
Lou: I'm sure you and your wife will be comfortable on it.
Fielder singles to right.   Will's got nothing.
Lou: You know how you can tell Will is going to struggle?  
How?
Lou: We bring him in to the game.11
Estrada pops to Lee and Barrett nearly runs into him.   Bob is ripping your team for not calling for pop-ups.   Is that really a problem?
Lou: Hell yes, it's a problem.   Lee and DeRosa speak English, E-ramis speaks Spanish, Cesar speaks Venezuelan and Barrett is a moron.   You try to figure out who's taking it with that bunch.   
So now you're calling him E-ramis now, too?
Lou: It's catchy.   I like it.   Don't you judge me!   What is in these beans?   Is that a pat of butter?
It's a piece of bacon.   You really should slow down on those.   Mike Wuertz is in with one out and a runner at first.   Kevin Mench is batting and I don't know if you know this, Lou, but Mench has a size 8 hat.   Biggest in the baseball.
Lou: Sure.   You put that thing on Barry Bonds' head and it'd look like one of those batting helmets Dairy Queen used to put sundaes in.
Mench pops to Lee.   Two out.   Len is now explaining how it's possible to end the season with a higher batting average than on base average.
Lou: Wow, and I thought YOU picked on Jock Jones a lot.
I think he's talking about Kevin Mench.      Now he's talking about Mench's size eight hat.   We already talked about it.
Lou: That's why you're the best, Alan.
Andy.
Lou: Whatever.
Wuertz strikes out Hall.   After seven it's 6-2.   You know, Marmol, Wuertz and Dempster have been pretty good for you so far, and other than that awful inning in LA, Angel Guzman's been good in relief. 12  Have you ever thought about using and all-righthanded bullpen like the Padres do.
Lou: I have not.   I have however thought long and hard about running over our current lefties with an Escalade.
Jock pops to second, that'll drop his average to .242.   Felix is hitting .241.   Since Felix can play defense and Jock can't, why would you ever start Jock again?
Lou: We're trying to trade him.   So I was showcasing him.   I let him play center, I tried to hide him from lefties.   I tried not to strangle him when he refused to go the other way with pitches from the middle of the plate out.   Nobody seemed interested.   Now I'm going to start feeding him that e-coli lettuce.
Asshole singles with one out in the eighth.   He's had another rough one behind the plate.   But his seventh inning walk after he was down 0-2 in the count was a huge play to lead off that five run inning.   So that's something.
DeRosa grounds into a double play.   Fielder thinks there's only two outs.
Lou: Ned gives him three pieces of gum every inning and after each out he's supposed to chew one of the pieces.   When he's out of gum, the inning is over.   A couple games ago he jogged off the field after one out.   Ned asked him what happened and he said, "I got hungry, Skip."
That joke is older than Yosh, Lou.
Lou: You've heard that?
Cap Anson has heard that.
What do you think of Miller Park, Lou?
Lou: I look around and I think that the army surplus store is out of paint.   Wow, that is one ugly green.
Gabe Gross pinch hits for Milwaukee.
Lou: The old Phillies guy?
That was Greg Gross.   He played two years for the Cubs.
Lou: How was he?
He had a great average his first year, then sucked the second.   He went to the Phillies and hit .333 the next year
Lou: There's a surprise.   So he got on base a lot and the Cubs had no use for him?   That's why we ooze success.
Wuertz retires the side.   The ninth inning awaits.   Cubs 6, Brewers 2.
Chris Spurling in for the Brewers.   Mench is still in left because Jenkins left after he got hit in the leg.   Matt Murton pinch hits for Wuertz.   How do you like Matt, Lou?
Lou: I like the kid.   Just not in right field.   Or anytime he has a glove.   He hits well.   Good eye.   He makes up for his average power with average speed.   Reminds me of a young Greg Gross.
Now you're just mailing it in.
Soriano hits one over the bag, Counsell fields it, but Alfonso beats it for his fifth hit.   Len says he has eight hits in his last 10 at bats.
Lou: So you're saying he's hitting .800 for the Cubs when I don't manage.   Is that it?   You and Buster Olney can both go fuck yourselves.
Easy there, tiger.   Here's Felix.   Scott Eyre is now warming up with Dempster.   Why would he be up?
Lou: I think it's so that Dempster can still get a save opportunity.
Nice.
Felix pops in foul territory to Braun.   Len points out that Lee is 0-4 and the Cubs have scored six runs.   He says that's good.   What does that say to you, Lou?
Lou: Says to me that Len hates Derrek Lee.    
Me too.
Lou: Do you have any matches?
Where are you?
Lou: Uh…in the "study."
Close the door!   You're worse than Pat Hughes.13
Lou: Is this the new Entertainment Weekly?   All it's got is American Idol stuff in it.
There's a new one out here.   Hey, Derrek singled and drove in Murton.   E-ramis didn't bother to move the bat and if Murton had had to slide he'd have rolled right over it.   E-ramis grounds to short.   It's 7-2 heading into the bottom of the ninth.
Lou: What is the deal with this Ryan Seacrest guy?   
I'm not talking to you when you're in there.
Lou: What did you say the score was?   You know this one goes on my record.   Not Trammell's.   Did I ever tell you he lost 119 games on year?
Trammell brings in Dempster to pitch the ninth.   It'll be Hardy, Braun and Prince.
Lou: You might want to wait a little bit before you go in there.   I wrestled it to a draw.   

Great.
Lou: You want to do this again tomorrow?
No.
Hardy pops to Lee.   One out.
Lou: Come on.   I'll go out and get us some of this brown beer you like so much.   It's not bad.   
Braun grounds to Dempster.   Two out.
Lou: Fine.   I'll go hang with Hendry tomorrow.   You think I'm gassy.   Hello!   You could run a gas grill for an hour off his boxers.   
Fielder flies to Jock.   Cubs win.   The Cubs are 2-0 when Lou doesn't manage.
Lou: I heard that.   Hey, this was fun.   You're a nice kid.   Let's watch Baseball Tonight and we can prank John Kruk when he's on the air.   He keeps his cell on vibrate and he can't talk when it rings.   
I'd like to thank Lou for stopping by and lending his "insight."
Luke Stuckmeyer interviewed Alfonso Soriano after the game and Alfonso credited Lou's tantrum on Saturday for firing up the team.   Lou, did you hear that?   Lou, where are you?
Lou: What size are these pajamas?
Pajamas?   I don't have any pajamas.   Oh, come on.   You can't tell that's a nightgown?   I've got to go.
Lou:   I think it's the beans.
Here are those annoying footnotes.