Baseball gave the Best Fans in Baseball™ a swift kick in the gnads when they had the Cubs open the defense of their World Series title in Busch Stadium back in April.  The Cardinals responded by bringing out the giant horses to crap all over the field, and they rolled out Red Schoendienst and Lou Brock's fake hair and fake leg, and whatever they could exhume of Stan Musial to remind everyone that they win thee kinds of things all the time.  If, by all the time you mean four times in the last 50 years, then, sure.  
But this week the indignity will be even greater.  This week they get eliminated from the National League Central race by the Cubs, and they get to watch the Cubs celebrate the title, right there in their precious little pre-fab, double-wide, charm free, ballpark.
Just a few days ago they were sure that the Cubs lead over them would be equal to or even less than the four games in this series.  Why, if they could just summon up The Cardinal Way for one week they could pass the Cubs and restore order to their charming little part of the honorary Confederacy.
But then the Cubs kept beating the Brewers and the Cardinals couldn't take a series from a Pissburgh nine that stopped giving a shit a month ago.  So now, the magic number is two, and barring a Cardinals' sweep that isn't going to happen, the Cubs are going to do what God intended people do with Budweiser.  Shake it up and pour it all over the floor of the visitor's clubhouse.
Two years ago, just after the All-Star Break the Cubs completed their takeover of this rivalry.  Just as I vowed on their behalf they would after a May series win by the Cardinals at Bus(c)h Stadium, the Cubs returned later in the year to fuck shit up.  They haven't stopped since.  As recovering St. Louis newspaper columnist Bernie Miklasz pointed out on his radio show blog, the Cardinals are 10-38 in their last 48 games against the Cubs.  Bernie attributes it to the Cubs "getting in the heads" of the Cardinals, but that's not it.  The Cubs are just a lot better.  They proved it in the NLDS in 2015 and they've been reminding the Cardinals of it ever since.
And this week, the Best Fans in Baseball™ get a front row seat to the latest reminder that all they have left to cling to is their mostly ancient history, while the Cubs fans are still basking in the early stages of a long run of sustained awesomeness.
Laugh it up while you can Cardinals fans.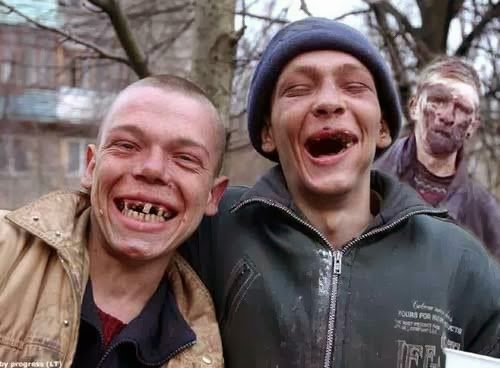 But you'd better do it quick.