It's an odd time for Chicago sports to say the least.  The Bears are rebuilding (again) with a quarterback who presumably likes his queso with actual cheese and plans to vaccinate his unborn kids.  Oh, and their coach is actually younger than Tom Brady.  The Blackhawks are knee deep in an awkward stage where some of the veterans from their long and successful run are either slowing down, or in the case of Brent Seabrook are inert, and their young players aren't there yet–if they ever get there.  The Cubs are the gold standard, fielding an exciting young team with a World Series in their back pocket and three straight cracks at the pennant.
So what of Jerry Reinsdorf Enterprises?  The White Sox have a AAA roster and are managed by the guy the Cubs shoved through a door to hire Joe Maddon three years ago.  The Bulls can't even tank right.
Oh, and as of February 1, neither of those teams has a local radio deal.
No shit?
Cumulus Media, who owns WLS 1, is in pretty miserable financial shape.  So they took the bold step of asking a bankruptcy court to let them cancel their multi-year deals with the White Sox and Bulls because, get this…
"We are taking this action because the economic terms of these legacy contracts guarantee that we lose money and, as such, continuing them in their current form is not in Cumulus's best interests."
Ouch, babe.
I've never had much interest in the White Sox.  Even as a kid I thought American League baseball sucked, and the Sox were wearing those stupid horizontal striped red, white and blue uniforms with the big red number on their thigh.  The only guys I liked on their team were the Law twins, Vance and Rudy.
But I've been a lifelong Bulls fan, dating back to the year before Michael Jordan, when I thought it was cool that Orlando Woolridge was number zero, and Reggie Theus seemed cool and Quintin Dailey was fresh off getting the University of San Francisco basketball team shut down.  (It really was, for three years after the NCAA put them on probation for some things that Quintin played a pretty big role in.)2
Anyway, the point is that even though I'm a Bulls fan, I literally had no idea their games were on WLS.  If you had held a gun to my head and demanded me to tell you what station they were on, I'd have said AM 1000.  I'd also have let you shoot me instead of making me listen to Chuck Swirsky and basketball's answer to Ryan Dempster, Bill Wennington.
As for the White Sox, I might have actually guessed WLS eventually.  I knew the Score dumped them for the Cubs, and I figure that Reinsdorf still thinks Jay Mariotti has a show on ESPN 1000, so he wouldn't let them go back there.
Do the Sox even need a radio carrier?  If you couldn't listen to a Sox game on the radio, would you miss it?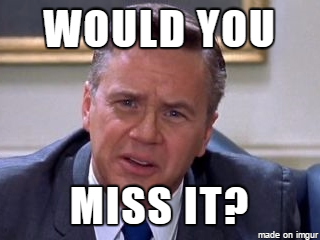 Are you really pining for summer nights sitting on your back porch, drinking paint thinner and listening to Ed Farmer and Darrin Jackson and the bug zapper and not really being able to tell the difference?
Farmio and DJ's broadcasts are duller than a butter knife, and even as the Sox start to promote their highly touted prospects over the next two or three seasons, you're still taking your life into your own hands if you listen to those two dullards at night while driving.  Forget the Tide Pods challenge.  Take the Farmio-Tylenol PM challenge.  It's simple.
In the third inning of any Sox night game you take one Tylenol PM and turn on the radio broadcast and if you can make it to the top of the fourth before you fall asleep and wet yourself, you win!
Baseball on the radio was only meant to be broadcast one way.  You get a velvet voiced play-by-play guy and a chubby former player who agrees with everything the play-by-play guy says.  Then, in the fifth inning, the play-by-play guy's irritable bowel syndrome kicks in, he spends the inning in the shitter and the former player confuses the shit out of you with descriptions of what's going on, on the field, that are completely unintelligible.  Damnit, that's how baseball is meant to be!
I'm sure the Bulls and Sox will both find new homes.  Live sports, even bad live sports are still in demand.  The Bulls will probably end up back on AM 1000 after all, and if the Sox don't go there, well, is anybody using the Score's old 5,000 watt 1060 signal?
Ahh, like it matters.
Here are those annoying footnotes.