You have questions, and I have half-assed answers.  The Desipio Mailbag makes a triumphant return and if you have burning questions (likely a result of sitting on Ryan Braun's toilet seat), you can send them to me at ask@desipio.com.  And remember, there are no dumb questions.  
But there are dumb people who ask questions.
The Bulls tried to trade Niko Mirotic to New Orleans today for a guy they used to have who can't play and a draft pick they'll just screw up.  Why bother?  At this rate they'll end up trading Niko for a ham sandwich.  — Bart W.
I was surprised to hear people today asking why the Bulls don't just keep him.  Sure, on the surface a 6'10 guy who can shoot, and who has finally, seemingly at least, put it all together at 26, seems like somebody you might want on your team in a couple of years if you expect to actually be kind of good.  But you get the distinct feeling that Niko doesn't like anybody on his team, and nobody on his team likes him.  When Bobby Portis beat the hell out of him in a preseason practice you didn't hear anybody on the team demand Bobby be booted off the team, or suspended, or even given a stern lecture.
I'm sure part of NIko's improvement is that he's more comfortable on the floor without Jimmy Butler screaming at him or Dwyane Wade not throwing him the ball, but I also think a big reason for his improved play is his motivation to get traded.  If the Bulls still have him on their roster the day after the deadline he'll make Derek Bell's infamous "Operation Shutdown" look like good hustle.
The trade that fell through today was NIko to the Pelicans for the decaying husk of old friend Omer Asik and an undisclosed first round pick.  It was most likely New Orleans' 2018 pick with lottery protection.  That doesn't seem like much, but a first rounder for Niko, who was a free agent that nobody wanted this past summer, would have been unthinkable not long ago.
Self-proclaimed basketball expert Bill Simmons started bleating about what a bad trade it was for…the Bulls.  And, as usual, the "Picasso of the Trade Machine" has no fucking idea how NBA trades work.
Update: According to Spotrac, Asik is on the books for $11.3m in 2018 with a $3m buyout in 2019… so the Bulls are paying $14.3m in future money for the mid-teens 1st rounder not $23m. That still seems STEEP.https://t.co/uj1mwavs7K

— Bill Simmons (@BillSimmons) January 30, 2018
The Bulls would not be paying $14.3 million for a first rounder because, here's a funny thing about how professional sports work–Mirotic is also due money.  Asik's contract called for $11.3 million this year, plus a three million dollar buyout.  NIkola is due $12.5 million this year, and has a team option for next year at the same amount.
Also, we're halfway through the season, so Asik is only owed about $5.6 million, plus the buyout.  So the Bulls would be paying $8.6 million for that pick.  Oh, but they won't be paying Niko the $6.25 million they owe him.  So the Bulls would be "buying" their number one for less money than they sold their second rounder last year, Jordan Bell, to the Warriors for.  Profit!
Anyway, it's NIko's option year that's complicated things.  Because of it, his contract is technically a one-year deal, and he can't be traded without his permission.  But if the Bulls exercise his option he loses his no-trade protection, but the Pelicans don't seem too keen on paying him that next year, and he doesn't want to lose the $12.5 guarantee.  I don't blame Niko, and it sure seems like the Pelicans could play him this year and then just trade him this summer and never pay him next year's contract.
Anyway, the Bulls will keep talking to New Orleans and other teams and Niko's not long for the roster.  As for trading him for a ham sandwich, the problem is that it would have to be a ham sandwich that costs $12.5 million.  Other than Panera, I don't know where you can find one of those.
So I'll most likely be hitting up Taco Bell this Friday night for the first time in nearly 7 years. Need some suggestions, figured you would be the authority here. I'll hang up and listen for my answer. Thanks. — Jason G.
Well, I guess I'm a Taco Bell expert because of geography, as it constitutes haute cuisine around here: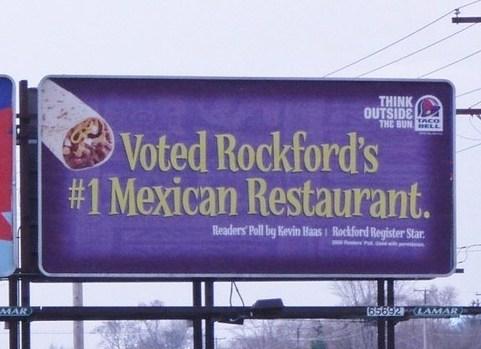 What was humiliating about this is that for all of its many faults, there are actually quite a few really good restaurants in Rockford, and yes, even a couple of really good Mexican ones.  But the heart wants what the heart wants and all six people who still read the Rockford Register-Star clearly want them some Taco Bell.
And at least one of them might have been former Cubs prospect Eloy Jimenez, who they traded somewhere, but honestly, I can't remember where.
Zack Collins on Eloy Jimenez:
"He likes his Taco Bell."
What does he order?
"Three chicken quesadillas every single time."
How often does he go?
"Every single day."
Fun stuff with @zackcollins0 and Alec Hansen on the White Sox Talk Podcast!https://t.co/nsAY921vbT

— Chuck Garfien (@ChuckGarfien) January 30, 2018
Last April my wife and I went to Puerto Rico for our anniversary.  We made a concerted effort to eat in local restaurants and drink Puerto Rican beer.  We drank a lot of Medalla Light, which was pretty good, very easy to drink and dirt cheap.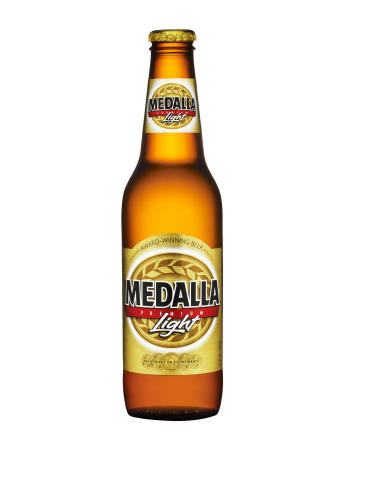 Anyway, so that plan worked great.  Puerto Rican food is excellent, and I even got so I liked mufongo, and suprisingly, there are a lot of Cuban restaurants there, too.  Anyway, one day we drove from San Juan all the way across the island to Ponce so my wife could see the Carribbean.  Now, the fact that two days before, we had taken a ferry to the Island of Vieques, and spent 12 hours there, which is IN THE CARRIBBEAN, so that  should have sufficed.  But instead of a leisurely day actually enjoying the resort we were paying a shitload to stay in, we drove a rented Puerto Rican lawn mower over the mountains to get to a city where we had no idea where a decent beach was.
Anyway, after a lot of wandering around with me swearing…a lot..we finally did find a nice beach and we had a fine time, and by late afternoon we were starving, and we saw a billboard that showed that the Ponce Taco Bell had rolled chicken tacos.  My wife nearly wrecked us, throwing her body in front of me, grabbing the steering wheel and turning it like when Sandra Bullock has to get the bus onto the still under construction freeway in Speed.
So, we get to the drive thru and I order.  How hard could this be?  My two years of Spanish at a Mid-American Conference university had been good enough to order in real restaurants for five days.  This should be a breeze.  I just wanted a numero dos with a Mountaino Dewo, and she wanted dos orders of rollo pollo tacos.
Yeah, it wasn't working.  I was yelling, they were yelling, cars behind me were honking.  It was a scene.  So, I drove around to the front and went in where I could order like a real American in a Spanish speaking place…by pointing at the menu.
Here's what was complicating things.  At international Taco Bells (and I know, Puerto Rico's a territory, not a country, and everybody knows that but Donald Trump who after the first hurricane boasted that he 'called the president of Puerto Rico' and of course, that literally would be him)…anyway, at Taco Bell's not in the 50 states, there are extra options with the meal.  One of them is to get nachos…made with French fries!  That's the part I couldn't understand when they were asking me, and my ignorance of this simple option was frustrating them.
Anyway, those things, called Papas Supreme in Puerto Rico, are awesome.  They are easily the best thing I've ever eaten at a Taco Bell, and they were literally just a side dish.  It's not just that you can't go wrong by putting ground beef, sour cream and a shitload of bright orange nacho cheese on fries, it's that they're also seasoned perfectly.  I talked about those fries so much the last four days of our trip that my wife very tersely lectured me that after all of the great food that we had on our trip, if I came back home and only talked about Taco Bell's French fries she would kill me.
So what's the point of any of this?  The point is that right now, you can get these "Nacho Fries" at Taco Bell right here in the good old contiguous U-S-of-A!  And, I happily report that they are tremendous.
You can get just the fries with a cup of bright orange cheese, or you can get them either supreme or BellGrande.  My advice to you, skip the BellGrande, it's the same as supreme (except you get a few more) but it has refried beans on it, and nobody needs beans on their fries, and if you haven't eaten at a Taco Bell in seven years, the beans will have you changing your shorts prematurely.
Beyond that, you can't go wrong with Taco Bell's taco supreme made with like 80% actual beef.
Eloy's not wrong about the quesadilla.  And pro tip, you can order a chicken quesadilla and have them add crispy potatoes and jalapenos.
You apparently can also have them make any of their traditional nachos with Doritos (they just bust up the Dorito taco shells–which are the flimsiest food distribution item ever made, anyway) instead of using tortilla chips, but that seems like another unnecessary pants shitting opportunity.
I used to like the regular chicken tacos, and they were something you could actually eat there and not feel like your circulatory system was going to shut down, but a few years ago they added their ill-fated Cantina menu, and they changed the seasoning on the chicken and ruined it.
Oh, and when they ask you if you want any sauce, you do.  Mild is worthless, it's red water, basically.  Hot is what mild should probably be.  I like the fire sauce because it's got just a little kick and a nice smoky flavor, and the Diablo sauce actually packs a pretty fair kick.
Anyway, get the fries!