So crazy Joe Maddon wandered into a boutique shop and saw some awful mashup art on the wall and commissioned the "artist" to make four posters showing how to put "the art in baseball?"  Coming off last year's lame "D-Peat" theme, Joe needed a good one this year and we get…this?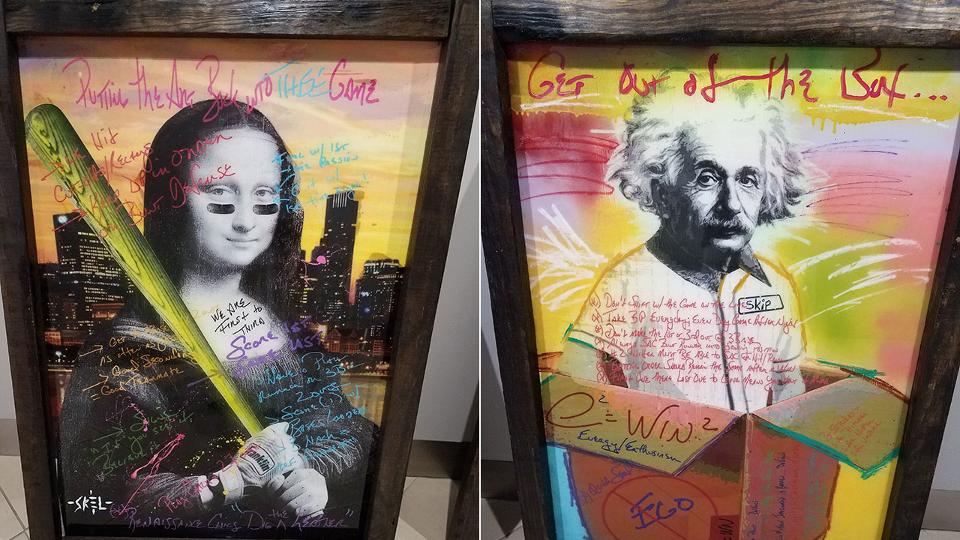 You know what?  It's fine.  It's fine.  It's no "Try Not To Suck" or "Embrace the Target" but it'll do.
It'll do, because the Cubs don't need this stuff anymore.  That's not a knock on Joe.  Far from it. The plucky young team he took over in 2015 is all growed up.  They've been to the playoffs every year he's managed them.  They have been to three straight NLCSes1, oh, and you may have heard they won a World Series.  No shit.  They had a pretty epic parade, and everything.
But Maddon's growing cabal of critics think this is proof that he's losing the team, and his mind.  To those nitwits, he's the guy who "almost blew the World Series!" and "why did he let Lackey pitch to Justin Turner?"
In their eyes he went from groovy, hipster, beatnik manager guy who found inventive ways to take the pressure off his team, to a complete nutjob whose sole goal in life is to make them miserable.
So I'm going to do something that frankly shouldn't need to be done.  I'm going to defend the third winningest manager in franchise history and one of only two Cubs managers to ever win a World Series.
To do it, I'm going to have to dispel some pretty tiresome myths.
1. They won the 2016 World Series in spite of Joe.
This is just dumb.  Did he make questionable pitching changes in games six and seven of the World Series?  Yes, he did.  But why does he get the blame for that, and not the credit for the fact that his team came back from down three games to one to break the longest championship drought in professional sports history?
It's like everybody forgot that the Cubs postseason legacy before Joe was them waiting for the worst possible moment to curl into the fetal position and just lay there until it was over.  Before Joe changed it all, the Cubs were best known for blowing insurmountable series leads or getting swept.  That was their thing.  They lost three games in a row to choke in 1984, to crap out in 1989, to choke in 2003, to get swept in 2007 and 2008.  Even in 2015 with Joe after giving us incredible moments in beating Pissburgh in the Wild Card game and the incredibly gratifying slaying of the Cardinals, how did the Cubs leave the 2015 playoffs?  They got swept by the Mets.
So, when the Indians won game four to go up 3-1 in the World Series, it was over.  Game five would make another three games and out finish to a postseason.  The Cubs NEVER fight back.  We'd seen it with our eyes.  We knew what was going to happen.
But it didn't.  They won game five, and Joe did the thing that neither Jim Frey or Dusty Baker had the balls to do when they were UP with a chance to win.  He played to win that game.  He used Aroldis Chapman in the seventh inning and it worked.  When Jake Arrieta needed a billion pitches to get through five and two thirds innings in game six, Joe went to Aroldis in the seventh again.  Why?  Because the rest of the bullpen was a fucking shambles.  Why do we forget that?  Hector Rondon was hurt.  Pedro Strop was hurt.  Travis Wood was…Travis Wood.  Joe barely trusted Carl Edwards Jr., and Mike Montgomery, so he did the thing we always wanted our manager to do in a must-win game.  He managed it like they had to win it.  So back came Aroldis.  Theo and Jed had given him a weapon to use without regards for the pitcher's long-term well being.  Aroldis wasn't going to be back in 2017.  So WARM HIM UP AND GET HIM IN!  This World Series isn't gonna win itself.
Yes, Joe fucked up when he didn't have Strop or Wood warming up in the top of the ninth in case the Cubs tacked on runs, and they did, and so Aroldis had to start the ninth with lead that had grown to six runs and face a batter so Joe could get a reliever in for him and save some bullets2.
In game seven Joe wanted to go from the starter, Kyle Hendricks to the legend of Jon Lester to Aroldis.  So what does he get criticized for?  For taking Hendricks out too early.  But the reason he did was because Kyle got in a jam in the third inning and he got Lester up, and once Lester was up he either had to come in or you burned him.  That started Lester's clock too soon.  Joe still managed to squeeze more out of Kyle, and if the umpire hadn't blown a full count pitch on Carlos Santana, Kyle would have gone five.  But the ump did, Kyle came out too soon, and Jon came in too soon, and it meant Aroldis was going to have to get more than three outs.
And Lester made it work.  He was fucking balls in that game.  The only runs the Indians got off of him were thanks to a nine foot "single" by Jason Kipnis (and a David Ross throwing error) and a wild pitch that bounced off Ross' mask.  Then, we remember what happened when Aroldis came in.
But did the Cubs curl up?  Fuck no, they didn't.  They rallied to win the fucking World Series.  They did it because that crazy bastard in the dugout had instilled in them over two full seasons the belief that they could do it.  That's a real thing.  Nobody recovers from a gut punch like the Cubs did. But they did.  You have to ignore a fuckton of evidence to argue that Joe didn't have a lot to do with that.
2. He's an overrated in-game manager.
With Joe you get more than the in-game stuff.  And, despite what people will tell you, he's really good at.  Ask Bruce Bochy how Joe did in the ninth inning of game four of the 2016 NLDS.  Ask Dave Roberts about how the Dodgers two games to one lead in the NLCS that year turned out.
It's easy to look at the Cubs terrific young talent and delude yourself into thinking they just showed up that way.  Well, Kris Bryant may have, but the rest of them didn't.  They have won 292 games the last three years while working young players into the lineup and living with their inevitable mistakes.  They have been able to do that because Joe's really good at picking beneficial matchups for them, and, he has built a clubhouse culture that welcomes young players and treats them like they're important parts of the team from day one.  None of this stupid "rookies should be seen and not heard" or rookie hazing bullshit.  Well, sure I mean they did make Kyle Schwarber wear a dress once, but usually when the Cubs make the rookies do something stupid…they all do something stupid.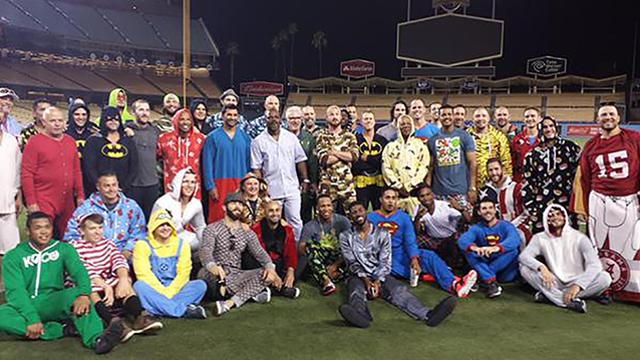 There's a common theme to all of Joe's postseason "failures" in his three years so far with the Cubs.  Nothing makes a manager look dumber than a shaky bullpen.  Funny how Dave Roberts looked like a genius when his bullpen couldn't do any wrong against the Cubs in the NLCS last year, but he looked like a moron in the World Series when they imploded.  All of those moments in the playoffs that piss you off about Joe have one thing in common.  The bullpen that was carefully built and crafted all season long had gone in the shitter.  In the past five playoff series they've played, the Cubs have had to shy away from really important bullpen pieces because of injury or ineffectiveness.  They've won four of them.  If that's not managing, I don't know what is.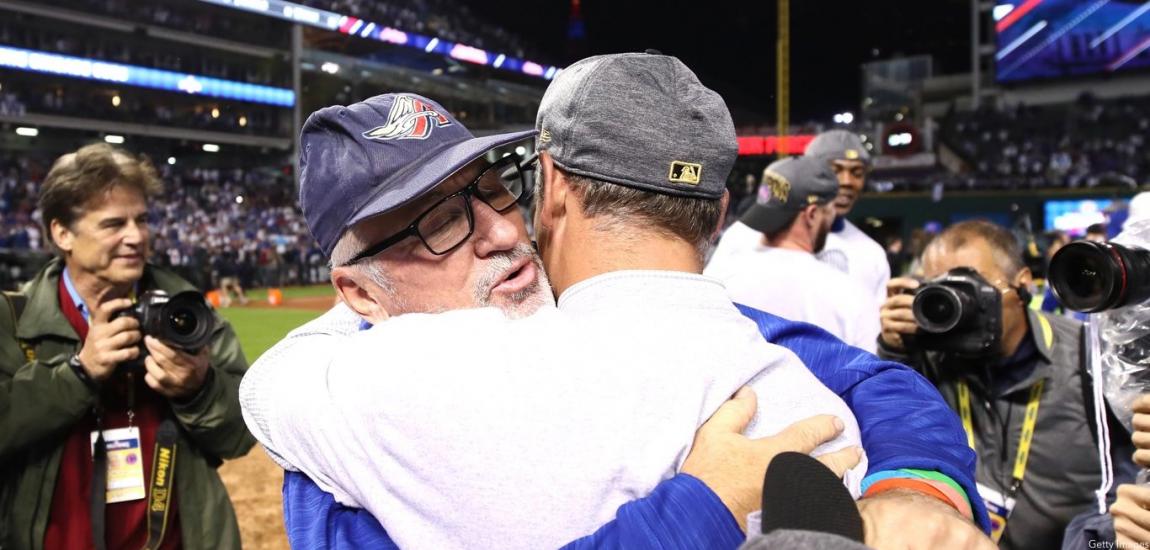 3. The players are sick and tired of his "act."
They show no real signs of it.  And they shouldn't.  Because Joe's "act" is designed with them in mind.  How many other really good teams still have the media horde chasing after the manager every day?  He does two press conferences a day and they're always both entertaining.  He's a great quote, so he draws a crowd for both of them.  And that benefits the players who get at least a little extra breathing room from the media every day.  Believe me, as much as Jon Lester may roll his eyes when Joe brings a llama into the clubhouse, he appreciates the fact that Joe's schtick keeps Gordon out of his locker more often than not.  Now, I'm not going to pretend that Joe doesn't like the attention.  He loves it.  He loves to hear himself talk.  But for all of the talking he does, he doesn't manage through the media.  He doesn't throw guys under the bus.  He doesn't divulge any team secrets.  He monologues, but unlike the villains in every superhero movie he doesn't give away the plan.  It's fun to make fun of how much of the media coverage of him has become cliche.  Every national media story somehow always ends with him sitting in his RV playing Jethro Tull 8-tracks.  His "act" lets the players do their jobs with far less distraction than they otherwise would have.  They can hide in all of the comfy private corners of that ginormous clubhouse and not get criticized for it, because Joe's putting on a puppet show for the media down the hall.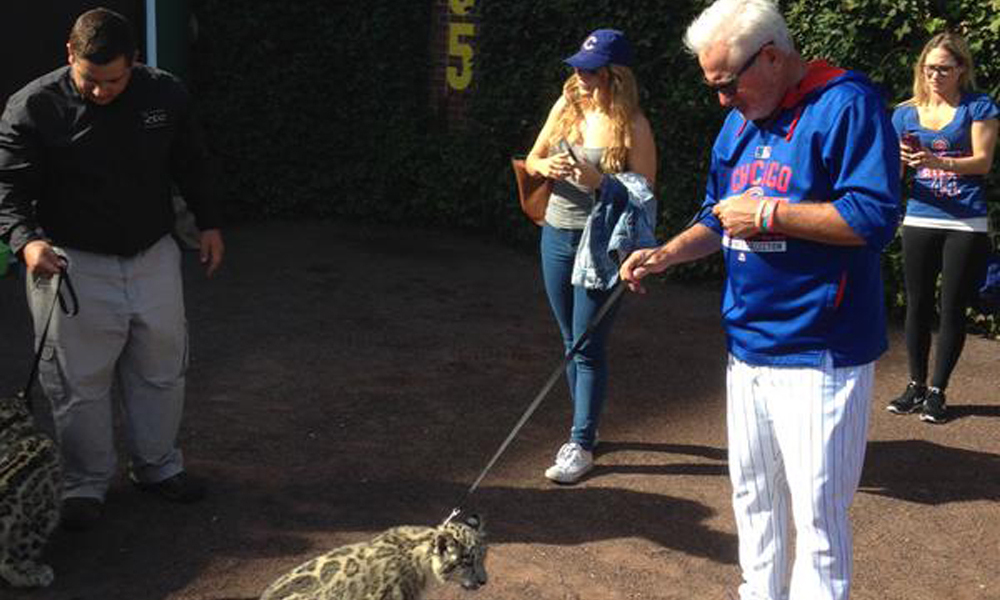 You will always find players who are ready to bitch about the manager, it comes with the job.  But for the most part the Cubs know how good they have it.
As for the fans?  We've seen some really shitty managers over the years.  We ought to be able to appreciate that we have a great one.  He's got the World Series ring and the Binny's commercials to prove it.
This shit is fun, and Joe's fun.  Stop bitching about it and enjoy all of it while it lasts.  It's been a hell of a run, and the end isn't in sight yet.  Stop trying to convince yourself that it is.
Here are those annoying footnotes.