The 2016 Cubs created a new generation of Cubs legends with guys you will never forget for all the best reasons. But lost in the glow of a world's championship are the Cubs who paved the way.  The greats who toiled in the obscurity of losing. Those who should never be forgotten.
Like the time Neifi Perez saved the 2005 season.
This is that story, told by the people who lived it*
Jim Hendry, Cubs General Manager
Late in the 2004 season we knew we were going to the playoffs.  We'd overcome injuries to our pitching staff, and we'd pulled off a huge trade for Nomar Garciaparra, and everything was falling into place, and then, we got an unexpected chance to put the finishing touch on our roster.
Brian Sabean, San Francisco Giants General Manager
We'd claimed Neifi Perez when the Royals waived him early in the 2002 offseason.  We'd just fallen short in the World Series, and were looking to add some infield depth, since we were playing Rich Aurilia and David Bell at short and third every day, and Shawon Dunston had retired.  So we picked Neifi up.  We figured, "What could it hurt?"  We found out.
Neifi didn't hit much for us, and I was really surprised at how fat he was,  I mean, I knew he was fat, but not that fat.  So, in August of 2004 we just let him go.  The Cubs snapped him right up.
Jim Hendry
I owed Neifi.  He hit one of the biggest homers in Cubs history before he ever played for us.
Perez hit a walk-off homer for the Rockies against the Giants on the final day of the 1998 season, just minutes after the Cubs had lost in Houston, falling a half game behind the Giants in the wild card race.  The Cubs beat the Giants the next night in the play-in came to advance to the NLDS against the Braves, so that Kerry Wood could come off the DL to pitch game three and completely ruin his elbow forever. 
Neifi Perez, 12 year MLB infielder
The Giants waived me and my agent told me that I shouldn't expect any team to claim me.  He said I'd make it through and then he'd try to find a team where the manager overvalued older, veteran players.  I knew just the guy.
Dusty Baker, Cubs manager
Dude, when I heard Neifi was on the market, I told Hendry he had to go get him.  I mean, we're talking about a Gold Glove shortstop, they don't grow on trees.  I never saw a Neifi Perez tree at the greenhouse, have you?  So Jim snapped him right up.  We're in the earn it business, and young players haven't earned anything, but guys like Neifi, man they earn it every day by going out there and playing and not clogging any bases.
Jim Hendry
We figured that Neifi would make it through waivers, but Dusty was convinced that the Cardinals would claim him if we didn't, so I ended up having to pick up the rest of Neifi's salary.  It was worth it, because picking him up finally got Dusty to stop bitching about how we had released Lenny Harris the year before.
Dusty Baker
I ain't never seen a Lenny Harris tree, either.  You ever seen a tree where the best pinch hitter in history was growing on it?
Chris Speier, Cubs third base coach
I saw a Lenny Harris tree.  It was Lenny trying to play third base.
Jim Hendry
Neifi's first game for us was in September in Montreal.  We were 2.5 games behind the Giants in the Wild Card race, and he made a huge difference, because at the end of the season we finished two games behind them, and three games behind the Astros.
Dusty Baker
Yeah, we didn't win, but it wasn't Neifi's fault, dude.  He gave us a spark.  He was great for us, and we knew that Nomar was kind of injury prone and we were going to need a great backup for him in 2005, so we kept him around.
Jim Hendry
Neifi hit .371 for us in September.  Honestly, he was our best offensive player, which is why we didn't make the playoffs.  But yes, we knew we'd keep him around, especially since it meant fewer at bats for Ramon Martinez.
Neifi Perez
I'd been there about a week and Nomar got hurt, and I made like 10 starts in a row and I kind of went off.  I hit about .320 with a couple of homers, and since Nomar had no range, I actually looked good in the field compared to him.  I knew they'd bring me back the next year.
Adam Katz, Neifi Perez's agent
When Nomar missed those ten games in the middle of September and Neifi had 16 hits in 10 starts I wanted to run out on the field with a contract for the Cubs to sign before Neifi started playing too much and they could see that he had nothing left.  But all I had to do was read Dusty's comments in the papers every day.  It sounded like he was trying to get MVP votes for Neifi.
Neifi Perez
I got a 2.5 million contract for 2005 to be Nomar's backup.  He'd had some injury problems, so there was a pretty good chance I'd get some run.
Derrek Lee, Cubs first baseman
I liked Neifi, everybody did.  He was a fun guy to have on the team, and not just because of him.  When you get Neifi, you also get his brother, Rubby.
Roberto "Rubby" Perez, Dominican merengue star
I was a ballplayer, too.  In fact, I was better than Neifi.  But I got in a car accident driving around with some Cardinals' minor leaguers–go figure–and really messed up my leg.  So my dreams of being a baseball star went out the window.  Instead, I had to settle for being a music superstar.
Dusty Baker
Man, Rubby is great.  He's like the Miles Davis of Caribbean music.
Neifi Perez
Nomar tore it up in spring training.  He was great.  I really figured that he was going to have a huge year, and maybe I really would just be a bench guy.  So, I took it upon myself to be a team leader, and I thought I could really help out the pitching staff.  So, I sat in on as many of the pitcher's meetings as possible.
Larry Rothschild, Cubs pitching coach
We had so many pitchers in camp that I didn't even notice Neifi was coming to the meetings.  Then, after a couple of rounds of cuts where we sent some guys back to minor league camp, I noticed he was there.
Kerry Wood, Cubs pitcher
We had doughnuts at our spring training pitcher's meetings.  That's why Neifi was there.
Adam Katz
Nomar's spring was so good, I thought I could turn it into a nice long deal for Neifi.  The less he plays the better people think he is, and with Nomar hitting like .440 in spring, Neifi was hardly going to play at all.  Man, that was going to be great for us. They were hardly going to notice that Neifi somehow gained 12 pounds during spring training.
Nomar Garciappara, Cubs shortstop/third baseman
I felt like I had a lot to prove in 2005.  Because I'd been hurt a lot in 2004, I only got a one year contract from the Cubs, but it was for good money.  I needed to prove I was still an everyday player, and I knew we had a good team.  The Red Sox had won the World Series after they traded me, so I really wanted to prove I could be a good part of a good team, still.  I had a great spring, and I was on my way to having a great season.  Until that night in St. Louis.
Todd Hollandsworth, Cubs outfielder
I was on deck, and Nomar was up with one out and a Jeromy Burnitz on first base.  I'll never forget the sound.
Nomar hit a grounder to David Eckstein, and you heard the crack of the bat, and then you heard what sounded like a fat guy ripping the crotch out of his shorts.  I mean, we're in St. Louis, so you hear that sound like ten times a game.  When jorts go, they just go.  But this was really loud.  And then I saw Nomar lying in the batter's box grabbing his junk.
Nomar Garciappara
I hit one to short and I didn't think they could turn two, so I was ready to bust it to first, but I felt this burning pain and I just fell to the ground.  Then, all I could do was to try to keep my groin inside my body.
Ed Halbour, assistant Cubs trainer
You ever see a war movie where a guy gets hit and his guts are spilling out and he's trying to hold them in?  Yeah, that's not what happened to Nomar, but for some reason he thought it did.  He was sure that if he let go of his crotch that his groin would fall out.  I've never seen anybody hold their genitals that aggressively, and I've got teenage sons.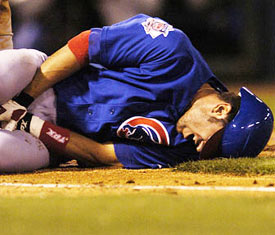 Mia Hamm, US Soccer Hall of Famer, wife of Nomar Garciaparra
I saw it live.  And I immediately started Googling "how to adopt children."
Neifi Perez
I knew it was bad, and that he was going to be out a long time.  And I knew what I had to do!
Adam Katz
I knew what I had to do, too.  I started calling the Long Island Ducks to see if I could Neifi a job there in June.
Dusty Baker
Losing Nomar was going to be rough, man.  He's a star.  But I knew we have Neifi, and I knew what Neifi was going to do.
Jim Hendry
We were so fucked.
Derrek Lee
I'm a slow starter.  I've always been,  The year before I got off to a terrible start and the fans were booing me and complaining that the Cubs should have kept Hee Seop Choi.  But not that year.  That year I hit over .400 in April, and I ended up nearly winning the triple crown.  So I knew that with me and Aramis [Ramirez] that we'd have a pretty good offense, but we needed a third guy, and Nomar was going to be that guy, but then he got hurt.  Where were we going to turn?
Neifi Perez
I was going to save the season.
Dusty Baker
Neifi saved the season.
Jim Hendry
We finished fourth and won 79 games.  Nobody saved that season.
Dusty Baker
I made Neifi the everyday shortstop, and he really took off.  He was great for us.  He started hitting and he never stopped.
Ed Hartig, Cubs historian
Neifi was hitting .344 with an .832 OPS before Nomar tore his groin.  In the immediate aftermath he continued to play well and hit .389 with a 1.075 OPS the rest of April.
But that was only in 36 at bats.
Tony LaRussa, Cardinals manager
We'd been in the World Series the year before, so I was the All-Star manager for the National League in 2005.  One night, near the end of April I was in my office listening to Enya and drinking wine out of a box and I looked at the statistical leaders for each position, to see who I might have on my All-Star team.  Neifi Perez was the top rated shortstop, hitting .368 with a .962 OPS.  I put a straw in that box and really went to work on it.  It was one of the most disturbing things I've ever read.  And I used to get Mark McGwire's urinalysis results.
Dusty Baker
April ends and we're doing great, and Neifi's doing great and man, I think this is gonna be the year.  I'm finally going to win the World Series.  I called up my old roomie, Hank Aaron.  Did I ever tell you guys I used to play with Hank Aaron?  Anyway, I told him, "Hammer," I always called him Hammer, "Hammer, I've got D-Lee on an MVP pace and I finally have that stud shortstop I've always wanted.  Things are good."
Henry Aaron, Hall of Famer
Truth is, I've been paying my brother Tommy $100 each time to intercept calls from Dusty.  I haven't actually had to talk to him in like 24 years.  It's cost me a fortune, but it's worth it.
At the end of April, Neifi was hitting .368/.403/.559/.962 with three homers and 12 RBI.  The Cubs were 12-11, in second place in the NL Central and fourth in the hunt for the one wild card berth.
Adam Katz
You know the worst thing about April?  It turns into May.
Rubby Perez
I was so proud of my brother.  He was playing every day, he was hitting well, and the Cubs were doing pretty well.  I booked a North American tour so I could use the off days to go see Neifi play.  We played all the big cities, like Decatur, South Beloit, East Dubuque, Schererville and Sauget.  Man, we made dozens of dollars on that trip.
Jim Hendry
Neifi came back to earth a little bit in May, but his overall stats looked good.  No matter how much we told Dusty that Neifi was struggling, he wouldn't hear it.  Not only was Neifi playing, but he was batting second a lot.  I mean, a lot.
Dusty Baker
I know it's controversial to bat your shortstop second, but I never shy away from controversy.  Usually, I make my batting order out the right way, the centerfielder leads off, the second baseman bats second, then your best hitter hits third and that's usually your first baseman because that's where Willie McCovey played, then your big RBI guy hits fourth, etcetera until you get to your shortstop eighth, because they're in there for their glove.  But in this case, I just swapped it, so Neifi could hit second, since he was saving the season, and hitting .300.
Ed Hartig
Neifi finished May hitting .301, but he got there from .368 at the end of April.  In May he hit .259/.283/.370.  And he was hitting in front of Derrek Lee who was having one of the greatest seasons in Cubs history.  It's amazing that Lee had 199 hits and hit 46 homers and 50 doubles, but only drove in 109 runs.  Well, I guess it's not amazing when you see that most often he batted behind Corey Patterson (.259 OBA) or Jerry Hairston Jr. leading off and Neifi (.298 OBA).  Of his 109 RBI, 46 of them were Lee driving in himself.
Kerry Wood, Cubs pitcher
OK, the Neifi mound visit thing?  That's my fault.
Carlos Zambrano, Cubs pitcher
Neifi was cool, but during the game he'd come visit the mound like five or six times.  I'd be ready to pitch and he'd be standing right behind me.  I'd be like, "What the fuck are you doing?"
Neifi Perez
I picked up a lot of stuff in the pitcher's meetings in spring training, and as a team leader I felt it was my responsibility to remind the pitcher of certain things.  Plus, as a shortstop I can see all of the pitch signals and if we're all on the same page I can position myself better and that helps the defense.
Carlos Zambrano
He said that?  Bullshit,  He was checking to see if there was food on the mound.
Greg Maddux, Cubs pitcher
I can't tell you how many times I'd be ready to pitch and Neifi would be standing on the mound.  He was always holding the rosin bag.
Kerry Wood
Yeah, I may have told him that baseball had a deal with Hostess that year, and that they'd pick a random inning and replace the rosin bag with one of those Snowball cake things.  I guess he believed me.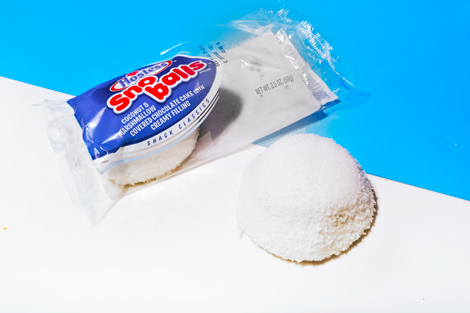 Neifi Perez
OK, I can get sweaty, and so I'd go to the mound once and a while to use the rosin bag, and to talk strategy with the pitcher.  And, one time early in the season, the rosin bag was a Snowball, and I took it back to my position and ate it.
Terry Lange, VP of Sponsorships, MLB
We never had a deal with Hostess like that,  If Mr. Perez ate a rosin bag in 2005, he ate a real rosin bag.
Tom Farinella, current Cubs umpire locker room attendant
Jimmy Farrell was still the umpire locker room attendant in 2005.  He didn't retire until 2007.  He told me that one time that year, the rosin bag went missing.  Nobody knew what happened to it.
Neifi Perez
I know the difference between a delicious pastry and a rosin bag.  I ate a Hostess Snowball.
Kerry Wood
He ate a rosin bag.  It was great.  And clearly, he wanted to do it again.
Larry Rothschild
We couldn't keep him off the mound,  He was there sometimes two or three times an inning. If we had the mound visit rule back then, we'd have been out of visits by the third inning most nights.  I'd ask the pitchers what he said to them, and most of the time he'd grab the rosin bag, lick it, and say, "Go get 'em."  I thought maybe we had a Turk Wendell situation, so I never said anything to him about the bag licking.
Neifi Perez
It was a pretty shitty promotion if they only put the Snowball out there one time all year.  But hey, at least I got it that day.
Kerry Wood
[laughs]
Dusty Baker
I'll admit that Neifi had a rough June.  I think it was the pressure of being so close to making the All-Star team.  But he was still hitting in the .280s most of the month, and playing great defense.  How was I going to keep him out of the lineup?
Ed Hartig
He hit .229/.248/.312/.560 in June.  He started 25 of the 27 games, and the most troubling thing about it was where he was hitting in the batting order.
Dusty Baker
I knew I couldn't leave Neifi in the two hole.  So I started leading him off.
Ed Hartig
Neifi led off the first 18 games of June.  He had an on base average of .256 in those games and he walked once.
Derrek Lee hit .407/.458/.713/1.171 in June with 44 hits, seven homers, 12 doubles and 77 total bases and he drove in 19 runs.  Nineteen.
Neifi batted in front of Derrek all year, and Derrek only drove him in 16 times.
At the end of June and into July, the Cubs lost seven games in a row and had fallen 13.5 games out of first.  Rumors swirled about Nomar's return, and the Cubs were looking to bolster their offense and the top of the order by trade.  But first, they shuffled their roster by recalling rookie outfielders Matt Murton and Adam Greenberg from AA.
Jim Hendry
We weren't getting shit out of Corey Patterson or Todd Hollandsworth or Jason Dubois, so we called up Murton, who we'd gotten in the Nomar trade the year before and Greenberg, who we thought might be a top of the order hitter some day.  I don't think either of them were really ready, but we had to do something.
Matt Murton, Cubs outfielder
It was a shock, but it was really exciting.  We traveled all night, and go to Miami for a series with the Marlins, who played in this big ugly football stadium, but we didn't care.  Dusty told me I was in the lineup that night against Dontelle Willis.  I got two hits!
Dusty Baker
Jim wanted me to play both guys, but what was I supposed to tell Jerry Hairston?  That he's being benched for a rookie?
Jim Hendry
Yes, that's exactly what he should have told him.
Adam Greenberg
I didn't play in the first game, but I figured I'd get into the second one, and when I did, I was ready.  In the ninth inning we were up 4-2 and going to break our eight game losing streak.  I got to bat for Will Ohman.  My lifelong dream of playing in the big leagues had come true.  I was going to get an at bat and nobody could take it away from me.
Dusty Baker
And he got hit right in the head.
Jim Hendry
He got hit right in the fucking head.
Derrek Lee
Valerio de los Santos nearly killed him.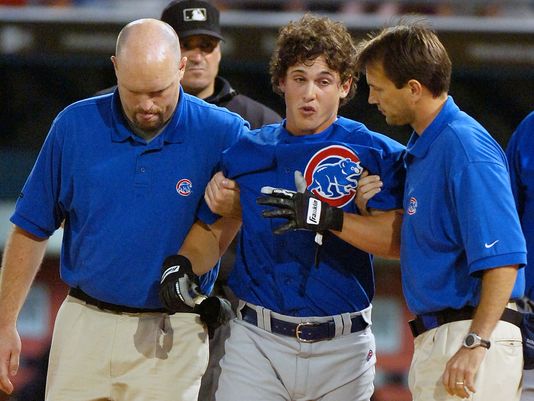 Adam Greenberg
I got hit right in the fucking head.  I had a severe concussion and missed the rest of the season.  I didn't make it back to the big leagues for seven years, and when I did, I got one token at bat.  But at least I got one.  I struck out.
Jim Hendry
The move didn't quite give us the momentum we were looking for.  Murton actually played pretty well, hitting over .300 for the season and showing some pop.  But man, I always felt so bad for Adam Greenberg.  Every time a watermelon falls off a counter, I think of him.  So, we went back to working on trades.
Neifi Perez
I wasn't worried about any trades.  I knew that if Nomar came back I'd just move to second, and if we got a bat to help out that I'd still be hitting first or second because Dusty knew what I brought to the team.
Jody Gerut, Indians outfielder
I got traded to the Cubs on July 18,  It was exciting.  I'm from Villa Park, so it was coming home for me.  I'd only played in like 40 games for the Indians because of my knee, but I was feeling a lot better and I knew the Cubs needed a bat.  It was great to know I was going to spend a long time in Chicago.
Ed Halbur
Jody Gerut's a great guy, but he could barely bend his leg,  I wasn't sure if he could stand in the outfield for an entire game, much less play it.
Jim Hendry
We had a lot of irons in the fire at that deadline.  The biggest deal we were working on was to get Rafael Furcal from the Braves.  He was still pretty young [27] and he'd give us good defense and speed at the top of the order.  The Braves had moved back into first in the division over the Nationals, so they weren't sure they wanted to move him after all, but Bobby Cox was tired of him and he was ready to give the job to Wilson Betemit.  But Dusty didn't like the idea.
Dusty Baker
No man, I didn't like it at all.  Neifi was doing great for us.  He was still hitting in the .260s and why mess up the team chemistry?  We were only like four games behind the Astros in the wild card.  But what clinched it for me was that Sunday Night Game in St. Louis.
Joe Morgan, ESPN Sunday Night Baseball analyst
I always liked Neifi Perez.  To me, he's a winning player.  He doesn't strike out, he wears his pant legs up around his knees and he switch hits. Those are the three most important things for any shortstop.  Before the game, I talked to my good friend Dusty Baker and he told me the single biggest reason the Cubs were only 13 games behind the Cardinals was because of Neifi Perez.  I told the audience that Neifi was a big part of that team.
Ryan Dempster, Cubs closer
We had a one run lead going into the bottom of the ninth and I had to face the heart of the Cardinals lineup.  All their best guys like So Taguchi, Einar Diaz and Scott Seabol.  I got the first two guys out and then Seabol worked a full count walk out of me.  Hector Luna ran for him, I like to call him a Luna-tic, get it?  Luna-tic stole second, and now they have a runner in scoring position for David Eckstein.  Eckstein singled to right and Jeromy Burnitz tried to throw him out at the plate to end the game, but he didn't, and Eckstein got to second.  So now Albert Pujols is up with a chance to win the game.
Albert Pujols
Most embarrassing at bat of my life.
Ryan Dempster
He grounded out to Todd Walker and we went to extra innings.
Joe Morgan
That's when the magic happened.
Neifi Perez
I was due up sixth in the tenth, so I went into the clubhouse to eat a pie.  And sure enough we loaded the bases with nobody out.
Tony LaRussa
Yes, so I intentionally walked both Derrek Lee and Aramis Ramirez.  What about it? Did the Cubs have anybody else who could hit?
Neifi Perez
Michael Barrett's up in front of me, and I figure that unless he hits into a triple play, I've got a good chance to win this for us.
Joe Morgan
Barrett struck out and Neifi came up with the bases still loaded.  I thought maybe LaRussa would intentionally walk him.
Dusty Baker
So did I, dude.
Tony LaRussa
[hangs up]
Joe Morgan
The Cardinals pitcher, Alberto Reyes is in big trouble.  Bases loaded, one out, and Neifi.  I didn't see any way out.
Neifi Perez
Did I think about bunting? Of course I did.
Joe Morgan
Then, this happened:

Jim Hendry
I knew Dusty would never play Furcal now, so I stopped calling the Braves back.
Dusty Baker
Furcal? So we didn't get him.  No harm, no foul.
Derrek Lee
A year later, the Braves traded Furcal to the Dodgers.  He ran into me in a game in Dodger Stadium in April, broke my wrist and ruined the rest of the 2006 season, and sapped my power for all of 2007.  That harm, that foul.
Jim Hendry
Anyway, we went another direction at the deadline, and tried to fix our center field problem.
Matt Lawton, Pirates outfielder
I got traded to the Cubs at the July 31 deadline for Jody Gerut.  I didn't even know Jody Gerut was a Cub.
Ed Hartig
Gerut hit .071 in 11 games with one hit in July.  There was no August.
Jody Gerut
I barely even remember playing for the Cubs.
Jim Hendry
Lawton didn't play as well as we'd have liked, either.
Ed Hartig
The Cubs went 10-18 in August and fell out of the wild card race for good.  Houston was on another one of their late season surges and went 22-7 in July and kept pulling away.  Even Nomar's return didn't help.
Aramis Ramirez
I pulled my groin in June.  Not to Nomar's level, I mean nobody goes full-Nomar, but it kept getting worse.  And finally, near the end of August they just shut me down,  I had 31 homers and 92 RBI in just 123 games, but I couldn't move.
Bob Brenly
He's just lazy.  When I managed Craig Counsell in Arizona, he didn't even HAVE a groin!  That didn't stop him.
Nomar Garciaparra
I came back on August 5 and split time at short with Neifi, and Neifi played second the other times.  But when Aramis went down they asked if I could play third.  Since my groin still felt like it was going to fall into my sock, I moved over there.  Dusty was pretty excited.
Dusty Baker
You kiddin' me?  Neifi and Nomar on the same side of the infield!  I thought we were going to make a run.
Jim Hendry
We did not.  I think every ground ball to the left side ended up being fielded by Matt Murton.
Justin Berg, Yankees pitcher
I was traded for Matt Lawton on August 27.
Ed Hartig
Matt Lawton hit .244/.289/.308/.597 in 19 games for the Cubs.  He finished the year in New York.  He was suspended for PEDs after the season.
Jim Hendry
Clearly, those didn't work.
Neifi Perez
That season was a lot of fun.  I played in 154 games and had almost 600 at bats.  It's the last time I played that much.  I was proud to have saved the season.
Dusty Baker
Man, I don't want to think how bad it would have been if Neifi hadn't saved our season.
Jim Hendry
What the fuck are they talking about?
Adam Katz
At the end of the season, it was clear that the Cubs wanted Neifi back but only for one year.
Ed Hartig
Even with the hot start, Neifi finished .274/.298/.383/.681 and an OPS of only 75.
Jim Hendry
Our replacement "season saver" wasn't even replacement level.  But we brought him back for 2006 to be a utility guy.  Nomar left for the Dodgers and we had one of our top prospects ready to take over shortstop.
Ronny Cedeno
Hi.
Neifi Perez
I played 87 games for the Cubs in 2006.  But fans really only remember one.
Frank Robinson, Washington Nationals manager
I remember it.  It was early in the season, like May, and both teams were pretty bad.  But we needed a win in the worst way.  We jumped on Kerry Wood, who was making his first start of the year off the disabled list–go figure.  And we had a 5-0 lead in the sixth.  Things were looking good.  But then Ramon Ortiz gave up four hits in a row in the sixth, including one to Neifi for an RBI single and it was 5-2 before I could get him out.  Then, Jon Rauch let in another run.  So it's 5-3 and it stayed that way until the ninth.
But then Chad Cordero, remember that fat kid?  Anyway, Chad Cordero came in for the ninth and with two outs and a runner on second he walks Jacque Jones.  How do you WALK him?  He never walks!  So now the tying runs are on base at first and third and Neifi's up.  John Mabry's on deck and he's even worse than Neifi, so I feel OK about it, but in my mind I can see Neifi hitting some fluky double and scoring Jones from first to tie it.
Dusty Baker
Did I feel good about Neifi coming up?  Sure I did.  Neifi's my man.  He's clutch.
Ed Hartig
Neifi was hitting .197 with a .486 OPS.  Literally anybody on the bench, including pitchers, would have been better choices.
Neifi Perez
I looked down at third and saw that Ryan Zimmerman was playing really deep.
Ryan Zimmerman, Nationals third baseman
I was even with the bag, and back then I could throw and was a Gold Glover.
Neifi Perez
I knew a bunt would catch them off guard, score Todd Walker and set up Mabry with a chance to tie or win it.  So I did it.  And it was a good bunt.
Chad Cordero, fat Nationals closer
He bunted it right at me.  He couldn't have rolled it to me any better.  I threw to first and got him out by 45 feet.  Easiest final out I ever got.
Dusty Baker
Savvy move by Neifi.  Good veteran, baseball play.  Just didn't get the bounce.
Frank Robinson
I'd have cut his ass on the spot.
Jim Hendry
That season was a lost cause.  We just let Dusty do whatever he wanted the rest of the way.  But in August I traded Neifi to the Tigers for Chris Robinson.
Chris Robinson, lead singer The Black Crowes
No, not me.  Some other guy.
Dusty Baker
End of an era, dude.  Tough day.  I knew then that I didn't want to come back for 2007, even though Hendry begged me.
Jim Hendry
Oh, for fuck's sake.
Neifi Perez
I had a great time with the Cubs.  It was a lot of fun.  Plus, I failed a drug test in Detroit and ended my career.
Henry Blanco, Chicago Cubs catcher
Neifi?  I don't remember him.  Was I there when he was?  I was?  For all of it?  I guess I slept through that.
. * – all quotes made up (as if you couldn't tell.)