You'll be shocked to hear that Twitter doesn't always foster the most nuanced discussions.  Our old friend and sexy librarian Carrie Muskat doesn't seem to do her mailbag anymore, and god knows when the last time hirejimessian.com did the Muskbox.  So let's combine those three things into a Tweetbag!
Allow me to dig into my sack and see what interesting things I can find in my Twitter mentions.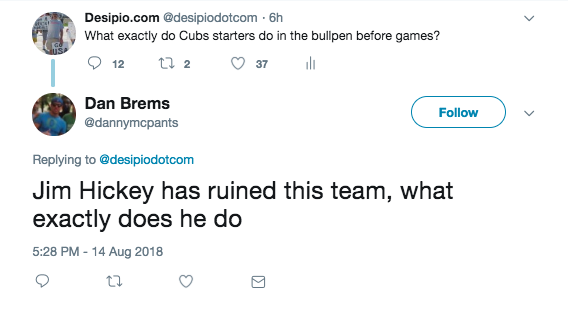 The Cubs braintrust responded to the frustrating sight of the club being outclassed on the mound and at the plate by the Dodgers in last year's NLCS by shitcanning hitting coach John Mallee and pitching coach Chris Bosio.
Were Mallee and Bosio really to blame?  Considering the team had reached three straight LCS's and won a World Series during their time on the coaching staff, probably not.  
I didn't mind them launching Mallee, because I think he fucked up Jason Heyward from his first day as a Cub.  Whatever the unctuous Cardinals did to Heyward's swing certainly worked in 2015, but Mallee set out to "fix him" from day one, and it clearly didn't work, and even though he's been better this year, he still doesn't hit like a 6'5, 240 elite athlete should.  New hitting coach Chili Davis gets a lot of shit for the Cubs' home run totals being down, but I think Kris Bryant playing with one shoulder most of the year and Willson Contreras inexplicably bunting every three at bats1 has something to do with that.
But Bosio seemingly did a helluva job as pitching coach for a long time.  He pulled a Larry Rothschild by being hired by one manager and sticking around for two more, and he's credited with turning mediocre guys like Paul Maholm, Scott Feldman, Jeff Samardzjia, Ryan Dempster, and Edwin Ja…OK, let's not push it…into valuable trade pieces.
Under Bosio's watch Jake Arrieta turned into a Cy Young stud, Big Trev Cahill became useful, the Cubs changed closers every year and made that work, and the only guy who seemed to have a problem with him was Brett Anderson, and you know what, fuck that guy.
Jim Hickey certainly comes with a quality resume, and a good working relationship with Joe Maddon, and it's tempting to blame him for the Cubs starting pitching going to shit.  But, it's probably not accurate.
Unless he has really unorthodox methods, I doubt he's been telling Tyler Chatwood to throw all of his breaking pitches 54 feet and his fastballs to the backstop.  Maybe he's repeatedly hitting Yu Darvish in the triceps with a hammer, but I doubt it.  
Jon Lester was a boss in the first half and certainly outpitched his peripherals so his second-half regression was somewhat inevitable.  But he's Jon Lester, he'll figure it out.  It's what he does.
When the Cubs gave up way too much to get Jose Quintana last year it made sense, given his age, his consistency and his very team friendly contract.  Cubs fans bragged that they were so deep that a guy who would be a two on any other team was a fourth starter on the Cubs.  Uhhh, maybe he's actually a four?  
Would the Cubs have a bigger lead if they had kept Arrieta and not signed Darvish?  I'm sure they would.  However, they weren't going to get Jake for the contract the Phillies got him for.  And as awesome as that dude is, if they had to give him five or six years not only was that going to be a really bad contract at the end, they'd have hamstrung themselves with the luxury tax.  Either they'd have been so close to it they wouldn't have been able to add anybody during the season or they'd have gone over and been hard-pressed to add anybody impactful next offseason.  You know, like Bryce Harper, or whoever.
Hickey didn't become a bad pitching coach, and I doubt his pregame pitcher's meetings include orders to give up three or four runs in the first inning all the time.  If you remember, the Cubs had a long stretch last year when the starters did this same damned thing, and Hickey was hanging out by that murky fishtank in Tampa at the time.
I say fuck it, and just start Cole Hamels every game.  The Rangers have to pay for his buyout if the Cubs decide not to keep him for the final year of his contract.  Give him the '08 Brewers CC Sabathia treatment!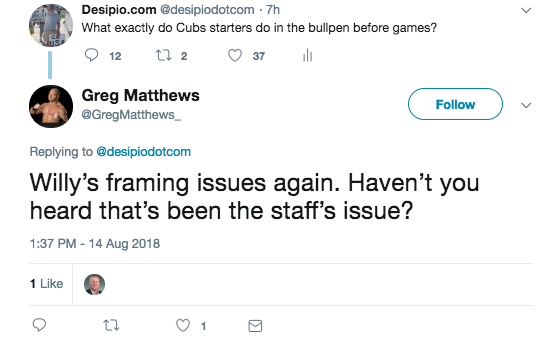 We hear this a lot, in fact, our friend Matt Clapp (@theblogfines) seems to have to field questions from his followers about this every day.
Is pitch framing the most tiresome, overrated, misunderstood axe for fans to grind?  I think it is.  As Greg points out before, people seem to want to blame everybody for the Cubs' starting pitching woes on everybody but the starting pitchers.
The Cubs work a lot with Contreras and his underbite understudy Victor Caratini on how they present pitches to the umpire.  Contreras has clearly gotten better at it, but because he loves to try to pick guys off he does "steal" some pitches from his pitcher by leaving his crouch to throw.  But he also picks dudes off bases, for example he bailed Carl's Jr. out on Friday by putting a pickoff throw right on Juan Soto's nuts for Rizzo to tag him out.
I know pitch framing is a real thing.  Yadi Molina's been hanging out in the opposite batter's box for years and getting calls from moronic umpires.  But there's no way it's as big a deal as everybody is making it.  
Also, how the hell are you supposed to "frame" anything that Chatwood throws?  
Cubs pitchers aren't getting strikes because they aren't throwing strikes.  And, because umpires suck, which has never been more evident than when honorary Amish person Ben Zobrist got so fed up with them that he got tossed from Tuesday's game against Milwaukee for telling Phil Cuzzi he's the reason there should be an automated strike zone.  
He's not wrong.
Twitterer you need to follow – Michael Lombardi
I don't know why I do it to myself, but not only do I follow this moron on Twitter (twitter.com/mlombardiNFL) I can't resist listening to the weekly Podcast he does on The Ringer.  
If you don't know who he is, he's a former NFL front office guy whose claim to fame is that he's worked for Bill Walsh, Al Davis and Bill Belichick.  Nobody's sure what he actually ever did.  What we do know from his podcast is that he can't pronounce a lot of names, and if you ever hear him try to say Roethlisberger you'll be amazed he doesn't swallow his tongue.
The best part of his Twitter feed is that nobody loves false profundity more than Mike Lombardi. If some hack has written a self-help or business book, he's read it, and he's quoted the most inane passage from it on Twitter.
But it's not enough that he "reads" those books2 he wrote his own!  Incredibly it's named "Gridiron Genius: A Masterclass in Winning Championships and Building Dynasties in the NFL."  Fittingly they are releasing it on September 11, which will give us all another thing to mourn that day–the fall of literature.
His podcast is named "GM Street" presumably because of his love for Bruce Springstreen and the E Street Band, and the highlight for me is listening to his co-host, Tate Frazier, overpronounce the 'g' in Ringer every fucking time.  Once you hear him do it, you can never not hear him do it.
But enough of me telling you about Lombardi's awful Twitter feed, let's sample it!
Here are those annoying footnotes.