All offseason the Bears media and Bears fans were aligned in their proclamations to give Mitch Trubisky some time to settle into the quarterback job before they freaked out one way or the other.
That was never going to be true, and sure enough panic buttons were mashed all over the heartland after just one game.  The fact that that game saw the Bears lose in humiliating fashion in the largest fourth quarterback comeback in Green Bay Packers history didn't exactly help.
The Bears actually won their second game, but the knives are out for the young quarterback, with most hot takes absurdly claiming with absolute certitude that the only thing separating this gridiron juggernaut from a long string of Super Bowls is the quarterback.
Mitch is not helped by the fact that the two other first round QBs in his draft class have shown flashes of brilliance.  DeShaun Watson was great for seven game stretch last season when he threw 19 touchdown passes before blowing out his knee in a practice.
Patrick Mahomes has thrown ten touchdown passes in the first two games this season, breaking a record held by a couple of hacks named Peyton Manning and Drew Brees.
The Bears drafted Mitch ahead of both of those guys (inexplicably trading up one pick to do so) and he's going to be linked to them for all of football eternity, so he might as well get used to it.
But I'm not surprised that both of those guys have already had more success than him.  Watson was a three-year starter for a Clemson team that played in two national championship games.  Mahomes played at Texas Tech where he threw the ball like 140 times a game.  Mitch, meanwhile was playing for the Fighting Larry Fedoras of North Carolina, and going pro after just 13 starts.
But it's not his lack of college experience that is my reason for urging patience with him.
In my mind, he's still a rookie.  If not worse.
Yeah, he started 12 games for the Bears last season, but it was basically a complete waste of everybody's time.
The Bears, and Ryan Pace in particular, screwed up when offensive coordinator Adam Gase left to become the head coach of the Miami Dolphins.  When that happened, they knew they couldn't go hire a hot shot offensive coordinator, because their head coach, John Fox was a lame duck and nobody good was going to want to come to Chicago to inevitably have to look for another new job after the 2017 season.
So, the Bears promoted Dowell Loggains to offensive coordinator, and signed an albino giraffe in free agency to be their quarterback, then traded up to get Mitch.  And entrusted an overmatched coordinator and the lame duck head coach with grooming their quarterback of the future.
While Watson was playing in a real offense with actual playmakers on his team, and Mahomes spent the year learning an innovative, dynamic offense (while being taught by the current Bears' head coach), Mitch learned what exactly, in Chicago?
As far as I can tell, he learned how to take a snap from under center.  And, that's about it.  
Loggains didn't have an "offense" he just had a bunch of random plays.  No two plays ever seemed to build off each other.  So Mitch played a lot, but nothing was really accomplished.  In back to back wins in October he threw a total of 23 passes.  Yay?
Do we really think he learned anything truly useful last year? 
I have no idea if he's going to be any good.  He has the physical tools to play in the league, but his instincts still betray him and cause him to leave the pocket way too often, which then leads to him not progressing through his reads, and often slinging the ball into harm's way.
Will an actual competent coaching staff be able to coach that out of him? How much farther along would he be if the Bears hadn't punted an entire year of his development with these two?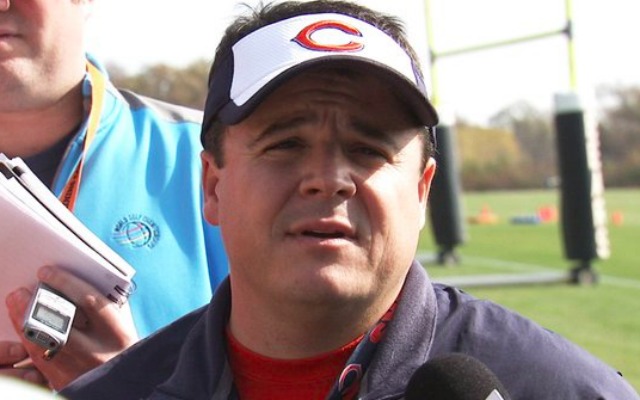 Just remember when the yapping media tell you with great confidence that Mitch can't play and will never be able to play, that they don't know shit, and it might take a half season or more just to knock the Loggains off of Mitch.
Or, Mitch might really suck.
The only thing we know, is that we don't know yet.