I woke up this morning to a very large number in the red dot on my Twitter icon, and the first one I read said, "Desipio's going to wake up to some bad news."  My immediate reaction was that Luis Valbuena had signed a contract with the Cardinals.
As much as that would have sucked, I'd take that now in a second.  Valbuena, inexplicably one of my favorite Cubs of all-time was killed in a traffic accident in his native Venezuela.  He was one of four people in a truck driven by the driver of former Diamondback Carlos Rivero.  Both Valbuena and former Pirates infielder Jose Castillo were thrown from the truck.  The truck apparently swerved to avoid a rock in the road, and the driver lost control.  Thugs putting big ass rocks in the road to slow or stop cars so they can rob them has become a common occurrence in Venezuela.
MLB.com put together a nearly eight minute highlight reel of Luis' greatness which includes homers off of Justin Verlander (a grand slam), a very tubby Will Ohman, and current Cub Steve Cishek.  There's a nice backhanded play at second against the Padres where his throw tears Anthony Rizzo's groin in half, and a homer at Wrigley off of Jeremy Jeffress.  The batflips really kick in once he flips a walk for the Astros, and you get a couple of walk-off homers.
He was one of the highlights of the mostly unwatchable, purposefully terrible (as opposed to the kind of terrible they'd been for decades before) Cubs' teams from 2012-2014.  His batting average was always shit, but he got on base and he hit for power. The Cubs got him off of waivers after the juggernaut 2012 Blue Jays couldn't find room for him.1 He was functionally a second baseman but played mostly third once he took over for the fucking disaster that was Ian Stewart, and he played a lot of first for the Astros and Angels.
He was just fun.  Like the time he executed the rare bat flip single off of future teammate Scott Feldman: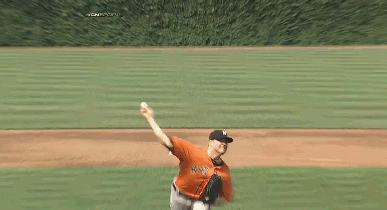 He was the pioneer of the "challenge your own check swings" move that Javy Baez has adopted:
His alternate cover for MLB The Show is worth millions.  Probably.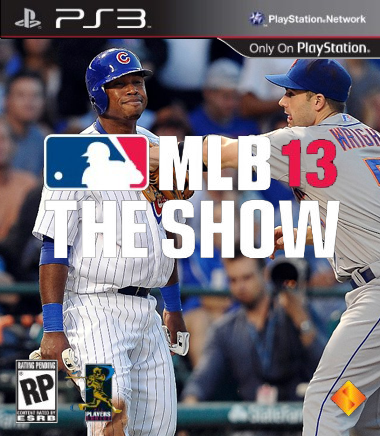 He had no use for Citi Field's stupid homer apple: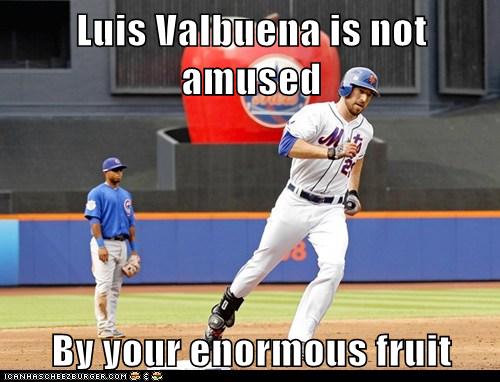 Here's video of him and Junior Lake batflipping walks in the same game against the White Sox.  (What were the odds of Junior ever walking, much less with the bases loaded?)
Luis was just fun at a time when the Cubs weren't.  He got shipped out to Houston with Dan Straily in a move before the 2015 season for some chump named Dexter Fowler, which so far has limited the Cubs to just one World Series title this century.
In his career he earned  nearly $30 million.  Not bad for a guy who made nearly half of that while hitting .199 twice for the Angels.  Remember, batting average is for suckers.
He was in Venezuela playing winter ball to try to get a spring training invitation from somebody.  He was only 33, and probably had two or three more seasons in him as a utility player.  I know one team that has a gaping hole at second base and a bench spot open, and now he's not around to fill either or both.
It would have been nice to have gotten some more wear out of one of my Valbuena shirseys.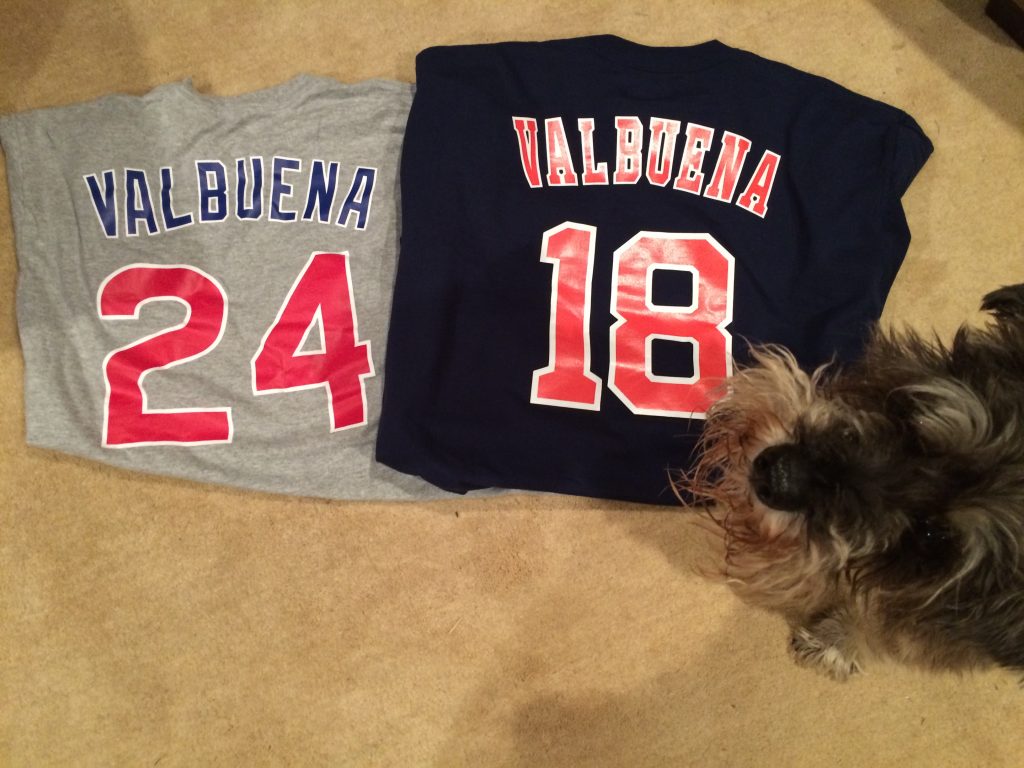 Let's end it on one of his most clutchest moments, a one out, three run ninth inning walkoff against the A's, complete with the postgame interview. He hit the dong off of Ryan Madson. Luis didn't go full Bote, but only because he didn't need to.
So long, buddy.  Baseball's already less fun without you.
Here are those annoying footnotes.